Updated: Thu, 11 Jun 2020 12:48 PM IST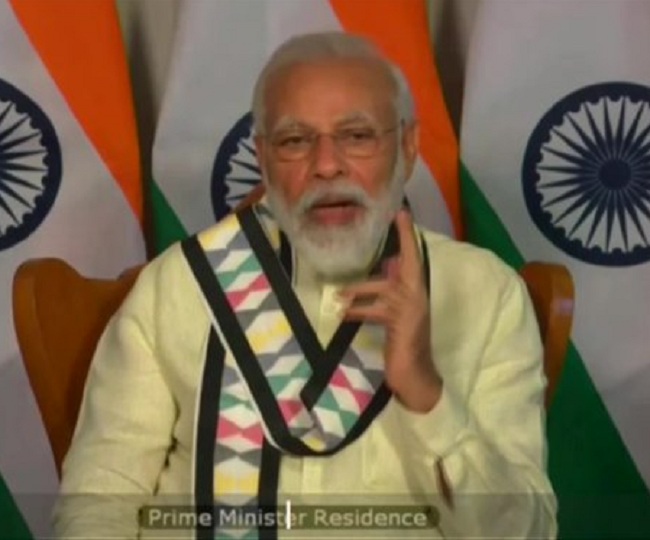 New Delhi | Jagran News Desk: Prime Minister Narendra Modi on Thursday stressed on the need of a "self-reliant India" (Aatma Nirbhar Bharat), saying that every citizen of India is determined to convert the coronavirus "crisis into an opportunity".
"Every citizen of this country has resolved to turn this crisis into an opportunity. We have to make this a major turning point for this nation. What is that turning point? A self-reliant India," said PM Modi while delivering the inaugural address on the occasion of 95th Annual Day of Indian Chamber of Commerce (ICC).
"The simplest method to be worked upon at present is to induce Indians to use their own produce and get markets for Indian artware in other countries. This path shown to us Swami Vivekanand is going to be India's inspiration in the post-Covid world," he added.
Asserting that the belief 'Aatma-Vishwasi Bharatiya' (self-confident Indian) is at the core of Aatma Nirbhar Bharat, PM Modi said that steps need to be taken to ensure that products which are forced to import are manufactured in the country itself.
PM Modi also hailed the economic relief packages and the decisions taken in favour of farmers by the Centre to help the country fight the ongoing crisis.
"The recent decisions for farmers and the rural economy have freed the agriculture economy from years of slavery. Now, farmers of India have got the freedom to sell their product, their produce anywhere in the country," he said.
He said this is the time to make bold decisions and investments for the country to scale new heights
"India's goal of self-reliance has been paramount in the policy and practice of the country. The COVID-19 crisis gave us lessons on how to speed up efforts in that direction," he said.
The Prime Minister also said that people-centric, people-driven and planet-friendly development has become part of the BJP-led Central government's governance.
Posted By: Abhinav Gupta