PM Modi on I-Day: 'Govt abrogated Article 370 in 70 days which was pending for 70 years'
Updated: Thu, 15 Aug 2019 09:13 AM IST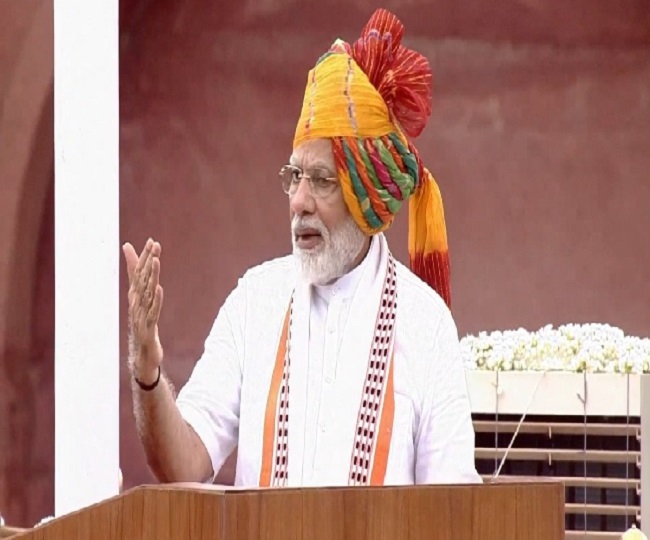 New Delhi | Jagran News Desk: Prime Minister Narendra Modi on Thursday addressed the nation on the occasion of 73rd Independence Day and hailed his government's move to scrap Article 370 from Kashmir and bifurcate the state into two Union Territories. He also attacked the previous governments for not taking interest in the welfare of Kashmir people.
PM Modi while addressing the nation said, "abrogation of provisions of Article 370 and bifurcation of Jammu and Kashmir gives us one nation and one Constitution".
Also Read: Modi on I-Day LIVE: Want to ensure ease of living and doing business in India, says PM
"We think differently and it is India First for us. Politics comes and goes but steps in the interest of the nation are paramount. We do not believe in creating problems or prolonging them. In less than 70 days of the new Government, Article 370 has become history, and in both Houses of Parliament, 2/3rd of the members supported this step. We want to serve Jammu, Kashmir, Ladakh".
"Those who supported Article 370, India is asking them - If this was so important and life changing, why was this Article not made permanent. After all, those people had large mandates and could have removed the temporary status of Article 370.
"The old arrangement in Jammu, Kashmir and Ladakh encouraged corruption, nepotism but there was injustice when it came to rights of women, children, Dalits, tribal communities. The dreams of sanitation workers were incomplete. How can we accept such a situation. People of Jammu and Kashmir will directly link to Delhi now".
Posted By: Talib Khan