PM Modi announces 'aatma-nirbhar Bharat' economic package of Rs 20 lakh crore, says 'Lockdown 4.0' will be different
Updated: Tue, 12 May 2020 09:06 PM IST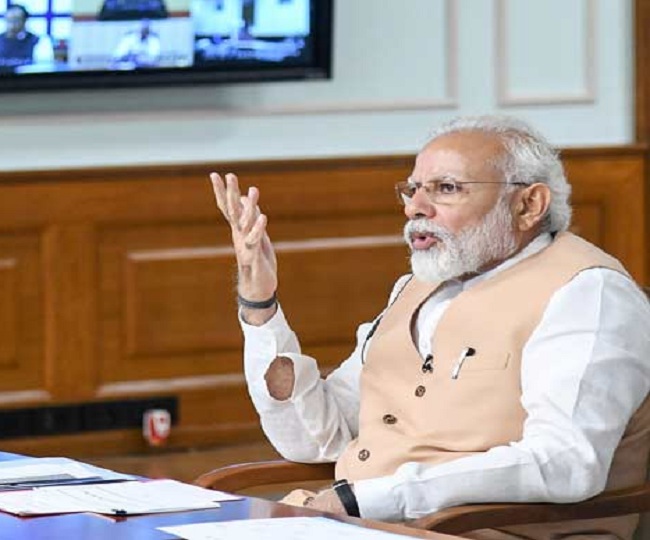 New Delhi | Jagran News Desk: Prime Minister Narendra Modi on Tuesday announced a special economic package for the poor, farmers and middle-class taxpayers of the country. He said that the economic stimulus package, along with the recent decisions by the Centre and Reserve Bank of India, will be worth Rs 20 lakh crore.
About the financial package, he said it will be around the 10 per cent of the GDP and will address problems of a wide range of sectors as well as difficulties of the migrant workers. The prime minister also hinted at big-ticket economic reforms in coming days, adding details of the economic package will be given by Finance Minister Nirmala Sitharaman.
"This economic package is for that laborer of the country, for that farmer of the country who is working day and night for the countrymen in every situation, every season. This economic package is for the middle class of our country, which pays taxes honestly and contributes to the development of the country," said PM Modi in his fifth address to the nation ever since the breakout of the pandemic in the country.
Asserting that our lives cannot continue revolving around coronavirus, the prime minister also said that "Lockdown 4.0" will come with a new face and new rules and regulations, hinting at further ease in restrictions. He said that people will be conveyed about the same before May 18.
Prime Minister Narendra Modi announces economic package worth Rs 20 lakh crore, hints at easing curbs in 'Lockdown 4.0'https://t.co/CbNAlJtjq1

— Jagran English (@JagranEnglish) May 12, 2020
In a meeting with chief ministers via video conference on Monday, the prime ministers had asked states to share by May 15 a broad strategy on how they want to deal with lockdown regime in their states.
Special economic package is for our labourers, farmers, honest tax payers, MSMEs and cottage industry, the prime minister said in a televised address to the nation.
India is standing on five pillars --economy, infrastructure, governing systems, vibrant democracy and supply chain.
The prime minister said that a ""self-dependent India" was the only way out of the coronavirus crisis. He said that "save ourselves from this virus and also move ahead".
"Experts say that coronavirus will stay for a long time. But we must not let this crisis overwhelm us. We will take all precautions but still move ahead," said PM Modi.
"We have heard that the 21st century will be India's. Our resolve is much bigger than the crisis. We have to save ourselves and continue our fight. We will not give up or accept defeat," he added.
The prime minister also said that the country has been able to change the crisis into an opportunity.
He said that one virus has brought the entire world on its knees. "We had never seen or heard about such a crisis ever before. This is definitely unimaginable for mankind. This was unprecedented. But humanity will not accept defeat from this virus. We have to not only protect ourselves but also move forward," he said.
"More than 42 lakh people from different countries have been infected by COVID-19, more than 2.75 lakh people have lost their lives due to the virus. In India too many families have lost their dear ones, I express my condolences to them," added PM Modi.
According to reports, the lockdown may be extended post May 17, but more restrictions may be eased in areas which are not severely affected or have not reported many cases in the last 3-4 weeks. Restrictions like a night curfew and curbs on public transport may continue in areas designated as Red Zones.
A number of states have reportedly also batted for the lockdown to be extended but limited to areas worst hit by the crisis. They have also requested for Red Zones to be changed from entire districts to just containment zones.
The 54-day nationwide lockdown since March 25 to contain the spread of coronavirus is scheduled to end on May 17. The prime minister interacted with the chief ministers last on April 27. Days after the meeting, the central government had extended the lockdown by two more weeks till May 17 to arrest the spread of the virus, but gave several relaxations in economic activities and movement of people.
Posted By: Abhinav Gupta