PM Modi calls for nationwide boycott of single-use plastic from October 2
Updated: Wed, 11 Sep 2019 02:39 PM IST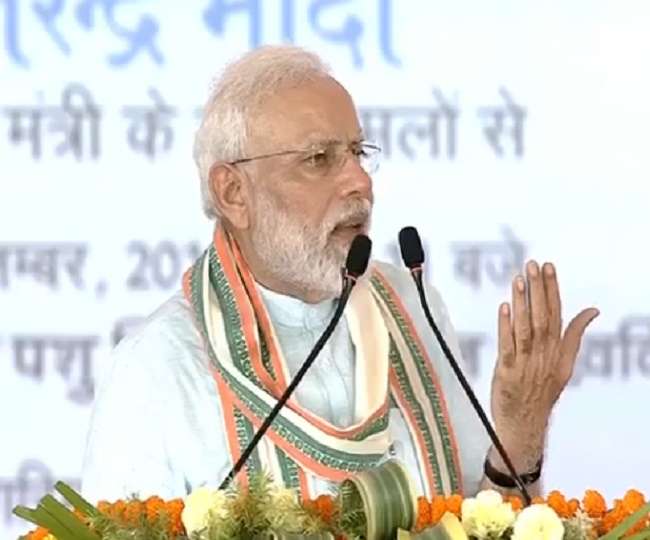 Mathura | Jagran News Desk: Days after the Central Government put a blanket ban on the single-use plastic, Prime Minister Narendra Modi on Wednesday was seen extending a helping hand to the rag pickers who segregate plastic from the garbage on a daily basis.
PM Narendra Modi, who is on a mission to completely eradicate single-use plastic waste from the country, was seen segregating plastic from garbage piles along with the women at the 'Swacchata Hi Seva' programme in Mathura.
Speaking at the event PM Modi urged people to stop the usage of single-use plastic for the sake of the environment and said people needed to change their habits to protect the environment.
"In a short while our country will celebrate Mahatma Gandhi's 150th birth anniversary. His focus on swachhata is something we should learn and take as a guiding light".
Also Read: Unnao rape victim's statement recorded at temporary court in AIIMS, Kuldeep Sengar also brought
"We need to make efforts to rid our homes, offices, and workplaces of single-use plastic by October 2, 2019. I appeal to self-help groups, civil society, individuals and others to join this mission", says PM.
हमें ये कोशिश करनी है कि इस वर्ष 2 अक्तूबर तक अपने घरों को, अपने दफ्तरों को, अपने कार्यक्षेत्रों को सिंगल यूज प्लास्टिक से मुक्त करें: PM

September 11, 2019
"Whenever we go to market, we should carry a bag. Don't ask for plastic bags. I urge traders to use very less plastic for packaging. UP has inspired the whole world, and the whole humanity, for being a role model for environmental protection," he added.
On October 2, the Union government is likely to announce a ban on single-use plastic products. This is expected to impact most industries since this forms part of the packaging and hence linked to all industries directly or indirectly.
Also Read: India slams Pakistan at UNHRC, says 'concocted charges over J-K by terror epicenter'
It is worth noticing that the Prime Minister at UNCCD COP 14 Summit in Greater Noida on Tuesday also called on global leaders to follow India's decision to ban single-use plastic, declaring "time has come for even the world to say goodbye to it".

"I would like to draw your attention to another land degradation; it is the menace of plastic waste. My government has announced that India will put an end to single-use plastic in the coming years. The time has come for the world to say goodbye to single-use plastic," Prime Minister Modi had stated at UNCCD-COP14.
Posted By: Talib Khan