'Local ke liye Vocal': PM Modi bats for local products, hints at distancing from China
PM Modi said that Indians will have to be "vocal about local" and buy products from them.
Updated: Tue, 12 May 2020 09:29 PM IST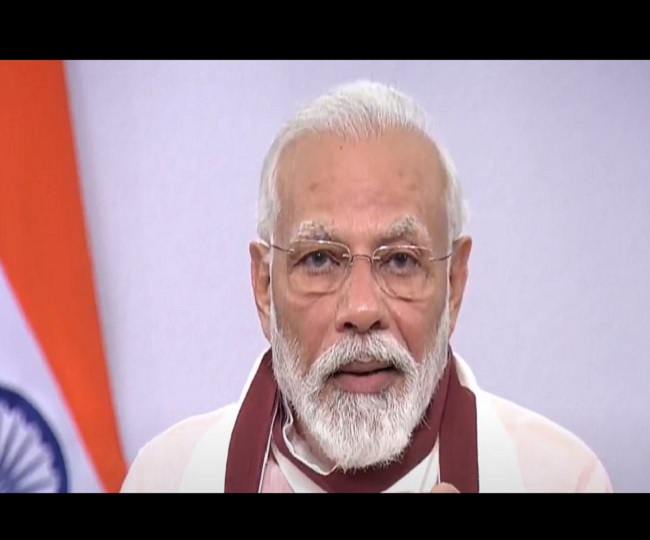 New Delhi | Jagran News Desk: Hinting at distancing from China, Prime Minister Narendra Modi on Tuesday said that local suppliers have met the country's demands in this hour of crisis, urging that Indians will have to be "vocal about local" and buy products from them.
Addressing the nation for the fifth time since the coronavirus outbreak in the country, the Prime Minister said that the goal of the country will be to become "self-reliant" and identified economy and infrastructure as key drivers for it.
"Time has taught us that we must make 'local' the mantra of our lives. Global brands that are there today were once local too but when people there started supporting them they became global. That is why from today, every Indian must become vocal for our local," PM Modi said in his address.
"When India speaks of self-reliance, it does not advocate for a self-centered system. In India's self-reliance there is a concern for the whole world's happiness, cooperation and peace," PM Modi added.
Also Read | 'India in a state of war against coronavirus': Top quotes from PM Modi's speech
This is not the first time when PM Modi has spoke about 'self-reliance'. Earlier too, the Prime Minister had said that the coronavirus pandemic has taught "India is to become self-reliant", adding that "skills and knowledge of people are put to test during the time of a crisis".
In his fifth address to the nation since the COVID-19 outbreak, PM Modi further said that when the coronavirus pandemic began, India did not manufacture a single PPE and only a few N95 masks were available but now the country is producing two lakh of these products everyday.
"Due to this step, India is being praised across the world and the Indians feel proud. The world has started believing that India can perform much better," PM Modi said.
Stressing that people need to buy local products and spread the word, he said, "I am proud to recollect that I had asked citizens to buy khadi and to support handloom workers. In a short time, demand and sales touched record levels. Khadi became a big brand because of you and we got good and effective results."
PM Modi's message of 'self-reliance' and 'vocal about local' is seen at hints for distancing from China. Last month, the central government tweaked the Foreign Direct Investment (FDI) policy and barred automatic investments from border countries, shielding firms amid the coronavirus pandemic.
Changing the FDI rules, the Centre had said that the step was taken to prevent opportunistic takeovers or acquisitions of Indian companies by neighbouring countries due to the coronavirus pandemic.
Earlier, PM Modi had also asked the states to look for opportunity to attract investments as many companies are exiting China because of the coronavirus pandemic. The Prime Minister had suggested that India has the potential to become the alternative destination.
PM Modi on Tuesday addressed the nation and announced a Rs 20 lakh crore package, which combined the government's recent announcements on supporting key sectors as also measures rolled out by the Reserve Bank of India.
He also said that the details about fourth phase of the coronavirus lockdown will be made known before May 18, adding it will be different from the earlier phases.
Posted By: Aalok Sensharma