'PM joked media trying to trap me to say anti-Modi things': Nobel laureate Abhijit Banerjee
Updated: Tue, 22 Oct 2019 05:00 PM IST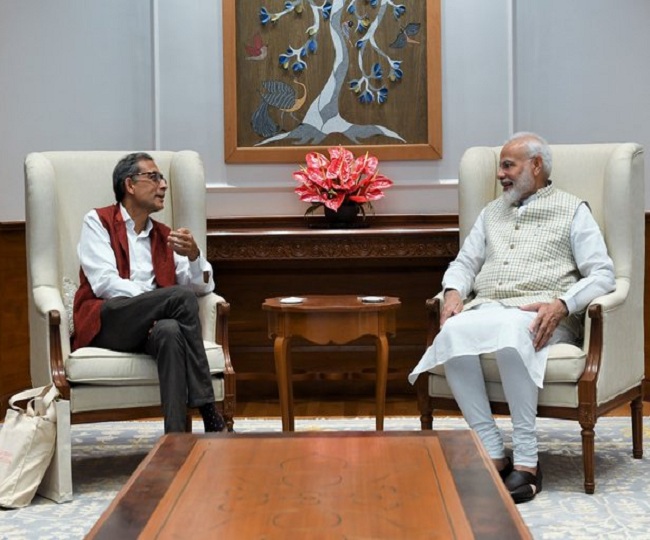 New Delhi | Jagran News Desk: Nobel laureate Abhijit Banerjee, after his meeting with Prime Minister Narendra Modi, told the media that he would not get into controversial statements because he had been warned by PM Modi.
"Prime Minister started by cracking a joke about how the media is trying to trap me into saying anti-Modi things. He has been watching TV, he has been watching you guys, he knows what you are trying to do," Banerjee was quoted by ANI as saying.
Banerjee, an India-born American professor at Massachusetts Institute of Technology who won Nobel in Economics jointly with wife Esther Duflo and Michael Kremer for "an experimental approach to alleviating global poverty", also said that the banking crisis "is critical and frightening".
Also Read | Will finalise rules to regulate social media by January 2020: Centre tells SC
"The crisis is critical and frightening and we should worry about it. We need some important and aggressive changes," he said.
Earlier, just after the meeting, Banerjee had said that PM Modi talked about his way of thinking about India.
"The PM was kind enough to give me quite a lot of time and to talk a lot about his way of thinking about India, which was quite unique. Because one hears about policies but one rarely hears about the thinking behind them," he said.
"He talked about the way he sees governance in particular. And why maybe the mistrust of the people on the ground colours our governance... And how it, therefore, creates structure of elite control over the governance process, (which is) not a responsive government. In that process, he very nicely explained how he's trying to reform the bureaucracy to make it more responsive, to understand ways in which people's views need to be taken into account and to expose them to reality on the ground. It is important for India that we have a bureaucracy that lives on the ground," he said while thanking the Prime Minister for a 'unique experience'.
Posted By: Abhinav Gupta