Parliament Live Updates | Chinese actions on LAC violation of bilateral agreement, Rajnath Singh tells LS; Congress stages walk out
Union Defence Minister Rajnath Singh on Tuesday addressed the Lok Sabha and spoke on the issue of India-China face-off in Ladakh on day 2 of the monsoon session of Parliament.
Updated: Tue, 15 Sep 2020 03:14 PM IST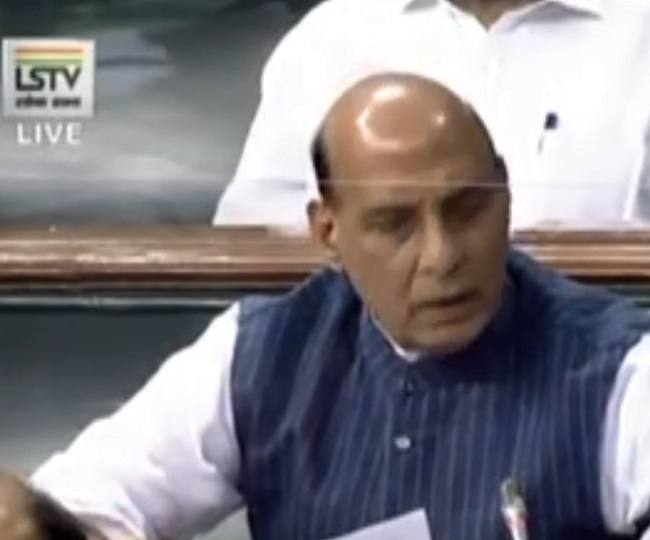 New Delhi | Jagran News Desk: Union Defence Minister Rajnath Singh on Tuesday addressed the Lok Sabha and spoke on the issue of India-China face-off in Ladakh on day 2 of the monsoon session of Parliament. The defence minister assured the House that India is ready to deal with any situation at the Line of Actual (LAC) control. The Opposition parties have been asking for debate amid reports of Chinese soldiers laying optical fibre cable in Ladakh region. Rajnath Singh had met his Chinese counterpart in Moscow recently but the meeting apparently failed as the Chinese fired warning shots along the LAC in Ladakh. Some of the NDA allies also want the government to make a statement in the House. According to reports, Singh has assured one of the NDA allies that a statement will be made on the India-China face-off.
Below are the Live Updates on Parliament Monsoon Session Day 2:
03:45 pm: Congress MPs stage walkout from Lok Sabha demanding discussion on India-China border issue.
03:30 pm: In meeting with Chinese Defence Minister, I clearly stated that while our troops had always taken a responsible approach towards border management, but at same time there should be no doubt about our determination to protect India's sovereignty and territorial integrity: Defence Minister Rajnath Singh.
03:25 pm: China has mobilised a huge number of Army battalions and armaments along LAC and inner areas. There're many friction points in eastern Ladakh, Gogra, Kongka La, Pangong Lake's north and south banks. Indian Army has made counter deployments in these areas. I want to assure you that we are ready to deal with any situation: Rajnath Singh in Lok Sabha
I want to assure you that we are ready to deal with any situation: Defence Minister Rajanth Singh, speaking in Lok Sabha, on India-China border issue pic.twitter.com/zmJ20ynVPG

— ANI (@ANI) September 15, 2020
03:19 pm: "In May, there were multiple attempts of transgression by Chinese PLA which led to the stand-off in Galwan, Pangong, etc. These transgressions were stopped by Indian soldiers. Indian soldiers have shown patience and resolve when required and shown courage and valour when required. They also sent a very strong message by imposing heavy casualties on the Chinese PLA," Rajnath Singh said.
03:14 pm: The perception of LAC is different for both India and China. The government is coordinating with different intelligence agencies. Since April, China has been increasing soldiers and arms deployment at the border. India has been successful in warning China through both diplomatic and military means: Rajnath Singh tells Lok Sabha.
03:08 pm: China believes that the Line of Actual Control (LAC) is not clearly demarcated. We want peaceful resolution to the LAC issue. I want to inform all that the LAC is not delineated and both India and China have agreed to maintain peace at the border. Any activity at the LAC will impact the relationship between the two countries: Rajnath Singh at Lok Sabha.
03:05 pm: Rajnath Singh begins Lok Sabha address on Rajya Sabha.
#WATCH Defence Minister Rajnath Singh makes a statement on India-China border issue, in Lok Sabha (Source: Lok Sabha TV) https://t.co/1dlRokI1It

— ANI (@ANI) September 15, 2020
02:45 pm: Union Defence Minister Rajnath Singh is likely to address the Lok Sabha shortly. The defence minister will make a statement on India-China face-off amid Opposition's demand of debate on the issue.
01:05 pm: Rajya Sabha has been adjourned till 9 pm tomorrow, September 16.
12:50 pm: Congress MP Anand Sharma raised the issue of depression in India during the Zero Hour. The Congress leader said that reports indicate that one in seven persons in India is suffering from depression.
12:25 pm: DMK MP Kanimozhi has given Adjournment Motion notice in Lok Sabha over 'promoting all 8th scheduled languages equally along with Hindi.'
12:23 pm: Congress MP Hibi Eden has given Adjournment Motion Notice in Lok Sabha over the withdrawal of MPLADS (Members of Parliament Local Area Development Scheme) fund
12:21 pm: Congress MP Adhir Ranjan Chowdhury has given Adjournment motion Notice in Lok Sabha demanding discussion on 'Chinese company monitoring over 10,000 Indian individuals and organisations in its global database of foreign targets
12:20 pm: TMC MP Saugata Roy has given Adjournment Motion Notice in Lok Sabha over Chinese aggression in Eastern Ladakh.
12:18 pm: Lockdown prevented approximately 14 lakh to 29 lakh cases & 37,000 to 78,000 deaths. These 4 months were utilised to created additional health infrastructure, enhance human resource & produce within Indian critical elements such as PPE kits, N95 masks&ventilators: Health Minister
12:16 pm: COVID-19 fatality and recovery rates stand at 1.67% & 77.65% respectively. India has been able to limit its cases & death per million to 3,320 cases per million and 55 deaths per million which is one of the lowest in the world: Union Health Minister Harsh Vardhan in Rajya Sabha
12:13 pm: A lot is being made out about six airports. Mumbai & Delhi, 2 airports privatised in 2006, account for 33% of our traffic & earning. The six airports that were awarded in 2018 together account for only 9%: Civil Aviation Minister HS Puri during Aircraft (Amendment) Bill 2020
12:10 pm: When Delhi and Mumbai airports were privatised in 2006, all subsequent efforts and privatisation contained a stipulation to the effect that prior experience was necessary so we fell into a trap of our making: Civil Aviation Minister Hardeep Singh Puri
12:05 pm: Rajya Sabha passes Aircraft Amendment Bill.
11:20 am: Aircraft Amendment Bill being discussed in Rajya Sabha. NCP MP Praful Patel says "4-5% people board flights one time in a year. If this number goes up to 10-15%, we would need a huge increase in number of airports and aircrafts. Airlines are financially stressed due to Covid-19 and need support.
11:15 am: "Jaya ji would you say the same thing if in my place it was your daughter Shweta beaten, drugged and molested as a teenage, would you say the same thing if Abhishek complained about bullying and harassment constantly and found hanging one day? Show compassion for us also," Kangana said.
11:10 am: I expected Jaya ji to support what I said. Not everyone in the industry consumes drugs but those who do are part of a plan to finish the world's largest film industry. When Jaya ji and I joined, the situation was not like this but now we need to protect the industry: BJP MP Ravi Kishan on Jaya Bachchan's statement in Rajya Sabha.
10:40 am: I must compliment govt for bringing back a lot of Indians from abroad under Vande Bharat Mission. And who did it? It was Air India. You can change the structure of Air India if you want but please don't sell it. Air India hai to Hindustan hai: TMC MP Dinesh Trivedi in Rajya Sabha
10:35 am: There is no point in a minister making a statement and the issue being forgotten - like yesterday the Union Health Minister made a statement on Covid-19 but it wasn't followed up by any discussion - we all political parties want a tough message to be sent to China, and a discussion is needed on the same: Gaurav Gogoi, Deputy Leader of Congress in Lok Sabha.
10:15 am: Congress MP K Muraleedharan moves motion for adjournment of Lok Sabha for the purpose of discussing unemployment issues caused due to policies like demonetisation, GST, and Covid-19 lockdown.
09:45 am: I am ashamed that yesterday one of our members in Lok Sabha, who is from the film industry, spoke against it. It is a shame: Samajwadi Party MP Jaya Bachchan in Rajya Sabha
09:40 am: People in the entertainment industry are being flogged by social media. People who made their names in the industry have called it a gutter. I completely disagree. I hope that govt tells such people not to use this kind of language: MP Jaya Bachchan in Rajya Sabha
09:00 am: Members of Parliament (MPs) of the Left parties protest in front of Gandhi statue at the Parliament, over their demand for withdrawal of 'anti-farmers policies.'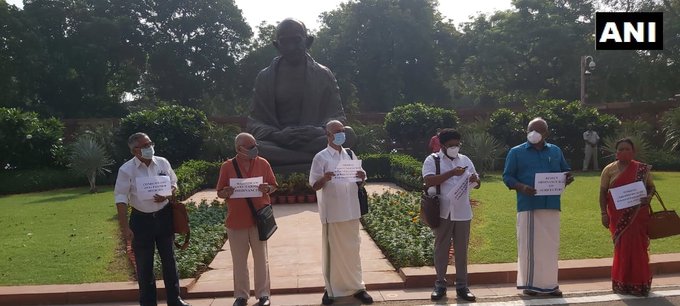 08:50 am: Samajwadi Party MP Jaya Bachchan has given Zero Hour notice in Rajya Sabha over 'alleged conspiracy to defame film industry'.
08:40 am: Congress MP Rajeev Satav has given Zero Hour notice in Rajya Sabha over 'drawing attention of central government on reservation of Maratha community'.
08:35 am: DMK MP Tiruchi Siva has given Zero Hour notice in Rajya Sabha over 'adverse impact of holding NEET exams, leading to suicides by students'.
08:20 am: A meeting of Union Cabinet and the Cabinet Committee on Economic Affairs are likely today at 1.30 am today vie video conferencing.
08:00 am: The informal all-party meeting, which was scheduled to be held today, has been postponed. According to reports, the meeting will now be held on Wednesday.
07:30 am: Government statement on China issue likely today: Defence Minister Rajanth is expected to speak on the China issue in Lok Sabha today. This has come amid demands of a debate on the issue by the Opposition parties.
Posted By: Shashikant Sharma