'Only Made-in-India products to be sold at all CAPF canteens from June 1': Govt after PM's 'vocal for local' call
Updated: Wed, 13 May 2020 01:57 PM IST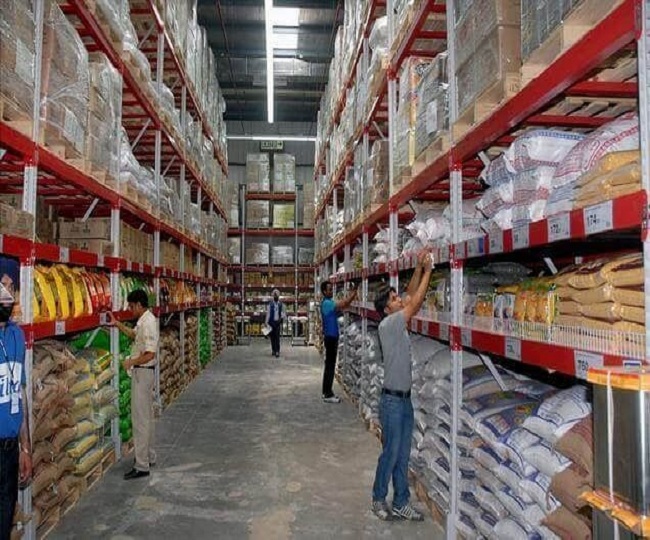 New Delhi | Jagran News Desk: Adhering to Prime Narendra Modi's call to promote India-made products and become 'vocal for local', the Ministry of Home Affairs on Wednesday decided that only indigenous products will be sold at all Central Armed Police Forces (CAPF) canteens from June 1st, 2020, like the CRPF and the BSF to 50 lakh family members of about 10 lakh personnel.
"The Ministry of Home Affairs has decided that all Central Armed Police Forces (CAPF) canteens will now sell only indigenous products. This will be applicable to all CAPF canteens across the country from 1 June 2020. With this, 50 lakh family members of about 10 lakh CAPF personnel will use indigenous products," he said.
कल माननीय प्रधानमंत्री श्री @narendramodi जी ने देश को आत्मनिर्भर बनाने और लोकल प्रोडक्ट्स (भारत में बने उत्पाद) उपयोग करने की एक अपील की जो निश्चित रूप से आने वाले समय में भारत को विश्व का नेतृत्व करने का मार्ग प्रशस्त करेगी। pic.twitter.com/KlYD9Z7UVt

— Amit Shah (@AmitShah) May 13, 2020
इसी दिशा में आज गृह मंत्रालय ने यह निर्णय लिया है कि सभी केंद्रीय सशस्त्र पुलिस बलों (CAPF) की कैंटीनों पर अब सिर्फ स्वदेशी उत्पादों की ही बिक्री होगी। 01 जून 2020 से देशभर की सभी CAPF कैंटीनों पर यह लागू होगा। इससे लगभग 10 लाख CAPF कर्मियों के 50 लाख परिजन स्वदेशी उपयोग करेंगे।

May 13, 2020
In a series of tweets, Amit Shah said that the decision has been taken after PM Modi's appeal to promote local products and being self-reliant in these times of crisis. Amit Shah also appealed to the citizens of the country to use maximum products made in the country and encourage others to do the same.
Also Read: PM Modi announces 'aatma-nirbhar Bharat' economic package of Rs 20 lakh crore, says 'Lockdown 4.0' will be different
The CAPFs -- CRPF, BSF, CISF, ITBP, SSB, NSG and Assam Rifles -- canteens together sell products worth about Rs 2,800 crore annually.
Referring to PM Modi's appeal on Tuesday, during his address to the nation, to make the country self-reliant and use products made in India, Shah said this will surely pave the way for India to lead the world in future.
"If every Indian pledges to use products made in India (Swadeshi), the country can become self-sufficient in five years," Shah said.
मैं देश की जनता से भी अपील करता हूं कि आप देश में बने उत्पादों को अधिक से अधिक उपयोग में लायें व अन्य लोगों को भी इसके प्रति प्रोत्साहित करें। हर भारतीय अगर भारत में बने उत्पादों (स्वदेशी) का उपयोग करने का संकल्प ले तो पांच वर्षों में देश का लोकतंत्र आत्मनिर्भर बन सकता है।

— Amit Shah (@AmitShah) May 13, 2020
The announcement came a day after Prime Minister on Tuesday addressed the nation on coronavirus crisis and urged people "vocal about local" and buy products from local suppliers and manufacturers as they have met the country's demands in this hour of crisis.
Prime Minister said that the goal of the country will be to become "self-reliant" and identified economy and infrastructure as key drivers for it.
"Time has taught us that we must make 'local' the mantra of our lives. Global brands that are there today were once local too but when people there started supporting them they became global. That is why from today, every Indian must become vocal for our local," PM Modi said in his address.
Also Read: 'Local ke liye Vocal': PM Modi bats for local products, hints at distancing from China
"When India speaks of self-reliance, it does not advocate for a self-centered system. In India's self-reliance there is a concern for the whole world's happiness, cooperation and peace," PM Modi added.
Posted By: Talib Khan