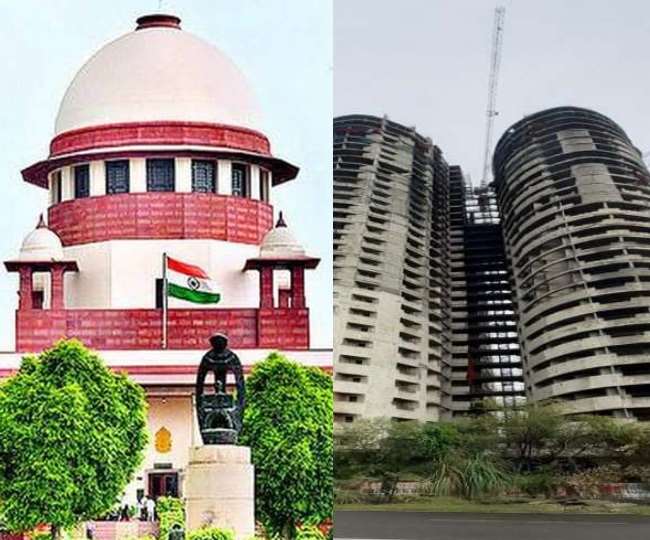 New Delhi | Jagran News Desk: The Supreme Court on Tuesday agreed to extend the deadline for the demolition of the Supertech twin towers in Noida Sector 93A. At the request of the demolition agency, Edifice Engineering, the SC granted a three-month extension or time until August 28, 2022, for razing down the towers.
Supreme Court agrees to grant three more months for demolition of Supertech's twin 40-storey towers in Emerald Court project, Noida, UP. At the request of the demolition agency, Edifice Engineering, the apex court grants time until August 28th, 2022. pic.twitter.com/wJ6hfu9489

— ANI (@ANI) May 17, 2022
Earlier, the apex court had given time till May 22 for carrying out the demolition of the 40-storey towers - Apex and Ceyane.
The SC on August 31 last year ordered the demolition of the nearly 100-metre-tall twin towers built in violation of building bye-laws inside the Supertech's Emerald Court housing society in Noida's Sector 93A. The top court had ruled that the towers were constructed in violation of the building norms in "collusion" with NOIDA officials, holding that illegal construction has to be dealt with strictly to ensure compliance with the rule of law.
Edifice Engineering, which is taking the help of South African company Jet Demolition to demolish the twin towers, conducted test blasts at the site on April 10.
Last month, Edifice requested more time to bring the towers down. The Noida Authority had also confirmed that Edifice has written to Supertech over the matter.
"The engineering firm carrying out the demolition of the twin towers has now written to Supertech for a time extension for the job, citing inputs from the foreign experts engaged for the work," news agency PTI had reported.
"They (Edifice) have written to Supertech. The engineering firm has to comply with the agreement signed with Supertech," Noida Authority CEO Ritu Maheshwari told PTI.
"It's the builder's responsibility to demolish the towers as per Supreme Court orders and within the submitted timelines. We can't allow time extensions on our own," Maheshwari said.
Meanwhile, experts engaged in the job, believe that the structures are "very solid" and they may have to use "more explosives" than what was estimated earlier to bring the buildings down.
The SC had directed that the entire amount of home buyers be refunded with 12 per cent interest from the time of the booking and the RWA of Emerald Court project be paid Rs 2 crore for the harassment caused due to the construction of the twin towers, which would have blocked sunlight and fresh air to the existing residents of the housing project adjoining the national capital.
(With agency inputs)