Nirbhaya Case: Uncertainty looms over convicts' hanging on Feb 1 as new petition filed in SC
Updated: Wed, 29 Jan 2020 10:20 AM IST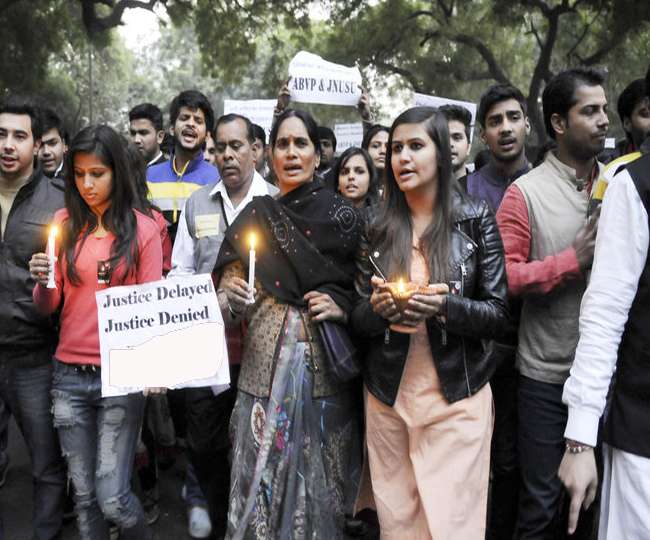 New Delhi | Jagran News Desk: Using his last legal resort, one of the four convicts in Nirbhaya gang-rape and murder case, Akshay Singh has challenged his execution by filing a curative petition in the Supreme Court, on Tuesday. Akshay Singh, 31, is the latest convict to challenge his hanging in a case that has been criticised for its duration.
Also Read: Nirbhaya rape-murder case | 3-judge SC bench to hear convict Mukesh's plea against rejection of mercy petition today
Last month, the Supreme Court had rejected Akshay Singh's petition seeking a review of his death sentence after he filed a plea making bizarre claims, including citing Hindu religious texts and the Delhi pollution crisis as reasons why the hanging should not be carried out.
Meanwhile, the Supreme Court will today pronounce its order on a petition filed by Nirbhaya gang-rape and murder convict -- Mukesh Kumar Singh -- challenging the rejection of his mercy petition by President Ram Nath Kovind.
A three-judge bench of the apex court headed by Justice R Banumathi and also comprising Justice AS Bopanna and Justice Ashok Bhushan heard the arguments in the matter yesterday and is likely to pronounce its order at 10.30 am today.
Besides Akshay and Mukesh Singh, two others - Vinay Sharma, 26, and Pawan Gupta, 26, are due to be executed on Saturday at Delhi's Tihar jail. A fifth convict, who was a juvenile at the time of the crime, was sent to a remand home and later released.
The 23-year-old paramedical student was brutally gang-raped in a moving bus in south Delhi on the night of December 16, 2012, by six people including a juvenile.
One of the accused, Ram Singh, allegedly committed suicide in Tihar Jail in March 2013 during the trial. Another convict, who was a minor at the time of the crime, was sent to a reform facility and released after three years of the crime.
Last-minute petitions by the convicts have been widely seen as desperate attempts to delay their hanging. The delay has been criticised by many including parents of the woman who was raped and left to die.
Also Read: Coronavirus Outbreak | 'Running out of food and water': Indian students in Wuhan appeal for early evacuation
The central government last week also asked the top court to change the guidelines in death row cases so that the convicts cannot keep delaying capital punishment by exploiting the legal options. The current rules are skewed towards convicts and allow them to "play with the law and delay the execution," the centre said in its petition.
Posted By: Talib Khan