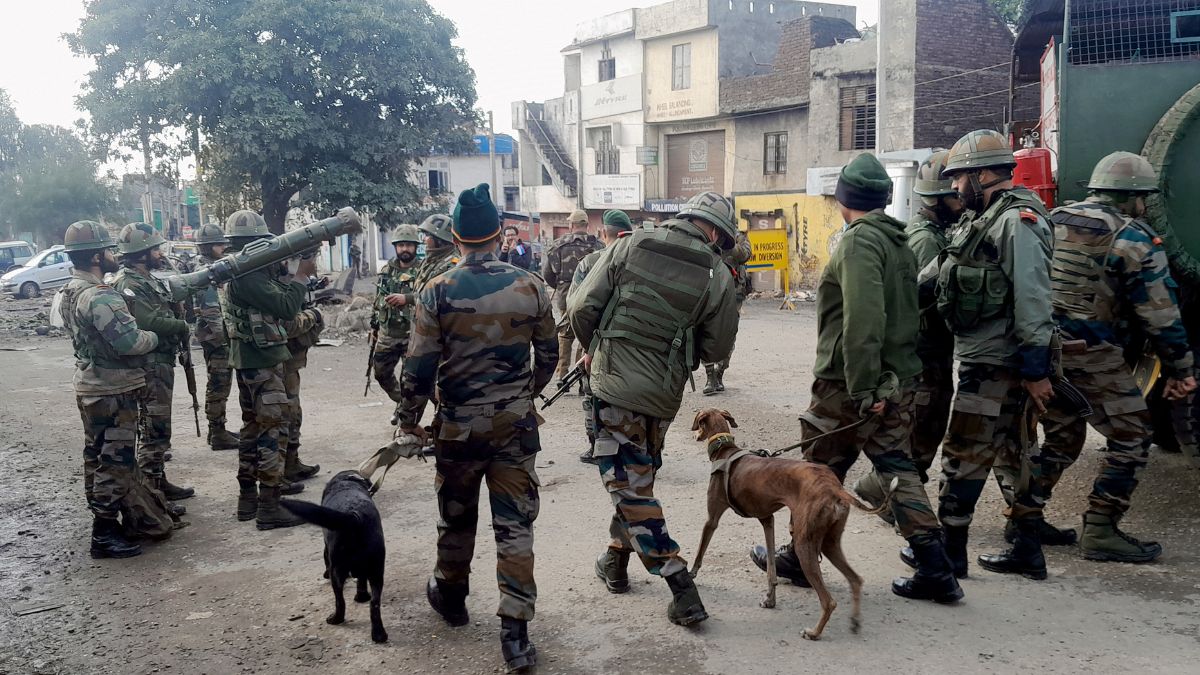 TWO DAYS before Congress leader Rahul Gandhi-led Bharat Jodo Yatra is scheduled to reach Jammu, two explosions rocked a busy locality in the city on Saturday injuring nine people. The police suspect that the two blasts were carried out using IEDs. The first blast took place in an SUV parked in a repair shop in Narwal while the second took place in a vehicle at a nearby junkyard in the Transport Nagar area.
Jammu twin blast #UPDATE | A total of 9 people were injured. All treated at Government Medical College and Hospital Jammu: Hospital Authorities https://t.co/DtbojKjLle

— ANI (@ANI) January 21, 2023
Condemning the incident, Jammu and Kashmir Lt. Governor Manoj Sinha called for urgent action against the perpetrators. The LG also announced a relief of Rs 50,000 each to the injured. "Such dastardly acts highlight the desperation and cowardice of those responsible for the attacks. Take immediate and firm action. No efforts should be spared to bring the perpetrators to justice," Sinha said, as quoted by PTI.
J&K LG, Manoj Sinha has strongly condemned the blasts in Narwal, Jammu this morning. Senior police officials briefed the Lt Governor about the blast and on the state of investigation. He called for urgent steps to identify and take action against those responsible.

(File pic) pic.twitter.com/6xCCMuuo6g

— ANI (@ANI) January 21, 2023
Informing about the blast, Additional Director General of Police, Mukesh Singh, as quoted by PTI, said, "A blast occurred in an old, parked Bolero (Sports Utility Vehicle) around 11 am resulting in injuries to five people who were standing nearby. They were evacuated to hospital and their condition is stable".
The ADGP said that the second blast took place 50 meters away within minutes causing injuries to several other people. Nine people have been brought to the Government Medical College (GMC) hospital. "We have received nine patients with one having abdominal injuries and two others fractured legs. The condition of all of them is stable," PTI quoted a doctor at the hospital as saying.
The officials said the whole area was cordoned off by joint teams of police and CRPF immediately after the first explosion which was followed by another blast 15 minutes later. A thorough sanitisation operation was carried out and forensic experts, bomb disposal squad and sniffer dogs were also pressed into service to look for clues.
#WATCH | J&K: Twin explosions occurred in the Narwal area of Jammu today, injuring at least 6 people.

Visuals of the moment when one of the explosions occurred. pic.twitter.com/9avgnAd6w6

— ANI (@ANI) January 21, 2023
The blasts raised an alarm for security agencies, who have been on an alert in the region, given the scheduled visit of Rahul Gandhi for the Bharat Jodo Yatra and the upcoming Republic Day celebrations. Rahul Gandhi-led Bharat Jodo Yatra earlier this week entered Jammu and Kashmir's Kathua district and is currently camping in Chadwal, which is 70 kilometres away from the blast site.
After a day's break on Saturday, the yatra, which commenced from Kanyakumari on September 7, is scheduled to resume from Hiranagar on Sunday and reach Jammu on January 23 after starting from Vijaypur in Samba district.

(With Agency Inputs)