On I-Day, PM Modi speaks on Triple Talaq, Article 370 and GST | Key Highlights
Updated: Thu, 15 Aug 2019 02:53 PM IST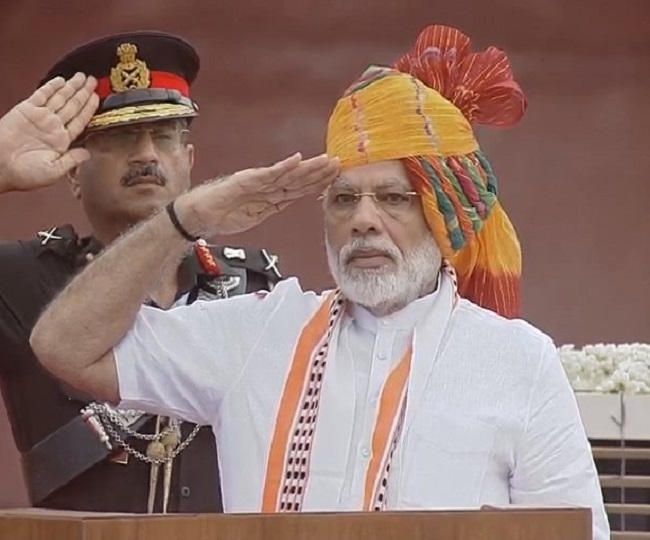 New Delhi | Jagran News Delhi: Prime Minister addressed the nation on the occasion of the 73rd Independence Day. This is PM Modi's sixth straight speech and the first after resuming office with an impressive victory in 2019 Lok Sabha Elections.
PM Modi primarily spoke about Triple Talaq and the government's decision to revoke Article 370 from Jammu and Kashmir. His speech also spoke about the welfare policies and steps taken by the government for the development of the nation.
Here are the highlights of PM Modi's speech:
1. Remember how scared Muslim women were, those who suffered due to practice of Triple Talaq, but we ended that. When Islamic nations can ban it then why can't we? When we can ban Sati, when we can take strong steps against female infanticide, child marriage, then why not this?
2. We do not believe in creating problems or prolonging them. In less than 70 days of the new Government, Article 370 has become history, and in both Houses of Parliament, 2/3rd of the members supported this step. We want to serve Jammu, Kashmir, Ladakh.
3. The old arrangement in Jammu, Kashmir and Ladakh encouraged corruption, nepotism but there was injustice when it came to rights of women, children, Dalits, tribal communities. The dreams of sanitation workers were incomplete. How can we accept such a situation.
4. Those who supported Article 370, India is asking them - If this was so important and life changing, why was this Article not made permanent. After all, those people had large mandates and could have removed the temporary status of Article 370.
5. GST brought to life the dream of One Nation, One Tax. India has also achieved One Nation, One Grid in the energy sector. Arrangements have been made for One Nation, One Mobility Card. Today, India is talking about One Nation, One Election.
6. The movement towards water conservation has to take place at the grassroots level. It cannot become a mere Government programme. People from all walks of life have to be integrated into this movement.
7. There is one issue I want to highlight today- population explosion. We have to think- can we do justice to the aspirations of our children. There is a need to have greater discussion and awareness on population explosion.
Also Read: Modi on Independence Day: Our priority should be a 'Made in India' product, says PM
8. Every effort made to remove corruption and black money is welcome. These are menaces that have ruined India for 70 long years. Let us always reward honesty.
9. Today, the Government in India is stable, the policy regime is predictable...the world is eager to explore trade with India. We are working to keep prices under check and increase development. The fundamentals of our economy are strong.
10. Time has come to think about how we can boost exports. Each district of India has so much to offer. Let us make local products attractive. May more export hubs emerge. Our guiding principle is Zero Defect, Zero Effect.
11. From the ramparts of the Red Fort, I give my greetings to the people of Afghanistan who are marking 100 years of freedom.
12. Those who give protection to terrorism and support it must be exposed. Bangladesh, Afghanistan, Sri Lanka also are affected by terrorism. All countries in the world need to come together to fight this menace.
Also Read: Confident that recent changes in J-K will benefit people there, says President Kovind on I-Day eve
13. Our forces are India's pride. To further sharpen coordination between the forces, I want to announce a major decision from the Red Fort: India will have a Chief of Defence Staff- CDS. This is going to make the forces even more effective.
14. Our priority should be a 'Made in India' product. Can we think of consuming local products, improving rural economy and the MSME sector.
15. Digital payment ko haan, nakad ko na' Can we make this our motto? Let us increase the use of digital payments all over the country.
Posted By: Aalok Sensharma