Mega June success for Forces in Jammu & Kashmir: 41 Terrorists eliminated so far in sixteen days
13 terrorists including Riyaz Naikoo were eliminated in May, bringing the total number of terrorists killed in anti-terror operations to 54
Publish Date: Tue, 16 Jun 2020 12:33 PM IST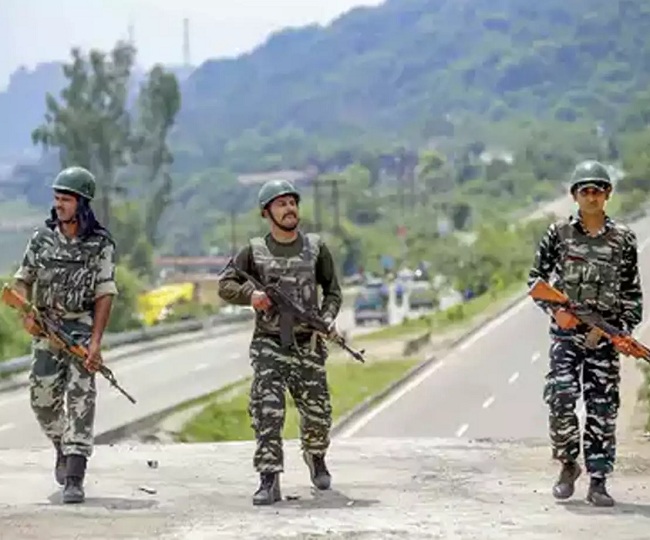 New Delhi | Jagran News Desk: The sheer desperation of terrorists nurtured by Pakistan, especially the ones recruited into Hizbul Mujahideen, for creating unrest in Jammu and Kashmir, has reached new heights after Forces eliminated the longest surviving Commander of Hizbul Mujahideen, Riyaz Naikoo early in the May.
The security forces have so far eliminated 41 terrorists just in the month of June, including the ones who were killed along the Line of Control. 13 terrorists including Riyaz Naikoo were eliminated in May, bringing the total number of terrorists killed in anti-terror operations to 54, in May-June so far. In yet another major success, security Forces have also arrested two terror operatives in the valley within a period of four weeks.
Less than a month after Naikoo was killed, forces first eliminated Hizbul's IED expert on May 18th, and then on 3rd June, a Pakistani national Abdul Rehman aka Fauji baba, Jaish-E-Mohammed's IED expert too was killed in an encounter in Pulwama.
Rehman, the 'veteran' of Afghan war, was the mind behind the planning and logistical support for another Feb 14-Pulwama like attack, who was found responsible for IED loads recovered in Rajpora, Pulwama district on May 28th, reported to be a half an hour drive away from the site where an explosive laden car was bombed against CRPF men in February, 2019.
The Indian security apparatus, thus foiled the attempts of another Pulwama-like attack in Kashmir despite concerted efforts by the terror-machinery.
The anti-terror operations this time have also exposed the hypocrisy of so-called 'non-violence' which the likes of Hurriyat claim to be preaching in Kashmir. In an encounter which broke out in Nawakadal, Srinagar on May 18th, Tahreek-e-Hurriyat chairman, Mohammad Ashraf Khan alias Sehrai's son Junaid Ashraf Khan, who was acting as Hizbul's Divisional Commander was killed alongside another Hizbul terrorist, a Pakistani national. As early as on Tuesday, 16th June, among the three Hizbul terrorists eliminated in Shopian, one terrorist was a close relative of Former PDP legislator Zaffar Iqbal Manhas, India Today reported.
A glance upon terror elimination in June
Monday, June 1: A total of thirteen heavily armed terrorists killed along the line of control in two sectors: ten in Mendhar-Poonch and another three in Nowshera, India Today reported.
Tuesday, 2nd June: Two Hizbul terrorists killed in an encounter in Tral, Pulwama.
Wednesday, 3rd June: Three JeM terrorists killed in Kangan, Pulwama. One a Pakistani national, Abdul Rehman Ilyas Fauji baba, the maker of IED bomb loads recovered on May 28. Forces declare it second biggest success in less than a month after Riyaz Naikoo's neutralisation.
Sunday, 7th June: Five Hizbul terrorists, including a self-declared commander dead in Reban, Shopian.
Monday, 8th June: Four terrorists killed in Shopian's Pinjora area. Second encounter in Shopian district in less than twenty four hours, leaving nine terrorists dead in total.
Wednesday, June 10: In yet another operational success, security forces gunned down five terrorists in an encounter in Jammu and Kashmir's Shopian district on Wednesday, taking the number of terrorists killed in the last four days to 14.
Thursday, June 11: Two terrorists killed, one apprehended in Budgam.
Saturday, June 13: Two terrorists killed in Anantnag.
Sunday, June 14: Two terrorists killed in Kulgam. While others managed to flee the scenes in Pulwama and Shopian amid consistent stone pelting during the encounter, locals reports stated.
Tuesday, June 16: 3 terrorists killed in encounter in Jammu and Kashmir's Shopian, about 400 to 500 meters away from Rashtriya Rifles camp. Fourth such encounter in Shopian in ten days, leading to the neutralization of fourteen terrorists in total.
"For the first time, terrorists are down to single digits in Shopian district," Dilbagh Singh, DG of J&K Police told media.
"Pakistani agencies are trying hard to revive militancy in J&K. Earstwhile Doda district which had turned by and large calm, was targeted to infuse militancy again. But in Doda and Kishtwar some very successful operations were conducted by the forces and this belt has almost been cleared of the militancy. Hardly, one militant is alive in this belt and forces are on the job to eliminate him also shortly," the DGP said.
Posted By: Abhinav Gupta