Publish Date: Fri, 12 Jun 2020 04:20 PM IST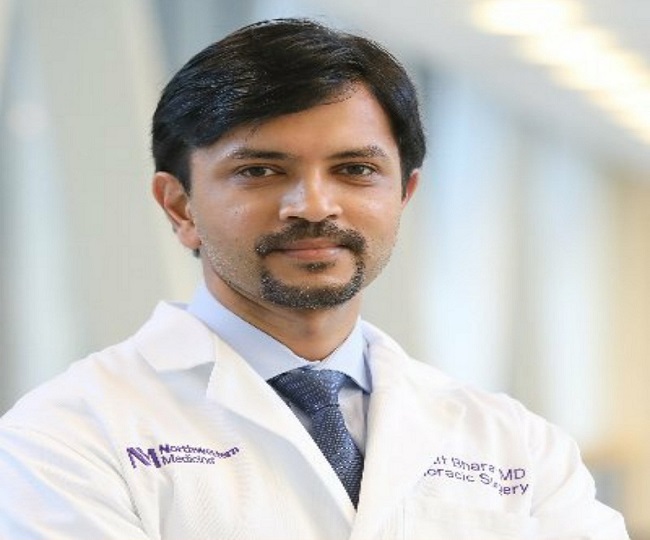 New Delhi | Jagran News Desk: A team of surgeons led by an Indian-origin doctor successfully conducted the transplant of a set of lungs in a COVID positive patient. The lungs of a patient in her 20s were damaged due to the contraction of severe COVID infection, one of its kind in the United States of America (USA) since the pandemic started.
Ankit Bharat, Chief of thoracic surgery and surgical director of Northwestern Medicine of Chicago, lung transplant programme, said organ transplantation can become more frequent for the victims of most severe forms of coronavirus infection
"This is one of the toughest transplants I've done," Dr. Bharat was quoted as saying by the news agency PTI.
"This was truly one of the most challenging cases," Meerut-born Dr Bharat added.
According to a Washington Post report, the patient whose identity has been kept anonymous, was on immunosuppressant medication for a previous condition when she contracted the coronavirus, and that, Dr Bharat says, became the reason that the contagion infection affected her lungs the most.
"The woman spent just two days on the waiting list before an appropriate brain-dead lung donor was found," Dr Bharat was quoted as saying while adding that "only a small percentage of donor's lungs meet the standards for transplantation, and at first, the woman's physicians were not sure these would qualify."
"We are one of the first health systems to successfully perform a lung transplant on a patient recovering from Covid-19," CNN quoted Dr Bharat as saying, adding further that, "We want other transplant centres to know that while the transplant procedure in these patients is quite technically challenging, it can be done safely, and it offers the terminally ill COVID-19 patients another option for survival."
Earlier, a team of Surgeons in Austria on May 26 had executed the world's first know lung-transplant in a patient severely struck upon by the coronavirus infection.
Posted By: Aalok Sensharma