Lockdown 4.0: States announce guidelines as Centre extends nation-wide lockdown till May 31 | Check list here
Lockdown 4.0: The Ministry of Home Affairs, while issuing its guidelines for the lockdown 4, said that all domestic and international air travel of passengers, except domestic air ambulance will remain prohibited till May 31. (Image Credits: PTI)
Updated: Tue, 19 May 2020 01:08 PM IST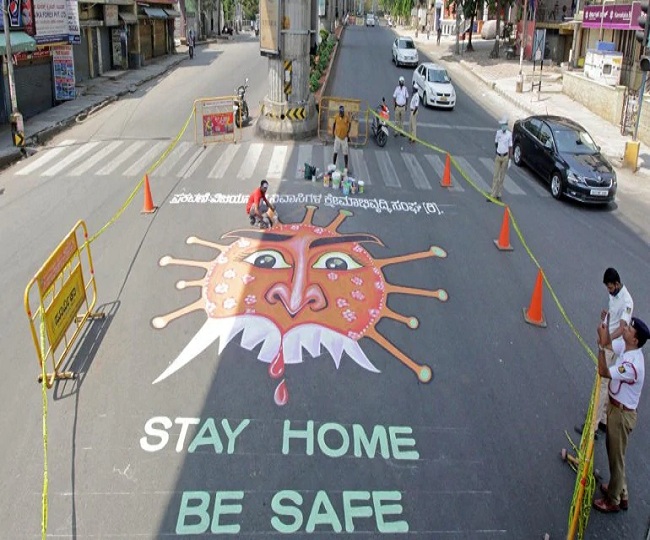 New Delhi | Jagran News Desk: After the the Centre on Sunday extended the nation-wide lockdown till May 31, to contain the spread of the deadly coronavirus, several states started issuing new guidelines for the fourth phase of the coronavirus-induced lockdown.
The Ministry of Home Affairs, while issuing its guidelines for the lockdown 4, said that all domestic and international air travel of passengers, except domestic air ambulance will remain prohibited till May 31. It further said that metro rail services will also remain closed.
The MHA has, however, allowed inter-state travel of passenger vehicles, buses, but with the mutual consent of states involved during COVID-19 lockdown 4, beside allowing other activities like opening up of markets and market complexes outside containment zones on odd-even basis, plying of public buses with 20 passengers only among others.
Here's the look at the guidelines issued by different states:
Uttar Pradesh:
Whats allowed?
The state government has allowed reopening of the vegetable markets (Sabzi Mandi) with proper precautions for three hours from 4am to 7am. Retails vegetables can be sold between 6am to 9pm.
Private vehicles have also been allowed with certain restrictions. Three passengers including the driver can travel on a four-wheeler, pillion ride on two-wheelers has been allowed only in case of a woman and three including the driver on a three-wheeler had been allowed.
Street vendors and hawkers have also been permitted to function in the state.
Restaurants have been allowed to operate but only for home delivery option.
Banquet halls have been permitted to open but not more than 20 people can attend a wedding.
Stadiums allowed to reopen as suggested by the Centre but without spectators.
Printing presses, dry cleaners, industrial activities outside containment zones and sweet shops have also been permitted in the new guidelines.
Nursing homes and private hospitals allowed for emergency operations.
What's not allowed
School, colleges and all other educational institutions will remain closed during lockdown 4.0.
Religious gatherings have been prohibited in the fresh guidelines.
Air services, except emergency/air ambulance, will not be allowed to function during the lockdown period in the state.
Metro services to remain suspended during the fourth phase of the lockdown.
Hospitality services, except for Covid-19 frontline workers, will remain shut.
Cinema halls, malls and gyms can't open during lockdown 4.0.
Prohibitory orders will be in place in the state during the night and no vehicles, except on essential services, will be allowed between 7pm and 7am.
Delhi:
Whats allowed?
Buses will be allowed but with not more than 20 passengers
All private and government offices will be opened with all their staff.
Stand-alone shops in markets and residential complex will be opened
All industries will be allowed
All construction services will be allowed – with workers in Delhi. No outside labourers allowed.
Marriage is allowed with not more than 50 guests
Auto-rickshaws, e-rickshaws and cycle-rickshaws will be allowed but only with 1 passenger.
Two-wheelers, pillion rider will not be allowed.
Markets can open but shops will open on odd-even basis
Restaurants for home delivery
Auto with 1 passenger
Maxi cab with 5 passengers
Taxi and cabs with two passengers
Sports complex allowed- without spectators
Gramin Sewa/phat phat sewa
RTV with 11 passengers
Whats not allowed?
Metro services
Shopping malls
School/college/coaching/shopping mall/entertainment park/bar/assembly halls
Religious gathering of all kinds
Hotels, restaurants
Barber/spa/salon
Stepping out of homes between 7 pm to 7 am, except for essential services will be prohibited.
Carpooling or car-sharing will not be allowed for aggregators
West Bengal
Whats allowed?
From May 21, except for containment A areas, small, medium and large offices can open.
Offices inside malls can also open from May 21.
Private offices can open with 50% capacity from May 21.
Inter-district bus services will start on May 21.
Street vendors, salon and parlour owners would be allowed to reopen the shops from May 21
Sports can also be played from May 21, but without an audience.
Hawkers' markets can open from May 27.
Autorickshaws can also resume operations from May 27, but with no more than two passengers.
Kerala
Whats allowed?
Intra-district public transport but with only 50 per cent of the seating capacity.
For inter-district movement, private vehicles to ply without any need of special passes. Only carrying ID cards is enough.
Taxi services with two passengers is allowed.
Auto rickshaws to move with only 1 passenger. 3 passengers are permitted in case of families.
Pillion riding allowed on motorcycles but only if family member.
In shopping complexes, 50% of the shops to open on alternate days only.
Barber shops to function but without Air-Conditioning. Only hair cutting and hair dressing will be allowed in these shops.
Beverages outlets and liquor shops are allowed to function for delivery as and when online registration is enabled.
Government offices to open with only 50% of their workforce. Saturday shall be holiday for government offices until further orders.
Whats not allowed?
Schools, colleges and educational institutions to remain closed
Cinema halls, gyms, shopping malls to remain closed
Religious gatherings
Air services (Except emergency/air ambulance)
Metro services
Hospitality services (except for corona warriors)
No movement of people and vehicles from 7pm till 7 am except those involved in essential services.
Gujarat
Whats allowed?
In containment zones, shops selling essential items will remain open from morning 8 am to afternoon 3pm.
All shops and businesses will be open in non containment zones from 8 am to 4pm.
Auto-rickshaws allowed, except in Ahmedabad and Surat, with a maximum of two passengers in each auto.
Market and shops to be opened on odd-even basis and at no time more than five people should be in any shop.
Areas outside containment zone on the western bank of Sabarmati in Ahmedabad
State transport buses will start across the state except in Ahmedabad due to high number of cases
Marriages with 50 people and funerals with 20 people
Paan Cigarettes shops.
Public libraries .
Cab aggregators with driver plus two passengers are allowed, except in containment areas and in eastern Ahmedabad.
Haircutting salons.
Home delivery for restaurants
Private offices with 33 percent attendance.
All repair shops garages outside containment zones.
Textile markets in Surat outside containment zones on odd even basis.
Diamond industry to be opened with 50 percent staff.
Whats not allowed?
Schools and colleges.
Gyms and swimming pools.
Shopping malls.
Parks.
Religious places.
Cultural events.
Buses, except in the containment zones.
People living in containment zones will not be allowed to go out for work.
Tamil Nadu
Whats allowed?
25 districts in Tamil Nadu - Coimbatore, Erode, Salem, Tiruppur, Namakkal, Karur, Tirunelveli, Thenkasi, Tuticorin, Kanniyakumari, Theni ,Madurai, Sivagangai, Virudhunagar, Ramanathapuram, Dindigul, Pudukottai, Tirchy, Thiruvarur, Tanjavur, Nagapattinam, Krishnagiri, Dharmapuri, Vellore and Nilgiris will see partial relaxation of lockdown norms from May 17.
In these districts, the government has allowed people to travel within the district without obtaining the mandatory E-Pass from the concerned authorities. For example, a person travelling within Coimbatore district limits does not have to obtain E-Pass from the administration. However, the pass is still mandatory for people who wish to travel from one district to another.
Special buses operated by the government or private companies to ferry employees can only accommodate 20 people at a time. With respect to other vehicles, only 7 people are allowed to travel in a van, 3 people in an Innova car, and apart from the driver, only 2 people can travel in a small car.
Hiring of taxi and cabs will only be allowed for essential, emergency and agricultural related services. Tamil Nadu government has advised general public not to use these exemptions for non-essential services.
Except in Chennai district limits, all industrial units across the state, even outside Special Economic Zones, are allowed to begin their operations with minimum workforce. Companies that have less than 50 employees can restart their operations with 100% workforce. Likewise, industrial units that has more than 100 employees can begin their operations with minimum 100 workers. 100% workforce allowed for MNREGA.
The government has also instructed all district collectors to follow Standard Operating Procedures laid down by the government during the lockdown.
Whats not allowed?
Schools, colleges, coaching centres and all educational institutions will remain shut.
No train or air passenger services will be allowed. Only special trains and flights meant for transporting stranded people by Central government after seeking the permission of state government will be allowed.
Temples, mosques, churches and all other places of religious worship will remain closed until May 31 st.
Theatres , liquor bars, gyms, tourist destinations, museums, public swimming pools, stadiums and public meeting halls will remain shut till the lockdown ends.
No permission will be granted for any kind of public events including religious, political and cultural programs, processions and other events by the police and concerned authorities.
Taxi, auto, cycle rickshaws, metro rail, local electric trains will not be allowed to operate during lockdown 4.0.
Hotels, resorts and lodges will remain closed, except for those accommodating COVID-19 frontline workers.
The existing restrictions will continue for people participating in funerals and marriages across the state.
Tourist and summer holiday destinations like Nilgiris, Kodaikanal and Yercaud will be out of bounds for general public and strict instructions have been given to the concerned district authorities not to allow outsiders.
No change in containment zones and existing restrictions will continue
Posted By: Talib Khan