Lockdown 3.0 with some relaxations kicks in today | A complete guide to what opens and what remains closed
Updated: Mon, 04 May 2020 10:19 AM IST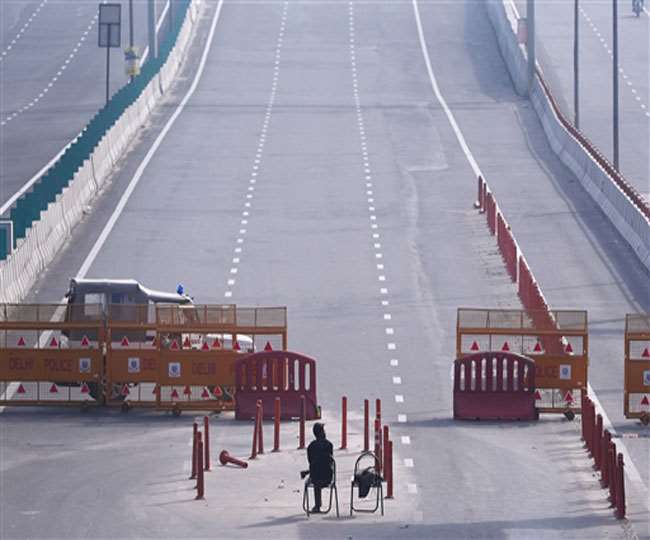 New Delhi | Jagran News Desk: The third phase of the coronavirus lockdown will begin on Monday with the central government providing 'considerable relaxation' in districts falling under the 'Orange' and 'Green' zone categories. However, a number of 'limited' activities will remain closed across the country.
Releasing guidelines for the extended period of lockdown, the Ministry of Home Affairs (MHA) had said that 130 districts fall under the 'Red' zone category, 284 under 'Orange' and 319 under the 'Green' zones.
The government had further said that the restrictions were extended partially after a comprehensive review and in view of the lockdown measures having led to significant gains in the coronavirus pandemic in the country.
As India enters the third phase of the coronavirus lockdown, here are a few things that you should know about:
What are Red, Orange and Green Zones?
As per the government, districts falling under 'Red' zones will be based on number of active cases and the doubling rate of confirmed cases and extent of testing and surveillance feedback. They are popularly known as 'Hot Spots'.
On the other hand, 'Green' zones are those districts which have reported zero confirmed cases till date or districts with no confirmed cases in the last 21 days while falling neither under 'Green' or 'Red' zones fall under 'Orange' zone category.
What are the activities that will remain prohibited across India?
As per the MHA notification, travel by air, rail, metro and inter-state movement by road will not be allowed, except for the one permitted by the government.
All educational institutions, including schools and colleges, will remain closed.
Hospitality services, including hotels and restaurants will remain closed.
The gathering of people for social, political, cultural and other kinds of events will remain prohibited.
Cinema halls, malls, gymnasiums, sports complexes etc. will remain closed.
The movement of individuals, for all non-essential activities, shall remain strictly prohibited between 7 pm to 7 am.
Activities that will be allowed in Red zones:
Movement of individuals and vehicles, only for permitted activities. Four wheeler vehicles will have maximum two passengers besides the vehicle driver; for two wheelers, pillion rider is not allowed.
Industrial establishments in urban areas: Only Special Economic Zones (SEZs), Export Oriented Units (EOUs), industrial estates and industrial townships with access control; Manufacturing units of essential goods, including drugs, pharmaceuticals, medical devices, their raw material and intermediates; Production units, which require continuous process, and their supply chain; Manufacturing of IT hardware; Jute industry with staggered shifts and social distancing; and, Manufacturing units of packaging material are permitted.
All industrial activities are permitted in rural areas.
Construction activities in urban areas: Only where workers are available on site and no workers are required to be brought in from outside and construction of renewable energy projects are permitted.
All construction activities are permitted in rural areas.
All standalone (single) shops, neighbourhood (colony) shops and shops in residential complexes are permitted to remain open in urban areas, without any distinction of essential and non-essential.
E-commerce activities will be permitted only in respect of essential goods.
Private offices can operate with up to 33 per cent strength as per requirement, with the remaining persons working from home.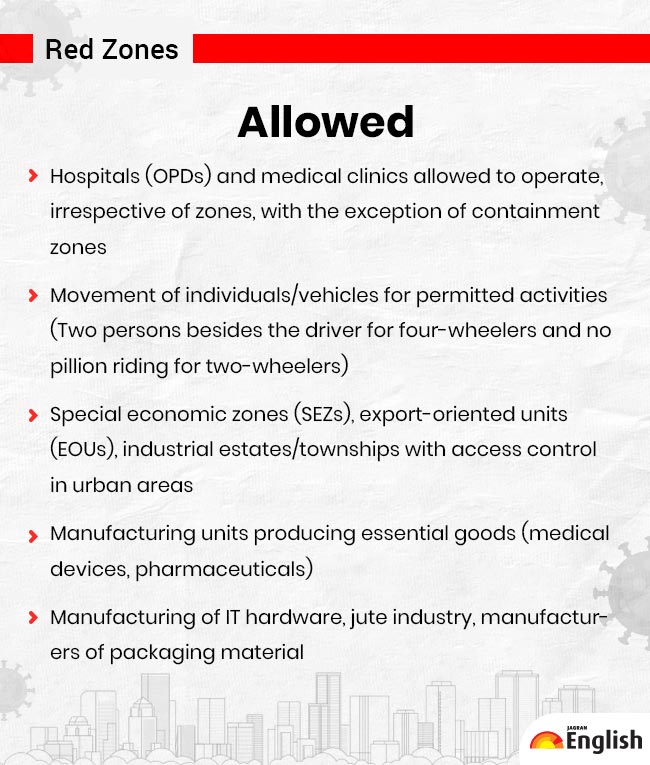 Activities allowed in Orange zones:
In addition to activities permitted in red zones, taxis and cab aggregators will be permitted with one drive and two passengers
Inter-district movement of individuals and vehicles will be allowed for permitted activities only
Four wheeler vehicles will have maximum two passengers besides the driver.
Pillion riding will be allowed on two-wheelers
E-commerce activities will be allowed only for delivery of essential goods
All government offices will be allowed to function as per the norms defined for red zones.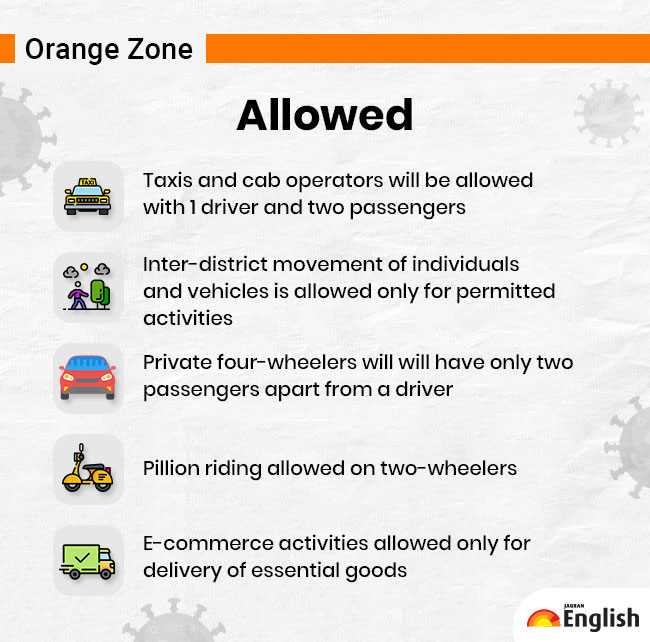 Activities allowed in Green zones:
All activities are permitted except those prohibited throughout the country, irrespective of the zonal division.
Buses can operate with up to 50 per cent seating capacity and bus depots can operate with up to 50 per cent capacity.
All goods traffic is permitted. No state/ UT shall stop the movement of cargo for cross land-border trade under treaties with neighbouring countries.
No separate pass of any sort is needed for such movement, which is essential for maintaining the supply chain of goods and services across the country during the lockdown period.
E-commerce is allowed in non-essential items in green zone
Sale of liquor has been allowed in all zones. However, if the shops are located in malls, marketing complexes and in containment areas, they cannot open.
Shops selling liquor, paan, gutka, tobacco etc. in public places will ensure minimum six feet distance from each other, and also that not more than 5 persons are present at one time at the shop.
OPDs and medical clinics shall be permitted to operate in red, orange and green zones with all social distancing norms.
Movement of stranded foreign nationals, persons released from quarantine, stranded migrant workers and students, pilgrims, tourists and other such persons is to be facilitated following the Standard Operating Protocols (SOPs) issued by home ministry.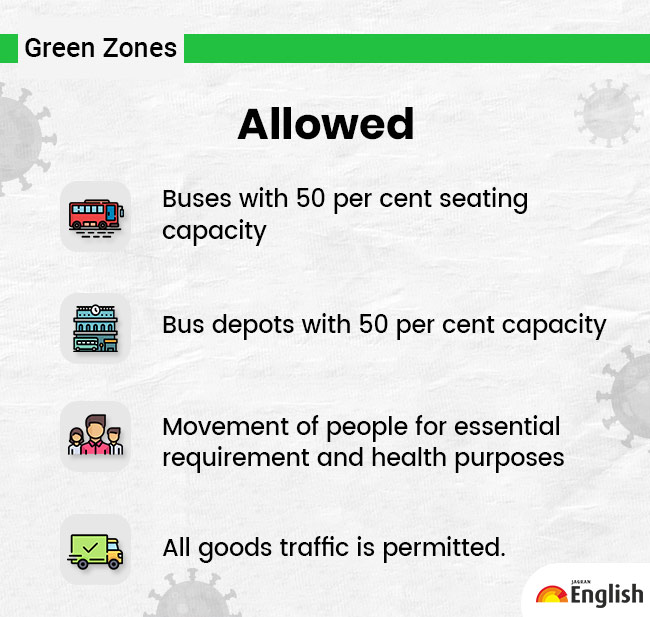 What is the coronavirus situation in India?
As per the Ministry of Health and Family Welfare, the dreadful coronavirus has affected more than 42,000 people while over 1,300 have lost their lives. There are 29,453 active coronavirus cases in India while 11,706 have recovered from the infection and discharged from hospitals, as per the Health Ministry.
Posted By: Aalok Sensharma