Lockdown 3.0: What's allowed and What's not in 319 Green Zone districts in India
Updated: Sat, 02 May 2020 11:34 AM IST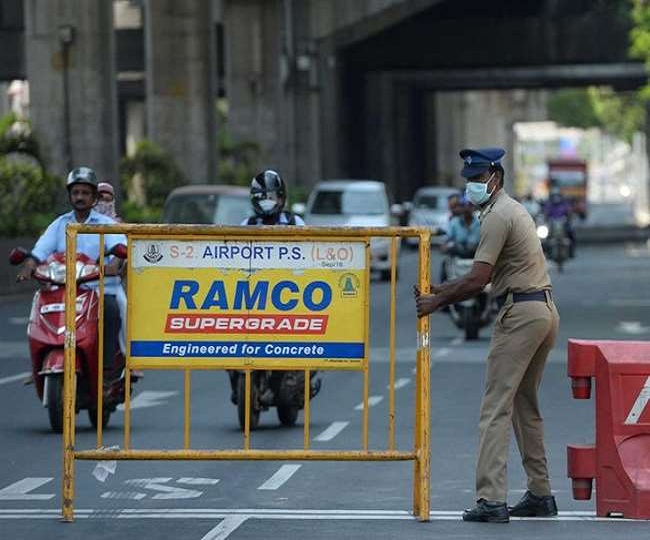 New Delhi | Jagran News Desk: Adding the third phase to the nation-wide lockdown, the government on Friday announced the extension of lockdown by two more weeks, with effect from May 4. The third phase of the lockdown will end on May 17. The government on March 25 imposed the nation-wide lockdown to contain the spread of the deadly coronavirus which has so far afflicted more than 37,000 people and killed over 1,200 in the country.
However, the Lockdown 3.0 is different from the previous two phases and came with slew of relaxations in the lockdown guidelines.
Also Read: Lockdown 3.0: What's allowed and what's not in 284 orange zone districts across India
The home ministry, in its order on Friday, classified the entire country into three zones, 'Red (Hotspot Districts), Orange (Low Risk Districts) and Green (Districts with no active cases)'. The classification of districts is done by the risks profiling of the districts of the country.
Green Zone districts are those where either zero COVID-19 case has been reported or no confirmed COVID-19 case has been reported in the last 21 days. The government in its order, identified 319 such districts from across the country, and eased the restriction according to the classification. So here is the list of 'What's allowed and what's not in green zone districts'.
What's Allowed:
All activities are permitted except those prohibited throughout the country, irrespective of the zonal division.
Buses can operate with up to 50 per cent seating capacity and bus depots can operate with up to 50 per cent capacity.
All goods traffic is permitted. No state/ UT shall stop the movement of cargo for cross land-border trade under treaties with neighbouring countries.
No separate pass of any sort is needed for such movement, which is essential for maintaining the supply chain of goods and services across the country during the lockdown period.
E-commerce is allowed in non-essential items in green zone
Sale of liquor has been allowed in all zones. However, if the shops are located in malls, marketing complexes and in containment areas, they cannot open.
Shops selling liquor, paan, gutka, tobacco etc. in public places will ensure minimum six feet distance from each other, and also that not more than 5 persons are present at one time at the shop.
OPDs and medical clinics shall be permitted to operate in red, orange and green zones with all social distancing norms.
Movement of stranded foreign nationals, persons released from quarantine, stranded migrant workers and students, pilgrims, tourists and other such persons is to be facilitated following the Standard Operating Protocols (SOPs) issued by Union home ministry.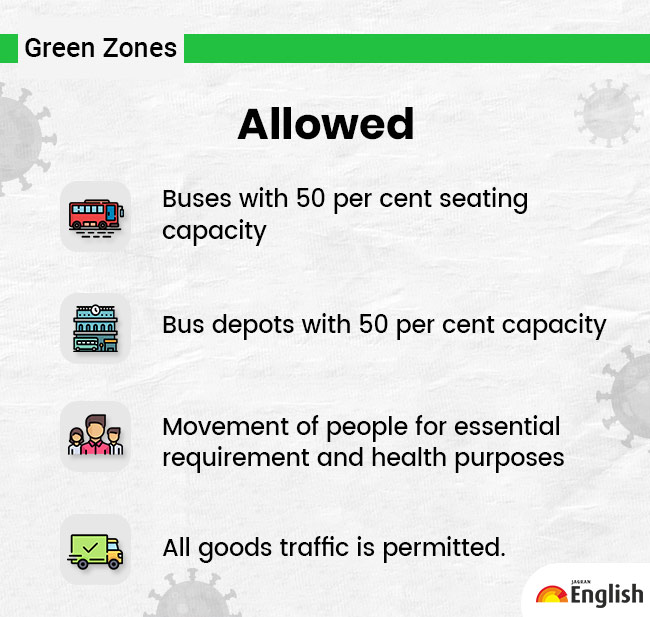 What's not allowed:
Air, rail, sea and metro train services are not allowed. These services are not allowed in any of the zones.
In all zones, person above 65 years, persons with co-morbidities, pregnant women and children below 10 years shall stay at home.
Also Read: Lockdown 3.0: What's allowed and what's not in 130 red zone districts across India
School, college, institutions , hospitality services , including hotels and restaurants, place of large gathering , such as cinema halls, malls, gym, sports complex, social, political, cultural and all kind of gathering, religious place/place of worship for public remain closed during lockdown 3.0.
Movement of individuals in all zones, for non-essential activities, will remain prohibited between 7 am to 7 pm
The states/ UTs can allow only select activities from list of permitted activities and impose additional restrictions based on their assessment of the situation. The primary objective, the Centre's notification says, is to keep the spread of Covid-19 in check.
Posted By: Talib Khan