Lockdown 3.0 in Madhya Pradesh: 9 districts in Red, 19 in Orange and 24 in Green Zone classified in state | Check full list here
Publish Date: Sat, 02 May 2020 05:40 PM IST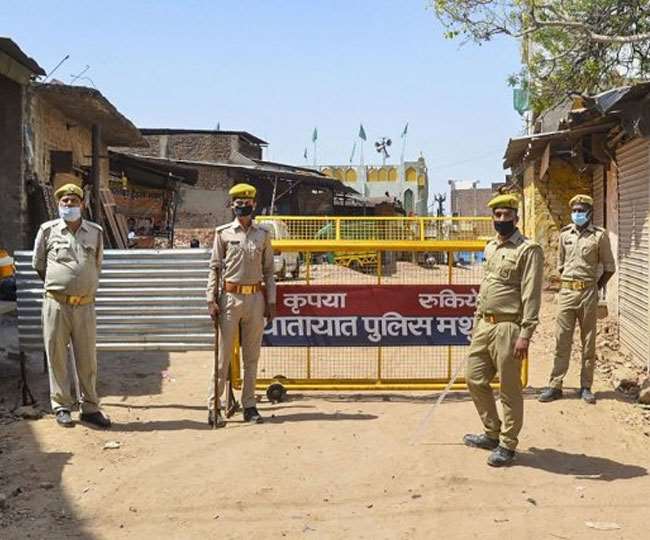 New Delhi | Jagran News Desk: In wake of the increasing coronavirus cases across the nation, the central government on Friday extended the nation-wide lockdown for two more weeks, with effect from May 4. The third phase of the lockdown will end on May 17, 2020.
The decision was taken after reviewing the situation across the country. However, this time the government has extended the lockdown with 'considerable relaxations' across the districts, with some relaxations being given irrespective of the zones, in which the districts have been classified.
Also Read: Lockdown 3.0 in Maharashtra: 14 districts classified in Red, 16 in Orange and 6 in Green zone in state | Check full list here
In its order to extend the lockdown, the government has classified entire country into three zones, 'Red (Hotspot Districts), Orange (Low Risk Districts) and Green (Districts with no active cases)'. The classification of districts is done by the risks profiling of the districts of the country.
In Madhya Pradesh, the total number of coronavirus cases stood at 2,719, while the number of deaths in state climbed up to 145. In view of the increasing cases, the government has identified 24 Green zones, while the number of orange zones stood at 19. The number of Red Zones in the state are 9.
Here is the list of Red, Orange and Green Zones in Madhya Pradesh:
Red Zones:
Indore - Madhya Pradesh - Red Zone
Bhopal - Madhya Pradesh - Red Zone
Ujjain - Madhya Pradesh - Red Zone
Jabalpur - Madhya Pradesh - Red Zone
Dhar - Madhya Pradesh - Red Zone
Barwani - Madhya Pradesh - Red Zone
East Nimar - Madhya Pradesh - Red Zone
Dewas - Madhya Pradesh - Red Zone
Gwalior - Madhya Pradesh - Red Zone
Orange Zones:
Khargone - Madhya Pradesh - Orange Zone
Raisen - Madhya Pradesh - Orange Zone
Hoshangabad - Madhya Pradesh - Orange Zone
Ratlam - Madhya Pradesh - Orange Zone
Agar Malwa - Madhya Pradesh - Orange Zone
Mandsaur - Madhya Pradesh - Orange Zone
Sagar - Madhya Pradesh - Orange Zone
Shajapur - Madhya Pradesh - Orange Zone
Chhindwara - Madhya Pradesh - Orange Zone
Alirajpur - Madhya Pradesh - Orange Zone
Tikamgarh - Madhya Pradesh - Orange Zone
Shahdol - Madhya Pradesh - Orange Zone
Sheopur - Madhya Pradesh - Orange Zone
Dindori - Madhya Pradesh - Orange Zone
Burhanpur - Madhya Pradesh - Orange Zone
Harda - Madhya Pradesh - Orange Zone
Betul - Madhya Pradesh - Orange Zone
Vidisha - Madhya Pradesh - Orange Zone
Morena - Madhya Pradesh - Orange Zone
Also Read: Lockdown 3.0 in Uttar Pradesh: 19 districts in Red, 36 in Orange and 20 in Green zone in state | Check full list here
Green Zones:
Rewa - Madhya Pradesh - Green Zone
Ashoknagar - Madhya Pradesh - Green Zone
Rajgarh - Madhya Pradesh - Green Zone
Shivpuri - Madhya Pradesh - Green Zone
Anuppur - Madhya Pradesh - Green Zone
Balaghat - Madhya Pradesh - Green Zone
Bhind - Madhya Pradesh - Green Zone
Chhatarpur - Madhya Pradesh - Green Zone
Daoh - Madhya Pradesh - Green Zone
Datia - Madhya Pradesh - Green Zone
Guna - Madhya Pradesh - Green Zone
Jhabua - Madhya Pradesh - Green Zone
Katni - Madhya Pradesh - Green Zone
Mandia - Madhya Pradesh - Green Zone
Narsinghpur - Madhya Pradesh - Green Zone
Nee much - Madhya Pradesh - Green Zone
Panna - Madhya Pradesh - Green Zone
Satna - Madhya Pradesh - Green Zone
Sehore - Madhya Pradesh - Green Zone
Seoni - Madhya Pradesh - Green Zone
Sidhi - Madhya Pradesh - Green Zone
Umaria - Madhya Pradesh - Green Zone
Singrauli - . Madhya Pradesh - Green Zone
Niwari - Madhya Pradesh - Green Zone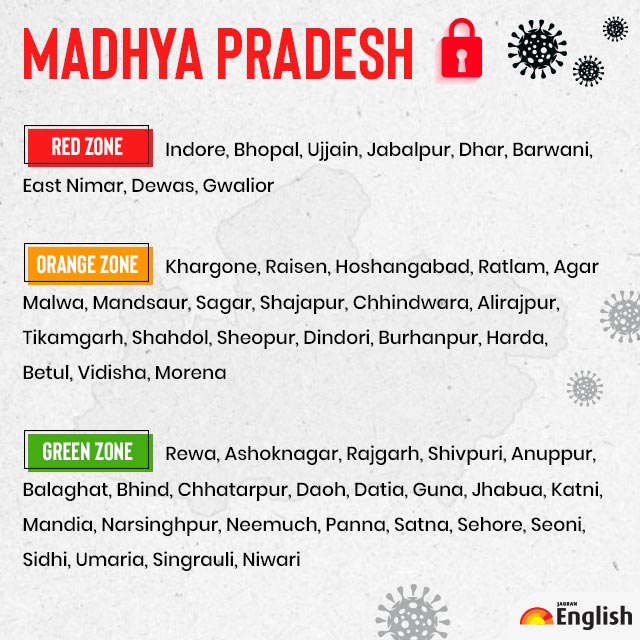 Posted By: Talib Khan