Lockdown 3.0 in Uttar Pradesh: 19 districts in Red, 36 in Orange and 20 in Green zone in state | Check full list here
Updated: Sat, 02 May 2020 05:24 PM IST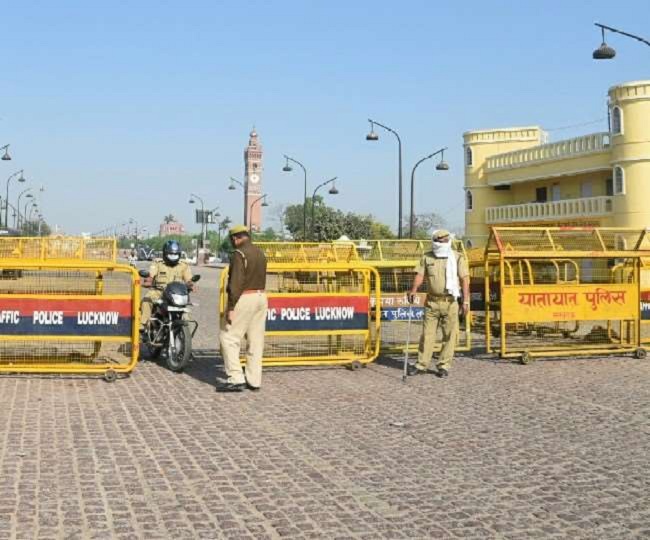 New Delhi | Jagran News Desk: The Centre on Friday extended the coronavirus lockdown imposed to contain the spread of the deadly contagion, for two more weeks, with effect from May 4. The third phase of the lockdown will end on May 17, 2020.
The decision to extend the lockdown again was taken in view of the spike in cases from across the country. The deadly coronavirus has so far infected more than 37,000 people in the country and has claimed lives of more than 1,200.
Also Read: Lockdown 3.0: What's allowed and What's not in 319 Green Zone districts in India
In its order to extend the lockdown, the government has classified entire country into three zones, 'Red (Hotspot Districts), Orange (Low Risk Districts) and Green (Districts with no active cases)'. The classification of districts is done by the risks profiling of the districts of the country.
Meanwhile, Uttar Pradesh also crossed the 2,000-mark and the total number of COVID-19 cases in the state reached 2,328 with 42 deaths so far.
In view of the increasing number of C0VID-19 cases, the government has identified 19 Red Zones in Uttar Pradesh, where complete lockdown restrictions will be implemented. 36 districts have been identified as Orange Zones, in which partial restrictions will be followed, while, 20 districts from the state have been classified as Green Zones, where maximum relaxations have been given by the government.
Here's a list of Red, Green and Orange zone districts in Uttar Pradesh: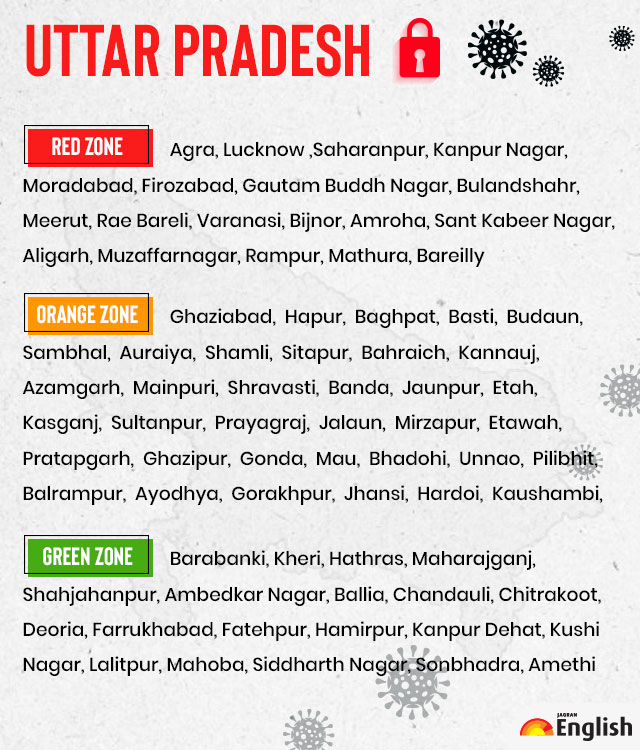 Red Zones:
Agra - Uttar Pradesh - Red Zone
Lucknow - Uttar Pradesh - Red Zone
Saharanpur - Uttar Pradesh - Red Zone
Kanpur Nagar - Uttar Pradesh - Red Zone
Moradabad - Uttar Pradesh - Red Zone
Firozabad - Uttar Pradesh - Red Zone
Gautam Buddha Nagar - Uttar Pradesh - Red Zone
Bulandshahr - Uttar Pradesh - Red Zone
Meerut - Uttar Pradesh - Red Zone
Rae Bareli - Uttar Pradesh - Red Zone
Varanasi - Uttar Pradesh - Red Zone
Bijnor - Uttar Pradesh - Red Zone
Amroha - Uttar Pradesh - Red Zone
Sant Kabeer Nagar - Uttar Pradesh - Red Zone
Aligarh - Uttar Pradesh - Red Zone
Muzaffarnagar - Uttar Pradesh - Red Zone
Rampur - Uttar Pradesh - Red Zone
Mathura - Uttar Pradesh - Red Zone
Bareilly - Uttar Pradesh - Red Zone
Also Read: Coronavirus Red Zones in India: Number of COVID-19 hotspot districts decreased from 170 to 130 | Check full list here
Orange Zones:
Ghaziabad - Uttar Pradesh - Orange Zone
Hapur - Uttar Pradesh - Orange Zone
Baghpat - Uttar Pradesh - Orange Zone
Basti - Uttar Pradesh - Orange Zone
Budaun - Uttar Pradesh - Orange Zone
Sambhal - Uttar Pradesh - Orange Zone
Auraiya - Uttar Pradesh - Orange Zone
Shamli - Uttar Pradesh - Orange Zone
Sitapur - Uttar Pradesh - Orange Zone
Bahraich - Uttar Pradesh - Orange Zone
Kannauj - Uttar Pradesh - Orange Zone
Azamgarh - Uttar Pradesh - Orange Zone
Mainpuri - Uttar Pradesh - Orange Zone
Shravasti - Uttar Pradesh - Orange Zone
Banda - Uttar Pradesh - Orange Zone
Jaunpur - Uttar Pradesh - Orange Zone
Etah - Uttar Pradesh - Orange Zone
Kasganj - Uttar Pradesh - Orange Zone
Sultanpur - Uttar Pradesh - Orange Zone
Prayagraj - Uttar Pradesh - Orange Zone
Jalaun - Uttar Pradesh - Orange Zone
Mirzapur - Uttar Pradesh - Orange Zone
Etawah - Uttar Pradesh - Orange Zone
Pratapgarh - Uttar Pradesh - Orange Zone
Ghazipur - Uttar Pradesh - Orange Zone
Gonda - Uttar Pradesh - Orange Zone
Mau - Uttar Pradesh - Orange Zone
Bhadohi - Uttar Pradesh - Orange Zone
Unnao - Uttar Pradesh - Orange Zone
Pilibhit - Uttar Pradesh - Orange Zone
Balrampur - Uttar Pradesh - Orange Zone
Ayodhya - Uttar Pradesh - Orange Zone
Gorakhpur - Uttar Pradesh - Orange Zone
Jhansi - Uttar Pradesh - Orange Zone
Hardoi - Uttar Pradesh - Orange Zone
Kaushambi - Uttar Pradesh - Orange Zone
Also Read: Coronavirus Pandemic: 2,293 new cases in last 24 hrs, highest spike in a day, take India's tally to 37,336; death toll climbs to 1,218
Green Zones:
Barabanki - Uttar Pradesh - Green Zone
Kheri - Uttar Pradesh - Green Zone
Hathras - Uttar Pradesh - Green Zone
Maharajganj - Uttar Pradesh - Green Zone
Shahjahanpur - Uttar Pradesh - Green Zone
Ambedkar Nagar - Uttar Pradesh - Green Zone
BaIlia - Uttar Pradesh - Green Zone
Chandauli - Uttar Pradesh - Green Zone
Chitrakoot - Uttar Pradesh - Green Zone
Deoria - Uttar Pradesh - Green Zone
Farrukhabad - Uttar Pradesh - Green Zone
Fatehpur - Uttar Pradesh - Green Zone
Hamirpur - Uttar Pradesh - Green Zone
Kanpur Dehat - Uttar Pradesh - Green Zone
Kushi Nagar - Uttar Pradesh - Green Zone
Lalitpur - Uttar Pradesh - Green Zone
Mahoba - Uttar Pradesh - Green Zone
Siddharth Nagar - Uttar Pradesh - Green Zone
Sonbhadra - Uttar Pradesh - Green Zone
Amethi - Uttar Pradesh - Green Zone
Posted By: Talib Khan