Updated: Mon, 04 Oct 2021 05:06 PM IST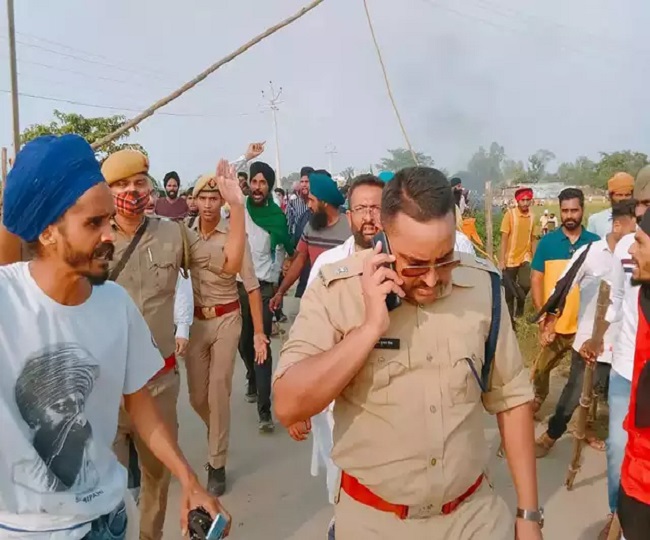 Lucknow | Jagran News Desk: Violence erupted in Uttar Pradesh's Lakhimpur Kheri on Sunday, leading to the death of eight people, including four farmers. The farmers, who were protesting against the visit of Deputy Chief Minister Keshav Prasad Maurya, claimed that two SUVs allegedly ran over the protesters, killing four people. They claimed that one of the SUVs was driven by Ashish Mishra Teni, the son of Minister of State for Home Ajay Kumar Mishra.
However, Mishra has dismissed the claims, calling the allegations against his son a "conspiracy". Meanwhile, the Uttar Pradesh Police has increased the deployment of its troops in the district to avoid any untoward situation. It has also appealed to people to maintain peace and order.
Here are the highlights of the day:
15:56 hours: The (Lakhimpur Kheri) incident is very shocking. Where is our democracy? Now you're (Uttar Pradesh Government) announcing a judicial inquiry with a retired High Court judge, we can't accept it. Because there is a need for a sitting judge to investigate the matter, says Congress General Secretary KC Venugopal.
15:13 hours: Also Read -- 'What are you protesting for': SC hits out at farmers' body amid continued protests against agri acts at Delhi borders
14:52 hours: UP Home Department writes to Punjab Government's Civil Aviation Departmen on Punjab Government seeking permission to land its Chief Minister's chopper in Lakhimpur Kheri.
It states, "due to imposition of Section 144 in Lakhimpur Kheri, it's not possible to grant permission for the visit of Punjab Chief Minister and Deputy Chief Minister".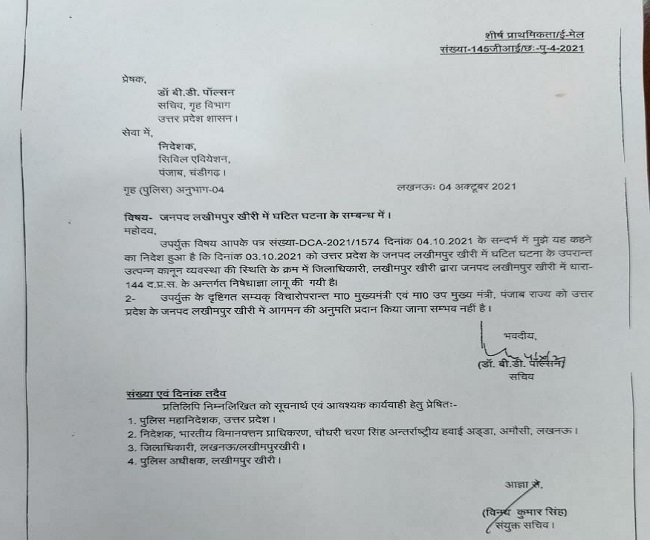 14:25 hours: Farmers in Punjab's Ludhiana today held a protest demonstration over Lakhimpur Kheri violence.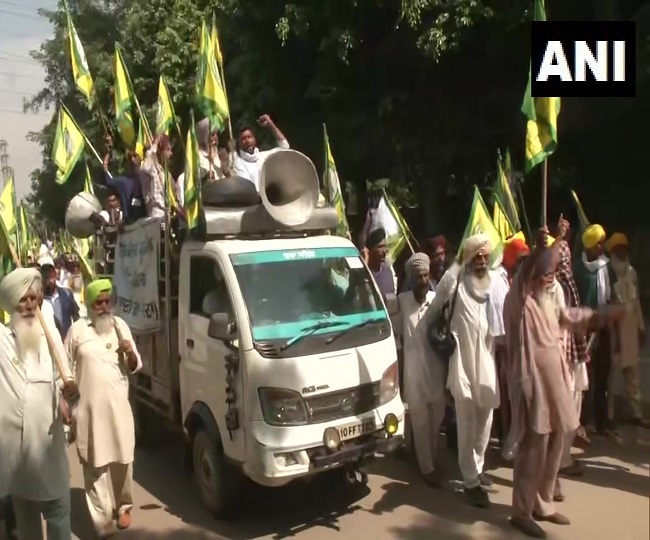 14:14 hours: I'll be visiting Lakhimpur Kheri to show solidarity with the people who've been murdered by Union Minister's son. It's a heinous crime. It's high time, Modi government should withdraw the 3 farm laws and he should remove this Minister, says AIMIM chief Asaduddin Owaisi.
14:07 hours: Just In: Supreme Court issues notice to 43 farmers' organisations on an application seeking to make them parties before the top court in a PIL against the blockade of roads between Delhi to Noida due to farmers' protests against the three agriculture laws.
13:30 hours: Also Read -- Lakhimpur Kheri Violence: Rs 45 lakh ex-gratia, govt job for kin of killed farmers; retired HC judge to probe matter
13:14 hours: Deployment of two companies each of RAF and SSB will continue in Lahimpur Kheri till October 6, as per an order by Union Home Ministry.
13:45 hours: Just In: Punjab Chief Minister Charanjit Singh Channi will visit Lakhimpur Kheri soon.
13:00 hours: Leaders of political parties have not been allowed to visit the district because Section 144 of CrPC is in place. However, members of farmer unions are allowed to come here, says ADG (Law and Order) Prashant Kumar.
12:55 hours: Government will give Rs 45 lakhs and a government job to the families of 4 farmers who died in Lakhimpur Kheri yesterday. The injured will be given Rs 10 lakhs. FIR will be registered based on farmers' complaint. Retired high court judge will probe the matter says ADG (Law and Order) Prashant Kumar.
12:40 hours: BJP workers were attacked and killed with sticks and swords. Videos show some attackers asked our workers to say that I had asked them to mow down farmers. Allegations against my son are totally baseless. Had he been there, he would have been killed, says MoS Home Ajay Mishra Teni.
12:30 hours: Aam Aadmi Party delegation led by Punjab Leader of Opposition Harpal Singh Cheema along with Raghav Chadha, Kultar Sandhwa and Baljinder Kaur to leave for Lakhimpur Kheri today, the party says.
12:15 hours: I strongly condemn the incident. Those responsible should be arrested and an inquiry should be initiated. We're sending a delegation (to Lakhimpur Kheri). The situation is getting worse but Central Government doesn't understand the emotions of farmers, says SAD chief Sukhbir Singh Badal.
11:51 hours: AAP MP Sanjay Singh stopped by police in Uttar Pradesh's Sitapur when he was en route to Lakhimpur Kheri on Monday.
Farmers were killed, and Member of Parliament Sanjay Singh, who was on his way to meet the family members of those farmers and pay his condolences, has been kept halted on the roadside since late last night, tweets Manish Sisodia.
11:49 hours: Farmers take out a protest march in Haryana's Ambala over the death of farmers in Lakhimpur Kheri.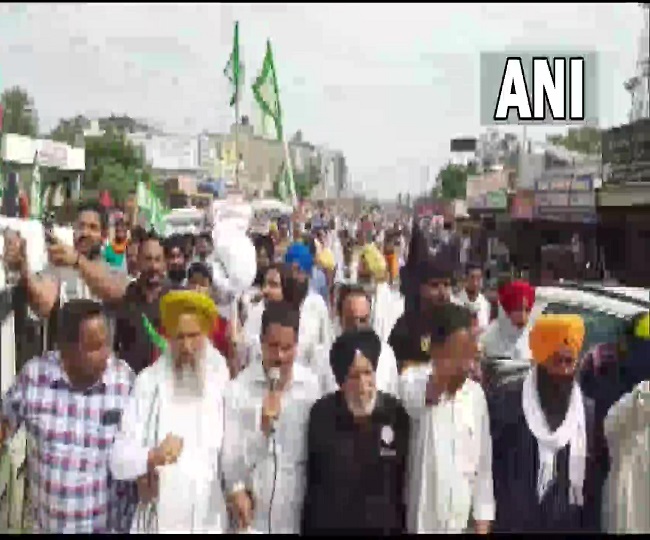 11:25 hours: Also Read -- Lakhimpur Kheri Violence: Akhilesh Yadav taken into custody after dharna; police jeep set on fire nearby
11:20 hours: Pragatisheel Samajwadi Party (Lohia) leader Shivpal Singh Yadav, who was on his way to Lakhimpur Kheri, detained by Lucknow Police at Engineering College Chauraha, reports ANI.
11:15 hours: We've seen Priyanka Gandhi Vadra doing political tourism earlier. It an attempt to hamper the probe and manipulate public opinion. This shouldn't happen. They should at least wait for 24 hours or visit after there's a result to the probe, says Uttar Pradesh Minister Sidharth Nath Singh.
There is no issue in presenting your opinion. But if they want to complete their journey till 2022 election over dead bodies, then it won't happen, he added.
11:00 hours: As a citizen, I think there should a judicial inquiry by a sitting judge. Before that, the union minister must be dismissed or suspended at least during the inquiry as the incident took place with respect to his convoy, says Congress' Kapil Sibal.
10:47 hours: We're taking this matter seriously and it is under investigation. CM has said that culprits will be punished. Opposition is using the incident for political tourism and political competition as polls are around the corner, says Uttar Pradesh Minister Sidharth Nath Singh.
10:36 hours: Why are people being stopped from visiting Lakhimpur Kheri? Section 144 has been imposed in Lakhimpur Kheri then why isn't one allowed to land in Lucknow? Do people no longer have rights in Uttar Pradesh? Does one need a visa to visit Uttar Pradesh, says Chhattisgarh Chief Minister Bhupesh Baghel.
10:34 hours: The way farmers have been treated shows their mentality. It shows that if you stand against them, you will be crushed, says Chhattisgarh Chief Minister Bhupesh Baghel.
10:29 hours: Police take Samajwadi Party president Akhilesh Yadav into custody afrer he staged a sit-in protest outside his residence in Lucknow, reports ANI.
10:02 hours: Even Britishers would not have committed the kind of atrocities this government is committing against farmers. MoS Home Ajay Mishra and Deputy CM (Keshav Prasad Maurya) should resign. Rs 2 crores and government job should be given to next of kin of the farmers who died, says Akhilesh Yadav.
9:55 hours: Samajwadi Party president Akhilesh Yadav stage a sit-in protest outside his residence.
Government does not want any political leaders to go there. What is the government hiding, he says.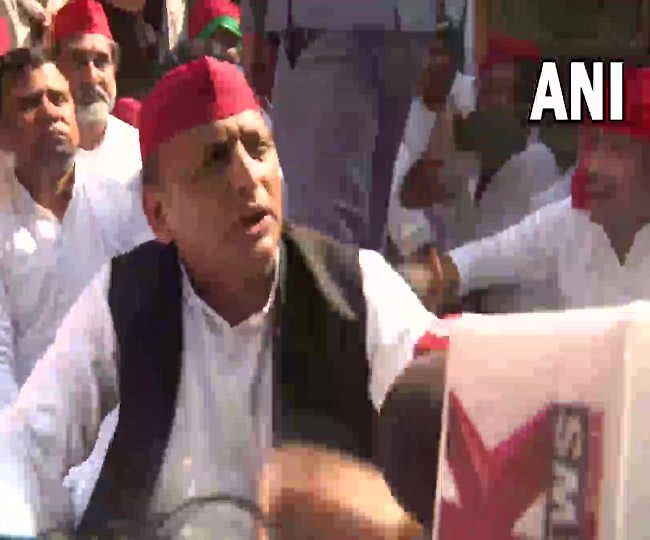 9:43 hours: Chief Minister Yogi Adityanath cancels his scheduled visit to Shravasti and Bahraich districts today in the backdrop of violence in Lakhimpur Kheri, reports ANI.
9:35 hours: Latest visual from Tikunia area of Lakhimpur Kheri.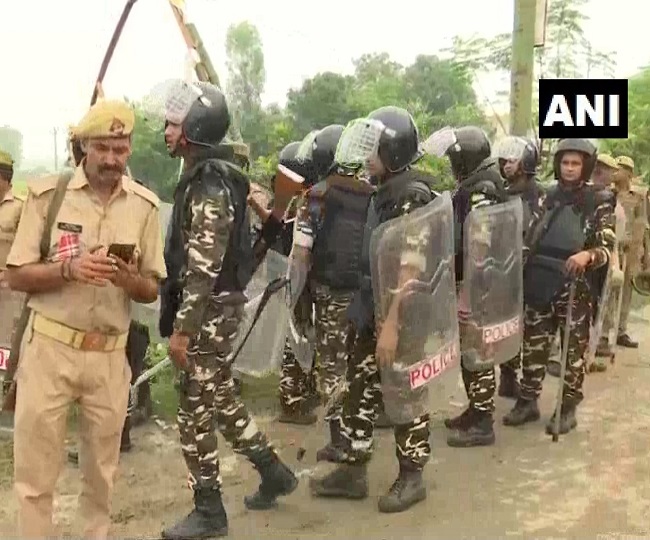 9:20 hours: Police force deployed outside the residence of Congress Legislative Party leader Aradhana Misra in Lucknow.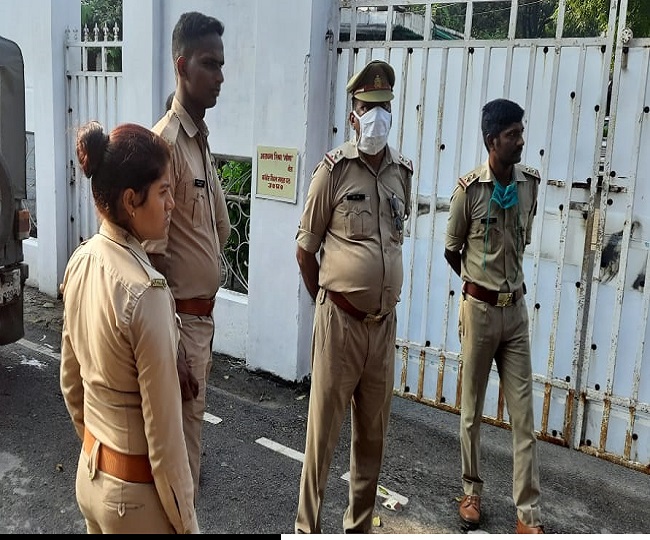 9:05 hours: Samajwadi Party workers gather outside the residence of Akhilesh Yadav in Lucknow.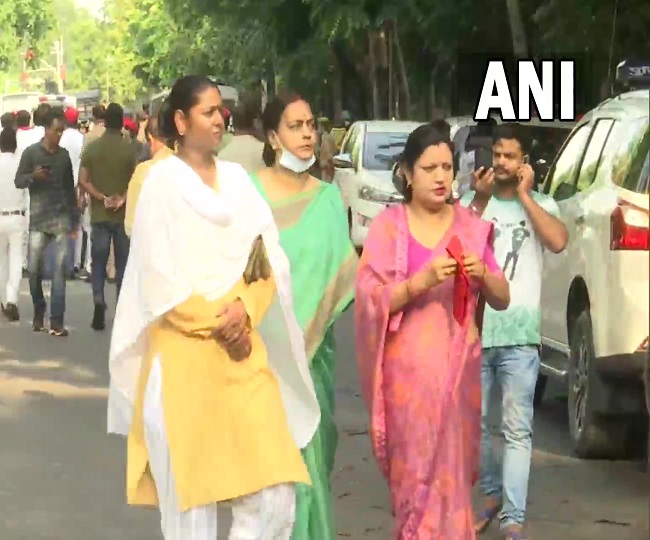 8:42 hours: Just In: Farmers lodge complaint against Union Minister of State for Home, Ajay Mishra Teni and his son Ashish Mishra Teni in Tikunia, Lakhimpur Kheri, reports ANI.
8:34 hours: I've received a memorandum (from farmers), demanding dismissal of MoS Home (AK Mishra), registration of FIR based on their complaint, payment of ex gratia and government jobs to the family of the deceased and judicial probe into yesterday's incident, says Lakhimpur Kheri District Magistrate AK Chaurasiya.
We will communicate demands of the farmers to higher authorities and hold talks with them again later today, he added.
8:25 hours: Uttar Pradesh Additional Chief Secretary Awanish Awasthi has asked Lucknow Airport not to allow Chhattisgarh Chief Minister Bhupesh Baghel and Punjab Deputy Chief Minister Sukhjinder S Randhawa to land at there.
Baghel and Randhawa are scheduled to visit Lakhimpur Kheri today.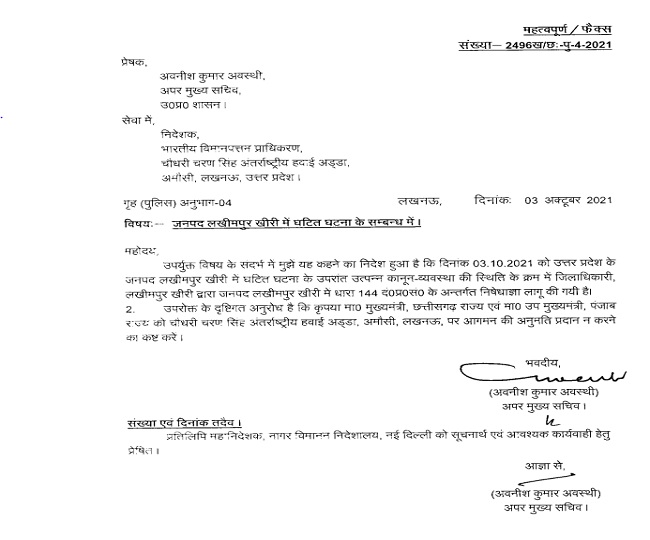 8:10 hours: The Uttar Pradesh Police has also deployed troops outside the residence of former Chief Minister and Samajwadi Party president Akhilesh Yadav at Vikramaditya Marg ahead of his scheduled visit to Lakhimpur Kheri.
8:05 hours: The Bahujan Samaj Party (BSP) has also claimed that its leaders have been stopped from visiting Lakhimpur Kheri by the state police citing the law and order situation.
8:00 hours: Following the violence in Lakhimpur Kheri, Priyanka Gandhi Vadra, who was scheduled to visit the district, has been arrested, claimed Youth Congress National President Srinivas BV.
"What was expected from the BJP has happened. Priyanka Gandhi Vadra has been arrested from Hargaon. However, this is only the beginning of our fight," he tweeted.
Posted By: Aalok Sensharma