By Talib Khan
Updated: Fri, 05 Jun 2020 11:40 AM IST
Minute Read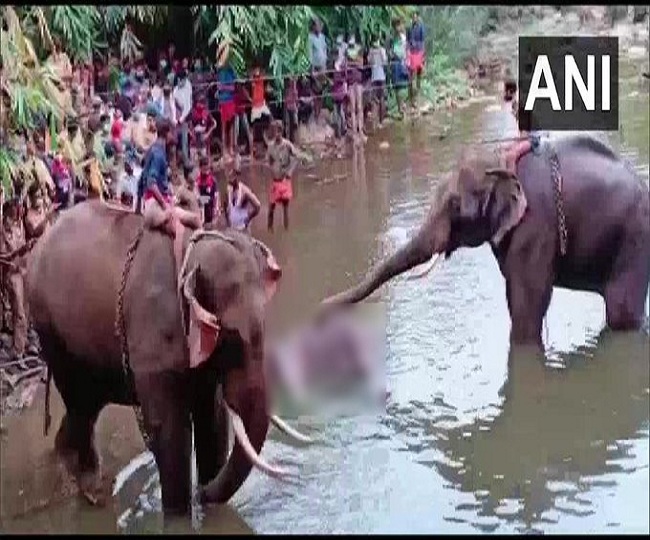 New Delhi | Jagran News Desk: The Kerala police on Friday arrested one accused over his alleged involvement in feeding the cracker-filled pineapple to a pregnant elephant, which ultimately resulted in her death, Kerala forest minister K Raju said today. The death of the mom-to-be elephant in Kerala's Palakkad caused nation-wide outrage with people demanding strictest punishment for the perpetrators.
"One accused arrested, in connection with death of the pregnant elephant in Palakkad", K Raju said as reported by news agency ANI.
According to Chief Wildlife Warden Surendra Kumar, the arrested man, who is in his forties, allegedly handled explosives himself and also helped and encouraged others to use it inside a fruit. However, the police is looking for more suspects in the case. "The arrested man is a rubber tapper. A search is on for others," Palakkad district police chief G Siva Vikram Said.
The arrest came a day after Kerala chief minister Pinarai Vijayan assured justice in the brutal killing of the preganant elephant. CM Vijayan on Thursday asserted that the authorities have been focussing on three suspects and the police and forest departments are jointly investigating the horrific incident.
In a tragic incident in Palakkad dist, a pregnant elephant has lost its life. Many of you have reached out to us. We want to assure you that your concerns will not go in vain. Justice will prevail," he said in a series of tweets.
"An investigation is underway, focusing on three suspects. The police and forest departments will jointly investigate the incident. The district police chief and the district forest officer visited the site today. We will do everything possible to bring the culprits to justice," Vijayan added.
The elephant had consumed a pineapple filled with powerful fire crackers which exploded in the animal's mouth in the Silent Valley Forest and it died about a week later on May 27. The elephant died at Velliyar River on May 27 after efforts by forest personnel to bring it to the river bank using two other trained elephants failed.
"Her jaw was broken and she was unable to eat after she chewed the pineapple and it exploded in her mouth," a senior forest official had said earlier. The post-mortem revealed that the pachyderm was pregnant.