Friday to Friday | Kanpur massacre, Faridabad escaping, Ujjain arrest, UP encounter: Vikas Dubey's crime journey ends with 4 bullets
The 24 hours - from 8 am on Thursday to 8 am on Friday - saw the end of reign of Vikas Dubey's terror which continued for over two decades.
Updated: Fri, 10 Jul 2020 03:18 PM IST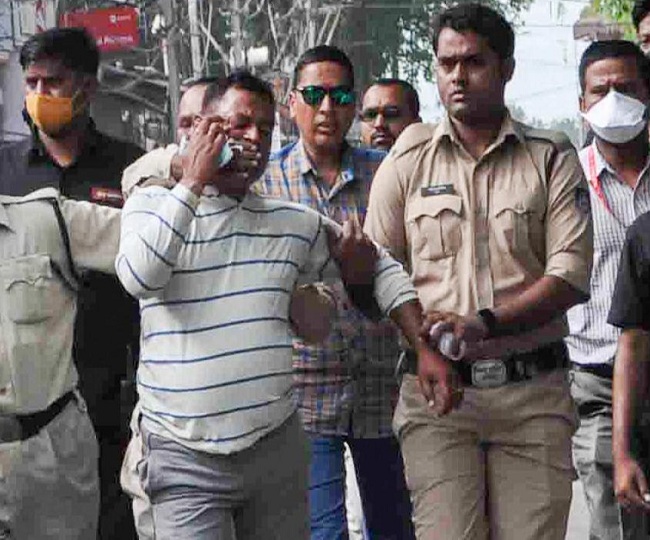 New Delhi | Abhinav Gupta: After a five-day-long hide-and-seek game keeping police officials of four states on their toes, dreaded gangster Vikas Dubey dramatic arrest on Thursday followed his killing in an encounter on Friday morning.
According to the police, the gangster, wanted in over 60 criminal cases, was being brought back to Uttar Pradesh when the vehicle carrying him overturned due to heavy rains on Friday morning. Dubey grabbed the pistol of a policeman and tried to escape. He was asked to surrender but in turn, he opened fire on the cops and was evetually killed in retaliation.
The dreaded gangster hogged the headlines after his henchmen killed eight policemen who had gone to nab Dubey from his house in Bikru village in the Chaubeypur area of Kanpur. The botched raid turned out to be a plot by the gangster with his men spraying bullets from the rooftop, after the local police apparently informed him about the raid.
The 24 hours - from 8 am on Thursday to 8 am on Friday - saw the end of reign of Vikas Dubey's terror which continued for over two decades across several districts in Western Uttar Pradesh.
Giving police a slip in Faridabad
A massive hunt was launched to nab Dubey after eight policemen were killed by his henchmen in a botched raid near Kanpur that he had converted into an ambush, following the alleged tip-off by the local police.
The manhunt reached a major breakthrough on Wednesday when a man with close resemblance to the history-sheeter was spotted outside a shop in Faridabad.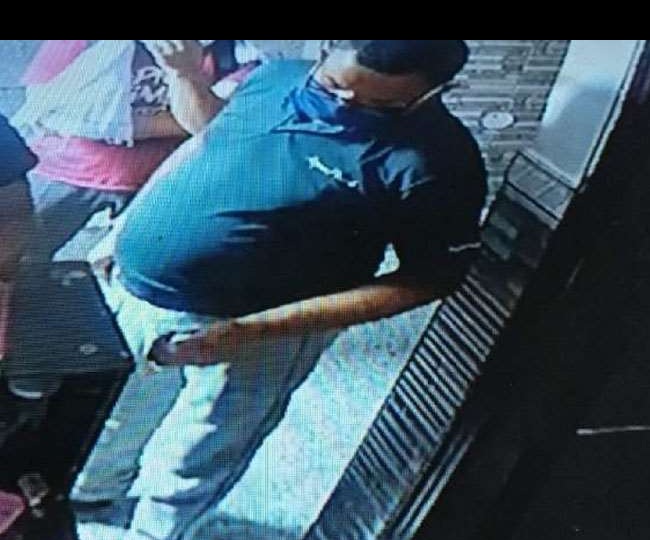 Following a tip-off that Dubey was hiding in a house in New Indira Nagar complex in Haripur of Kheri Pul area, the police raided and arrested three of accomplices. However, the gangster having a bounty of Rs 5 lakh on him managed to give police a slip.
Arrested 770 km away in Ujjain the next day
While the UP STF maintained its claim till Wednesday evening that Dubey was hiding in Delhi-NCR, the developments which followed the other day raised questions on the police claim.
At around 8 am on Thursday, Dubey was arrested from outside the Mahakaleshwar Mandir after purchasing prasad and an entry ticket to the shrine. It is not clear if he was arrested immediately, before he could enter the temple, or later when he came out of the temple after performing darshan.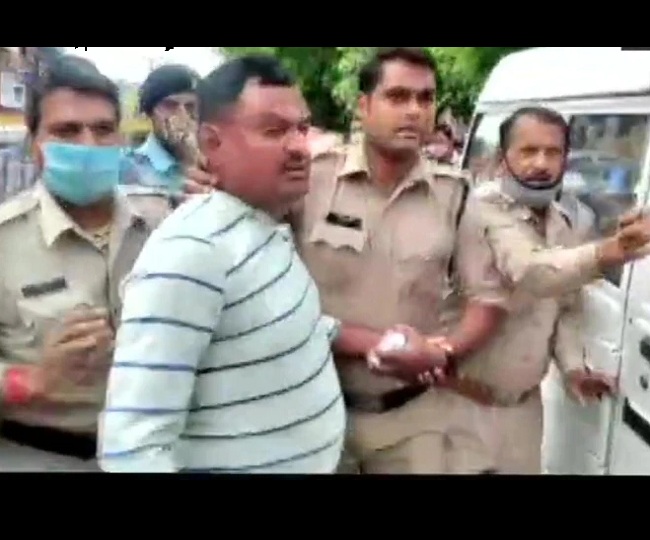 A video released by news agency ANI shows Dubey being held by the scruff of his collar by the police and shouting: "Main Vikas Dubey hoon Kanpur wala (I am Vikas Dubey of Kanpur)." This indicates towards the possibility of the gangster planning a public arrest so that he evades the possibility of an encounter.
According to media reports, Dubey was in Noida on July 5 and July 6 where he stayed at the house of a criminal lawyer. After staying in Noida for two days, Dubey headed to Kota where he stayed there for a night before heading to Ujjain.
The police and state Home Minister Narottam Mishra said that the alertness of a police constable who identified the gangster led to his arrest.
However, temple sources gave a slightly different account. They said Dubey reached the temple gate in the morning and purchased a Rs 250 ticket from a counter near the police post. When he went to a nearby shop to buy prasad for the deity, the shop owner identified him and alerted police, they added.
Some agency reports also quoted temple officials admitting that Dubey disclosed his name on the counter where he was giving money for donation and then asked them to inform the police.
Everything points to Vikas having travelled all the way from Faridabad to the high security zone of Mahakaal to avoid a death in police encounter. Dubey apparently did not use any disguise to evade the police and neither did he have any arms since weapons are prohibited in the temple complex.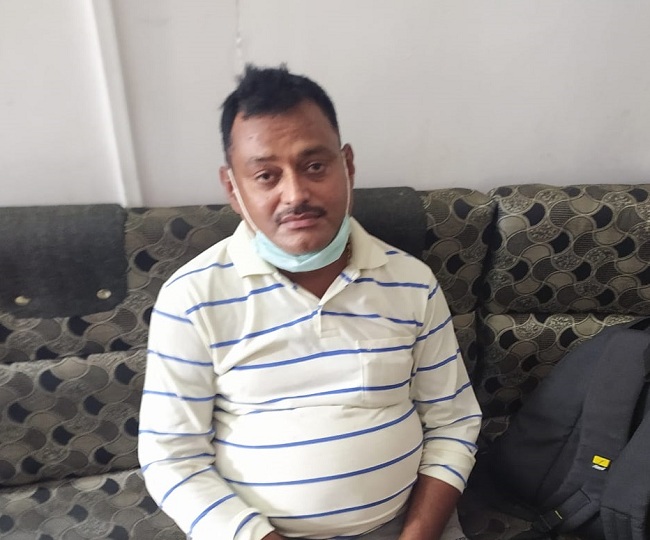 "This is a pre-planned surrender because it seems too simple to be true. Vikas had successfully eluded the police in three states for one week and it is rather unusual that he would enter a temple without a mask and get arrested. He knew that he would be shot dead if he gave himself up to UP police," a retired DGP was quoted news agency IANS as saying.
A relative of DSP Devendra Mishra, among the eight policemen killed in the Kanpur ambush, questioned the arrest of Vikas Dubey, claiming it was a "well-planned surrender" and the gangster was "saved from death".
"This is not an arrest but he has been saved from death. It was a surrender made in a well-planned manner," he told reporters.
Senior IPS officer Amitabh Thakur tweeted, "We couldn't arrest Vikas Dubey and he surrendered in Ujjain. We couldn't arrest him even in such a case and he managed to travel to a distant place. I think this aspect needs to be enquired into."
Gangster's crime journey ends with 4 bullets
Handed over to the UP STF on Thursday evening, Dubey was being brought back to Uttar Pradesh. On Friday morning, unprecedented news hit the headlines with the police saying that the gangster was killed in an encounter.
According to the police, the SUV carrying him overturned on the outskirts of Kanpur and the gangster snatched a pistol from a policeman and tried to flee. Asked surrender, Dubey opened fire on the cops and was killed in self-defense.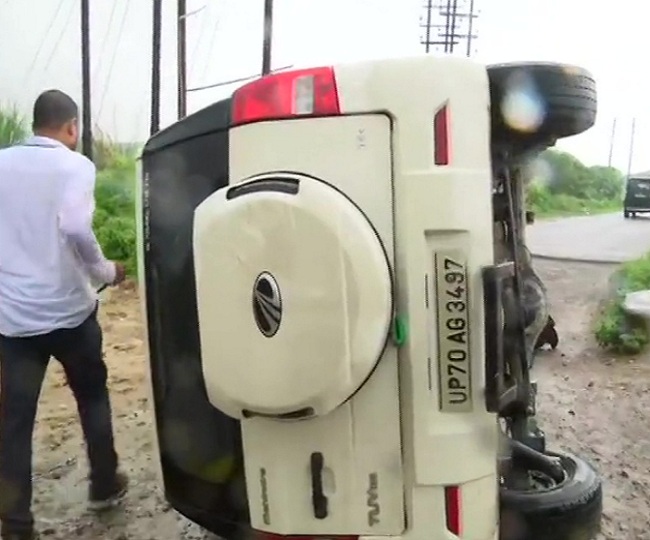 He was chased and surrounded by policemen and was asked to surrender. When he started firing with an "intention to kill", policemen opened fire in self-defence, Kanpur police said. A press release said he was immediately taken to a hospital, where he died during treatment.
The gangster suffered four bullet injuries, three on the chest and one on the arm. Six policemen, including two from the Special task Force, were also hurt in the accident and the exchange of fire around 6 am.
Oppn raises questions on encounter
Hours before the encounter, an advocate had filed a petition in the Supreme Court seeking a direction to the Uttar Pradesh government and police to ensure that he is not killed.
Uttar Pradesh's Inspector General (Civil Defence) Amitabh Thakur had also tweeted about the possibility.
Opposition parties targeted the BJP government in Uttar Pradesh after the encounter.
Bahujan Samaj Party chief Mayawati demanded a Supreme Court-monitored probe into the encounter as well as the ambush in which eight policemen died last week.
Congress general secretary Priyanka Gandhi Vadra said the criminal is now gone and asked what about those who had "protected" him.
A day earlier, she had demanded a CBI probe to ascertain the facts about the "grant of protection" to Dubey.
Samajwadi Party chief Akhilesh Yadav raised questions on the gangster's killing, saying it was not just the car that had toppled but the encounter had saved the state government from toppling, had facts come to light.
A look back at Vikas Dubey's rise and fall
Having a thing for Bollywood, Dubey conjured the image of a typical don who dabbled in real-estate, won a district-level election and rubbed shoulders with political figures.
An old photo on social media showed him at an event next to an Uttar Pradesh minister, who switched parties to join the ruling BJP. The Congress claimed this showed his political patronage.
Another picture showed a poster of him appealing for votes for his wife, Richa Dubey, in a zila panchayat election which she won from Ghimau under which Bikru village falls.
The poster also carried pictures of two leaders now in the opposition, implying that she had their support.
In 2000, Dubey himself won the Shivrajpur seat in a zila panchayat poll he fought from prison, where he was lodged after a murder charge, according to officials.
However, following his arrest on Thursday, Dubey's mother Sarla Devi said, "At this time, he is not in the BJP, he is with the SP." But, a Samajwadi Party spokesman said Dubey was "not a member of the party" and strict action should be taken against him. Moreover, his call record details should be made public as demanded by party president Akhilesh Yadav to expose his links, he said.
(With inputs from PTI, IANS and ANI)
Posted By: Abhinav Gupta