Kanpur Encounter: Suspended SHO Vinay Tiwari, accused of tipping Vikas Dubey about raid, arrested
Vinay Tiwari was suspended after the UP Police suspected that Tiwari had tipped the gangster Vikas Dubey about the raid on Thursday night.
Updated: Wed, 08 Jul 2020 05:32 PM IST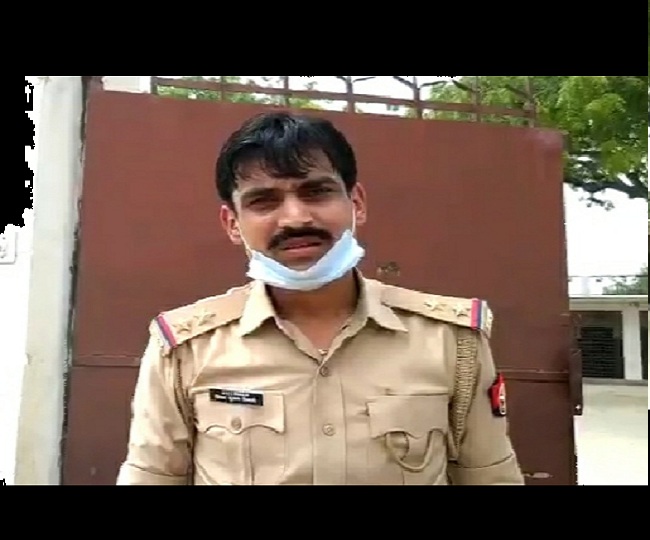 New Delhi | Jagran News Desk: The Uttar Pradesh Police on Wednesday arrested the former station officer of Chaubepur police station, Vinay Tiwari along with Beat Incharge KK Sharma. Vinay Tiwari was suspended on Sunday after the UP Police suspected that Tiwari had tipped the gangster Vikas Dubey about the raid on Thursday night.
IG, Kanpur Range, Mohit Agarwal as quoted by the news agency said that the two policemen were present when the encounter took place but shortly after the exchange of fire started between Vikas Dubey's henchmen and Chaubepur police, both Vinay Tiwari and KK Sharma fled from the spot.
Meanwhile, Kanpur SSP, Dinesh Prabhu said that 'as per the evidence, it has been found that police personnel Vinay Tiwari & KK Sharma had informed Vikas Dubey about the raid beforehand. So, he was on alert and planned to attack police which resulted in the death of 8 policemen'.
Hours after a raid on a hotel in Haryana's Faridabad where notorious gangster Vikas Dubey was seen, the Uttar Pradesh police on Wednesday increased the bounty on his head to Rs 5 lakh from Rs 2.5 lakh. Dubey managed to escape the hotel just before a police team reached.
However, the police arrested two of his aides - Ankur and Pathak. While Ankur helped the gangster in hiding, Pathak is said to be from his village and working for him.
Hours later, Faridabad police said that they have arrested three more aides of Vikas Dubey after a brief encounter during a raid on a house. The police have also claimed to have recovered Dubey's pistol used in the Kanpur encounter and another stolen from the Uttar Pradesh police.
"There was brief firing by criminals, pistol used by Dubey during Kanpur incident & one pistol stolen from UP Police recovered," news agency ANI quoted Faridabad Police as saying.
25 police teams on the hunt for Dubey
Vikas Dubey is the prime accused of Friday's Kanpur ambush in which eight police personnel, including a deputy superintendent of police, were brutally killed. The police had gone to Dubey's house to arrest him in the early hours of Friday but a mole in the department reportedly informed him about the raid and Dubey and henchmen attacked the police.
Since then, Dubey is absconding. The Uttar Pradesh police have set up 25 special teams to nab the notorious gangster, who has as many as 60 criminal cases registered against him. The police have put up his posters across several states and announced a cash reward of Rs 1 lakh for any information regarding his whereabouts. The reward subsequently raised to Rs 2.5 lakh on Monday and doubled to Rs 5 lakh on Wednesday.
Dubey's close aide killed by police in encounter
Meanwhile, the UP Special Task Force (STF) on Wednesday morning gunned down Vikas Dubey's closed aide, Amar Dubey in Uttar Pradesh's Hamirpur. According to news agency PTI, Amar Dubey was also involved in the Kanpur ambush in which eight policemen lost their lives, while 7 others including a civilian were injured.
He is the third member of Vikas Dubey's gang to be killed in an encounter with the police. Amar Dubey, who carried a reward of Rs 25,000, was killed in an encounter in Maudaha village in Hamirpur district, STF IG Amitabh Yash told PTI.
According to sources, Amar Dubey was involved in the security of Vikas Dubey and travelled with him wherever he went. Earlier, police had killed criminals Prem Prakash Pandey and Atul Dubey in an encounter in Kanpur on Friday.
Posted By: Shashikant Sharma