Kanpur Encounter | Gangster Vikas Dubey, wanted in killing of 8 UP cops, arrested at MP's Mahakal Temple
Gangster Vikas Dubey has been reportedly arrested from Madhya Pradesh today, several media reports and news channels claimed.
Updated: Thu, 09 Jul 2020 07:05 PM IST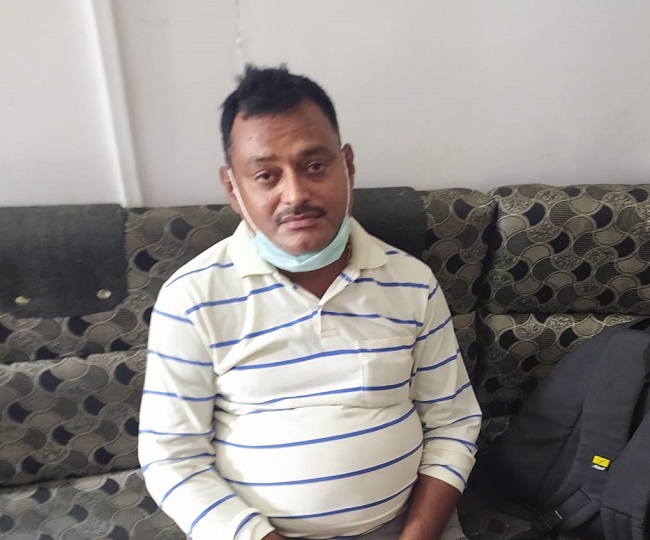 New Delhi | Jagran News Desk: Gangster Vikas Dubey was arrested from Madhya Pradesh today after a five-day-long hide-and-seek game across four states. Dubey, who was on the run since last Friday when he and his men ambushed a police party and killed 8 cops, was arrested from near the Mahakal temple.
Later in the day, the Uttar Pradesh took custody of the gangster, taking him back to UP via road. He is likely to be produced before a court tomorrow.
MP Home Minister Narottam Mishra confirmed the news of the arrest. The minister, however, did not confirm if the dreaded gangster, who was carrying a reward of Rs 5 lakh on information leading to his arrest, was nabbed from within or outside the Mahakal temple premises.
"Vikas Dubey was going to Ujjain Mahakal temple when he was identified by security personnel. Police were informed, he confessed his identity after being pushed for it. He has been apprehended by police and interrogation is underway," said Ujjain Collector Ashish Singh.
Reports claim that Dubey was arrested around the same time when two of his aides were killed in separate encounters in Uttar Pradesh today.
However, it is not clear how Dubey landed up in Ujjain as the UP Police continued to claim till Wednesday late evening that he was hiding in Faridabad.
Soon after the arrest of Dubey, the Ujjain Police also arrested two of his accomplices whi are believed to have travelled along with him.
According to the police, Dubey drove to Ujjain from Kota in Rajasthan after he was spotted in Faridabad, Haryana. He was in his own car with two associates and could pass off as an ordinary visitor in a white t-shirt and mask.
Police also claimed that Dubey visited the Mahakal Temple using a VIP pass.
Vikas Dubey, the main accused in #KanpurEncounter case, has been arrested at a police station in Ujjain (Madhya Pradesh) pic.twitter.com/104s1YX4Pf

— ANI (@ANI) July 9, 2020
The arrest comes a day after the notorious gangster, who has been on a run since last Friday after eight policemen were killed in an ambush in Uttar Pradesh's Kanpur, gave police a slip in Haryana's Faridabad where he was reportedly staying in a hotel.
A team raided a house around midnight Tuesday in Faridabad's Kheli Pul area, where the gangster had stayed for a while. They arrested three people there after a brief exchange of fire.
Also, CCTV footage showed a man who resembled the gangster at a Faridabad hotel. He did not check in when a staff member insisted on an identity card with a clear photograph.
A massive hunt was launched across Delhi, Haryana, Uttar Pradesh, Madhya Pradesh and other nearby states after he escaped following the Friday's massacre. The police had raised the bounty on him to Rs 5 lakh.
A manhunt was also launched by Bahraich Police in Indo-Nepal border areas amid intelligence inputs that the gangster may escape to the neighbouring areas.
On the intervening night of July 2 and July 3, Uttar Pradesh Police had reached a village in Kanpur to arrest the gangster, but fell into a trap set by him with his henchmen spraying them with bullets from a rooftop. Eight policemen, including a deputy superintendent of police, were killed in the cross-firing.
Dubey was reportedly alterted about the raid by the local police. Chaubepur police station officer Vinay Tiwari along with Beat Incharge KK Sharma were arrested on Wednesday for helping the gangster.
The Uttar Pradesh police had set up 25 special teams to nab the notorious gangster, who has as many as 60 criminal cases registered against him. Posters of Dubey were put up across several states and a cash reward of Rs 1 lakh announced for any information regarding his whereabouts. The reward was subsequently raised to Rs 2.5 lakh on Monday and doubled to Rs 5 lakh on Wednesday.
Five persons have been killed so far in the quest to nab the gangster. Earlier, Amar Dubey was killed in Hamirpur on Wednesday, while Prem Prakash and Atul Dubey were gunned down in an encounter in Kanpur on July 3.
Posted By: Abhinav Gupta