'J-K move an important decision with inspiration of Sardar Patel': PM Modi on his 69th b'day
Publish Date: Tue, 17 Sep 2019 02:29 PM IST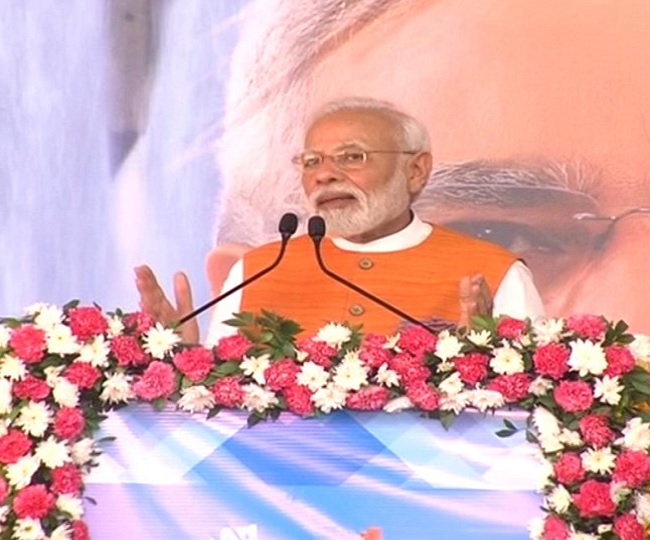 Gujarat | Jagran News Desk: Highlighting the achievements of first 100 days of his second government on his 69th birthday, Prime Minister Narendra Modi on Tuesday said that the decision of abrogating Article 370 has been taken to solve the decades-long problem.
"The country is realising Sardar's dream of Ek Bharat, Shreshta Bharat (One India, Great India). Today, the country is trying to complete the tasks which were left incomplete during Independence and years afterward.
"People of Jammu and Kashmir had to face discrimination for 70 years. The entire nation suffered in the form of ill effects and violence, unfulfilled hopes and aspirations. The country has taken an important decision with the inspiration of Sardar Saheb,"
Prime Minister Narendra Modi, who has been celebrating his 69th birthday in Gujarat since early morning, addressed a rally as he kickstarted the Narmada Mahotsav at the Sardar Sarovar Dam site in Kevadia.
Also Read: PM Modi turns 69: Five lesser-known facts about him you must know
PM Modi, while addressing the rally said that it is a great privilege for him that he could visit "Maa Narmada" on his birthday.
Here are some key highlights from his birthday address:
Prime Minister Narendra Modi, while addressing a rally at the launch of the Narmada Mahotsav, said that the Sardar Sarovar Dam and Sardar Vallabh Bhai Patel's statue - the Statue of Unity symbolizes willpower.
"In our culture, it is believed that development can be done while protecting the environment, and it is evident here. Nature is dear to us, it is our jewel".
"Today is the birth anniversary of Viswakarma Ji, the god of creation. In the resolution of the creation of a new India, the creativity and the will power to achieve big goals are very essential in the resolve we are moving forward".
"When I am talking to you today, Sardar Sarovar Dam and Sardar Saheb's tallest statue in the world are both symbols of their will and determination. I believe that with his inspiration we will fulfill every resolve associated with the new India and achieve every goal".
Also Read: Watch | PM Modi frees hundreds of butterflies with an unmissable smile on his 69th B'day
"For the first time, we have seen Sardar Sarovar Dam full. There was a time when reaching the target of 122 meters was a big deal. But the filling of Sardar Sarovar to 138 meters within 5 years is amazing and unforgettable".
"Today, the cleaning work of ponds, lakes, rivers is being done in Kevadia. In the coming days, the work of large-scale plantation is also to be done. This is a complimentary, commendable work. This is the motivation on which the 'Jal Jeevan' mission is going to move forward".
"I remember that in 2000, for the first time in the history of India, a special water train had to be run to deliver water to Rajkot, Surendranagar, and Jamnagar. Today, when we remember those old days, it seems that Gujarat has come so far today".
"When you gave me the responsibility here, we had a double challenge. On one hand, it was to intensify the dam work for irrigation, drinking water, electricity and on the other hand to increase the network of Narmada Canal and alternative irrigation system. But we did not give up and today an extensive network of irrigation schemes has come up in Gujarat. Just a few years ago, a study was done by IIM Ahmedabad, which revealed that micro-irrigation has saved up to 50% of the water in Gujarat".
"Today, the water of Narmada is proving to be a gem for a large part of Gujarat, not just Kutch. Narmada water is not just water, it is 'Paras', which makes it gold as soon as it touches the soil. The irrigation system has increased due to Narmada water".
"When it comes to tourism, the discussion of Statue of Unity is natural. Due to this, Kevadia and Gujarat are on the tourism map of the world. It has been only 11 months since its inception, but so far more than 23 lakh tourists have come here from home and abroad". Statue of Unity today has become a source of employment for our tribal brothers and sisters of our country. In the coming days, when the other projects related to tourism will be completed here, employment opportunities will increase even more".
"The whole country is trying to get rid of single-use plastic. I have come to know that all of you are engaged in this work under the Swachhata Hi Seva campaign. Our water, forest, and land should be free of plastic, this is the responsibility of every citizen of the country".
Also Read: PM Modi's Birthday: Fan offers 1.25 kg gold crown at Sankat Mochan Temple in Varanasi
"Your servant is fully committed to the unity and superiority of India. We have strengthened this commitment in the last 100 days. Major decisions have been taken one by one in the last 100 days, including decisions ranging from farmers' welfare to strengthening of infrastructures".
"The people of Jammu and Kashmir and Ladakh faced discrimination for 70 years. The entire country suffered in the form of its consequences, violence, and isolation. The country took an important decision with the inspiration of Sardar Saheb, it was decided to walk a new path to solve the decades-old problem".
"I am confident that with the active support of millions of colleagues from Jammu and Kashmir, Ladakh and Kargil, we will be able to shed a new stream of development and trust".
Posted By: Talib Khan