Jagran New Media, UNODC launch webinar series on impact of coronavirus crisis on vulnerable groups
Looking at the alarming situation, Jagran New Media and United Nations Office on Drugs and Crime (UNODC) has decided to launch a series of webinars that will bring together educators, policy makers and thought leaders to discuss the challenges posed by novel coronavirus.
Publish Date: Sat, 20 Jun 2020 04:51 PM IST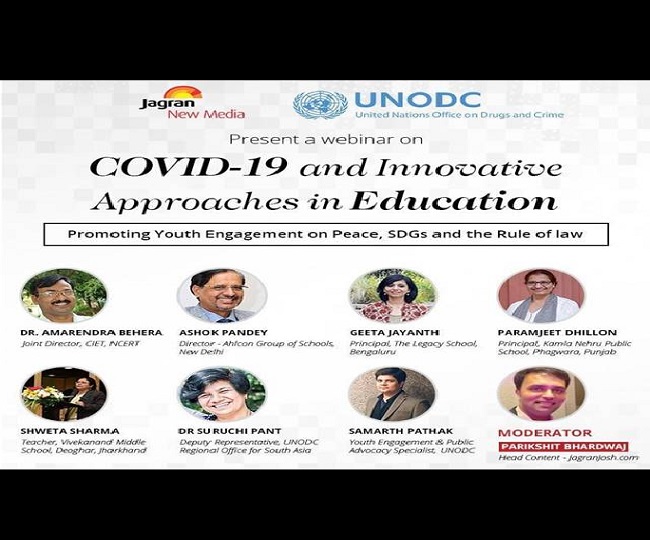 New Delhi | Jagran News Desk: The highly contagious coronavirus has wreaked havoc across the world and has brought people on their knees. In India, the deadly virus has affected nearly 4 lakh people and claimed the lives of almost 13,000. Looking at the alarming situation, Jagran New Media and United Nations Office on Drugs and Crime (UNODC) has decided to launch a series of webinars that will bring together educators, policy makers and thought leaders to discuss the challenges posed by novel coronavirus.
The aim of the webinars will be to propose actionable solutions to these challenges and help government agencies and other stakeholders to step-up their response and efforts in line with the needs and requirements of these groups. Therefore, the theme of the webinars is "Responding to COVID-19: Impact on Vulnerable Groups, Emerging Risks and the SDGs".
What will be the focus of the webinars?
The focus of the webinars will be 'education' because UNODC has kept a special focus on it under its "Education for Justice" Initiative and has been discussing the issues related to it. It has also conducting impactful and engaging program, "The Lockdown Learners" in India since April in which students and educators are being informed about the dreadful coronavirus and its impact on vulnerable groups and issues like misinformation and gender-based violence are discussed.
Coronavirus and its impact on education sector
The first webinar was conducted on jagranjosh.com – the education and career website of Jagran New Media – on June 17 and the impact of coronavirus on education was discussed. The session was moderated by Mr Parikshit Bhardwaj (Head – Content, jagranjosh.com), who was joined by Mr Samarth Pathak (Communications Officer and Focal Point –Education for Justice Initiative, Regional Office for South Asia, UNODC), Dr Suruchi Pant (Deputy Representative of UNODC Regional Office for South Asia), Dr Amarendra Behera (Joint Director, CIET, NCERT), Mr Ashok Pandey (Director, Ahlcon Group of Schools, New Delhi), Ms Geeta Jayanth (Principal, The Legacy School, Bangaluru), Ms Paramjeet Dhillon (Principal, Kamala Nehru Public School, Phagwara, Punjab).
"Jagran means awakening and we at Jagran New Media are ensuring this awakening by creating credible and trustworthy content that not only informs but also educates and helps solve real-world problems. In view of this, we find a natural synergy with UNODC. We are delighted to partner for these discussions that we are sure will go a long way in proposing solutions for the post-COVID-19 world," said Mr Bhardwaj while highlighting about the collaboration between Jagran New Media and UNODC.
Challenges that the education sector is facing
In the webinar, the issues and challenges that the educational sector is facing because of the coronavirus pandemic was thoroughly discussed and how COVID-19 is affecting the safety of the children.
"At UNODC, we believe that education for peace must also involve three things: One, actively engaging with youth through education and spreading awareness on social and global themes, two, strengthening youth agency to co-create solutions, and three, nurturing responsible behaviours that promote the rule of law, SDGs and gender-equality. We are glad to see so many schools and educational leaders joining hands with us and taking the lead in this direction," said Dr Suruchi Pant.
The challenges which a school might face was especially discussed in the webinar brought to the fore practical problems faced by educators in transitioning to an online medium of instruction to educate the students. The experts also discussed the digital about digital divide and unavailability of technology which might pose a huge challenge for online education.
How education can be improved during coronavirus pandemic?
Sharing a few innovative techniques adopted by them to overcome the challenges faced by students and teachers, the experts discussed about the challenges that the education sector is facing and how virtual classes have blended technology allied tools to improve the delivery of study materials.
"Through a mix of activity-based learning and interactive dialogues, the Lockdown Learners program has been a good example of creating impact through education during COVID-19. For instance, multiple interactive sessions have been conducted with students from the Jawahar Navodaya School at Jhajjar, and disadvantaged youth from Deoghar in Jharkhand, using audio recordings, voice notes and WhatsApp. We have also shared content and created mini digital repositories of educational tools for students to access at any point on WhatsApp. All the sessions have been highly interactive and the response from students and educators has been tremendous. Educators are reporting behaviour changes among students, and they are now more sensitive to social concerns," said Mr Samarth Pathak.
What government is doing to solve the issues faced by educational sector?
While the coronavirus crisis continues to wreak havoc, the government has launched several schemes to help the education sector amid the pandemic. Dr Amarendra Behera -- Joint Director, CIET, NCERT, New Delhi – during the webinar said that the NCERT had launched an alternative academic calendar for all classes, which aids virtual classroom setup by helping teachers plan their lessons in accordance with the digital platforms. He further highlighted that the various governmental initiatives which have facilitated the transition to online learning during the coronavirus crisis.
Posted By: Aalok Sensharma