INMA South Asia Media Festival | 'Audience first approach our priority': Jagran New Media CEO Bharat Gupta on third-party players
Updated: Fri, 22 Nov 2019 06:10 PM IST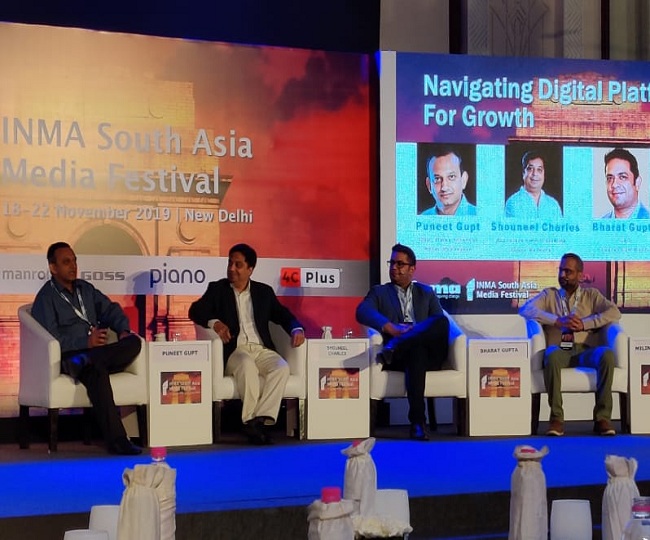 New Delhi | Pratyush Ranjan: Navigating other digital platforms can play an important role in the growth of your own, but the quality and credibility of the content, while keeping the journalistic ethics on focus, should remain uncompromised, according to Jagran New Media CEO Bharat Gupta.
Expressing his views on the role of third-party players in driving the traffic of digital media publishers at INMA South Asia Media Festival, Mr Bharat suggested that publishers in the fast-paced digital media world should not create content as per the needs of the third party platforms, rather "produce content which is high quality and purposefully generated for our audiences".
Narrating the last three years' journey of Jagran New Media, the digital wing of India's largest print and radio publisher group Jagran Prakashan Ltd, Mr Bharat told how the company moved on from the dependency on third-party players for traffic to creating factual and credible content.
"At Jagran New Media, the audiences we have are of serious nature and look for mature content. We don't believe in generating content as per the needs of third party platforms like UC. What we believe in producing content which is high quality and purposefully generated for our audiences. We will explore opportunities and go back to third party platforms but on own terms in which the quality of the content is the core," said Mr Bharat.
"60 per cent of our users were from UC three years ago. We decided to focus only on the traffic we got on our own platform and we have done well for ourselves and I'm proud to say that today we stand at 76 million users," he added.
Also Read | INMA South Asia Media Festival 2019: Blend of technology and pure journalism need of the hour, says Washington Post's Shailesh Prakash
Responding to a query by Mr Puneet Gupt, COO Times Internet who was also the moderator of the panel discussion, whether the contrast requirements of third-party platforms create "DNA conflict" in the newsroom and how is that managed, Mr Bharat explained how Jagran New Media went for the strategy of creating different brands for difference audience, keeping "audience first approach" in focus.
"We decided to go into audience-segmentation phase instead of applying single brand approach, like Jagran, we decided to create different brands for different audiences. We were very very focused what those brands meant for that audience segment in terms of content offering, in terms of age group or in terms of whole positioning. For health, we have OnlyMyHealth.com, for education we have Jagran Josh, for women we have Her Zindagi. In last two years, the biggest change is that in terms of news, the contribution is about 50 per cent of audiences and 50 per cent is non-news. Both these audiences have grown over a period and this gave us the ability to connect and engage the different audiences across these different platforms. Audience first is the approach which we wanted to apply."
Mr Bharat, meanwhile, also highlighted the key role of the third-party players in engaging new users and suggested that publishers hold open dialogue with those platforms to drive audience and business objectives.
"Every platform has its own legacy or kind of audiences. What is necessary to understand is what are the consumption periods or trends across those platforms and does the content fit-in over there and if it does, how do you get back to those users. A lot of new users, around 100 million, are coming to these platforms and it's been an incredible journey but if we are not present on these platforms, how do you connect with these new users," he said.
On a query whether Jagran New Media will change its content strategy for its partner video platforms Likee and Helo, Mr Bharat said that the company will not compromise in terms of content quality and credibility, instead Jagran's fact-checking website Vishvas News will prove helpful in checking the misinformation present on these platforms.
Vishvas News is a fact check unit and has separate editorial guidelines and policies, to fight against spread of misinformation all over the internet. It is working with Helo to fact-check the misinformation on the platform.
The four-day South Asia Media Festival, hosted by the International News Media Association (INMA), concluded on Friday. "Navigating Digital Platforms For Growth" was the agenda of the session which included Milind Khandekar, Digital Editor, India, BBC and Shouneel Charles, Executive Vice President, Times Internet, apart from Mr Bharat Gupta and Puneet Gupt.
The festival was held in New Delhi to explore, understand, evolve and celebrate the best practices in print and digital media ecosystems of the region.
Posted By: Abhinav Gupta