India's COVID-19 tally crosses 1 lakh mark in 111 days, death toll at 3,163; Maha tops list with over 35,000 cases
Updated: Tue, 19 May 2020 11:33 AM IST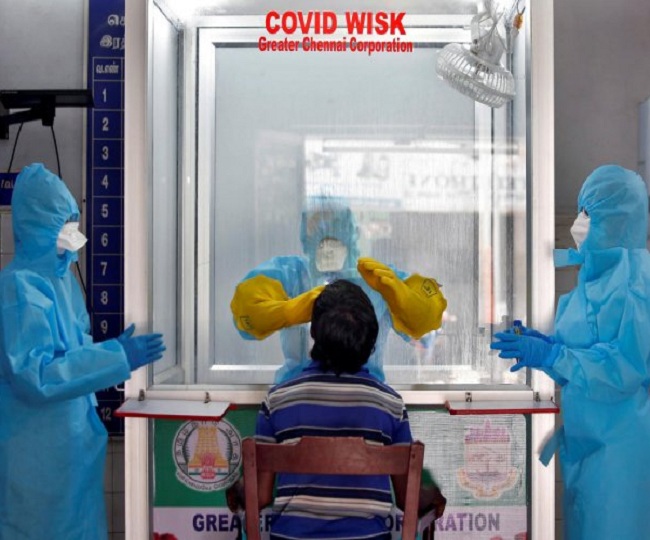 New Delhi | Jagran News Desk: India on Tuesday crossed the undesirable mark of 1,00,000 COVID-19 cases with more people testing positive for the deadly virus in Maharashtra, Gujarat, Tamil Nadu and other states. Meanwhile, the country's death toll reached 3,163.
The 1-lakh mark was crossed after the country reported 4,970 cases and 134 deaths in the last 24 hours. According to the health ministry data, the total number of cases stand at 101139 and death toll has mounted to 3163.
These are the five worst-hit states and their tallies:
Maharashtra - 35,058 cases and 1,249 deaths
Tamil Nadu - 11,760 cases and 81 deaths
Gujarat - 11,745 cases and 694 deaths
Delhi - 10,054 cases and 168 deaths
Rajasthan - 5,507 cases and 138 deaths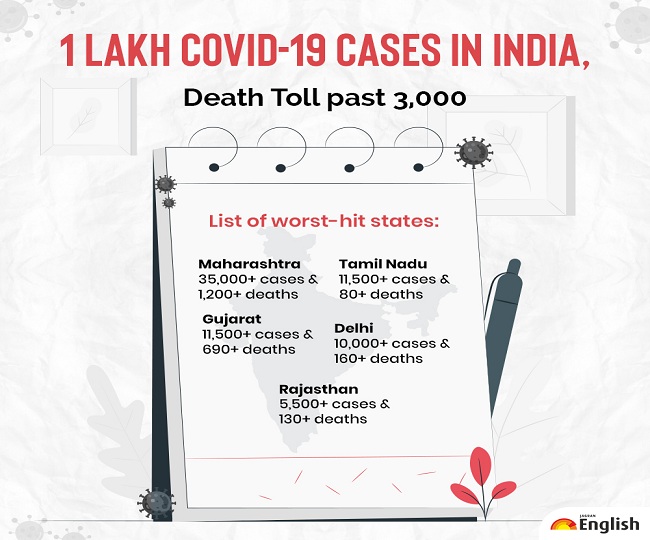 The country had reported its first confirmed case of coronavirus on January 30 when a medical student from Wuhan, the epicentre of the virus, tested positive in Thrissur, and it has now reached the 1-lakh mark after 111 days. The second wave of the virus had hit the state during March when a three-member family returned from Italy.
The troublesome mark was reached a day after the fourth phase of lockdown kicked in across the country, and came with several relaxations like restarting of market complexes, autos, taxis and inter-state buses in various parts of the country.
The country touched the 10,000 mark on April 14, 76 days after it reported the first. However, the rate of increase in cases continued to rise with the country touching 20,000-mark on April 22, 40,000-mark on May 3, 60,000 on May 10, 80,000 on May 15.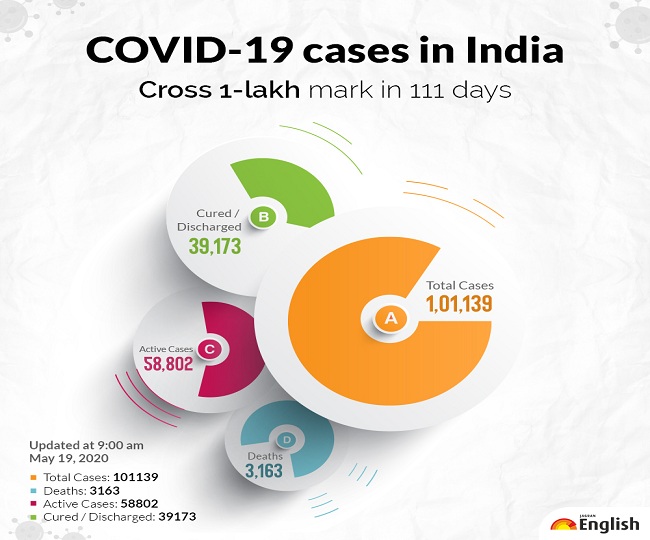 The Health Ministry continues to maintain that India was faring better than others with 7.1 cases per one lakh population as against 60 globally. It also said the recovery rate of coronavirus cases in India stood at 38.39 per cent.
The alarming numbers come even as the authorities across the country ordered reopening of markets, intra-state transport services and even of barber shops and salons in some states, barring in containment zones, in their attempts to reboot locked down economic activities.
India has been under a lockdown since March 25, which was first supposed to be for 21 days or toll April 14, but was later extended till May 3, then further till May 17 and now for another two weeks till May 31.
However, a number of relaxations have been given in the current fourth phase, while states and union territories have also been granted significant flexibility for deciding the red, orange or green zones in terms of the quantum and severity of the virus spread.
The global COVID-19 tally is nearing 5 million mark with over 3,20,000 deaths so far. The USA is the worst-hit across the globe with over 1,550,000 cases and nearly 92,000 deaths, followed by United Kingdom which has so far reported nearly 2,50,000 coronavirus cases and 35,000 deaths. Italy has seen over 2,25,000 cases and 32,000 deaths while Russia has reported nearly 3 lakh cases and over 2,700 fatalities.
Posted By: Abhinav Gupta