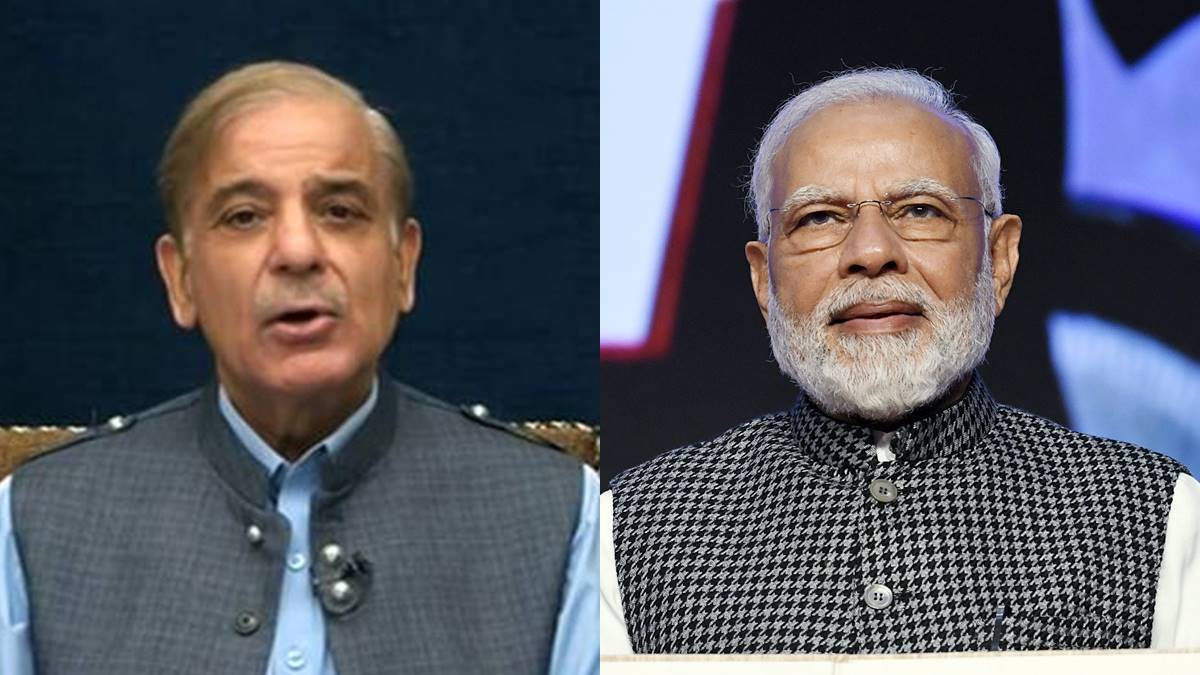 Pakistan Prime Minister Shehbaz Sharif on Tuesday called for peaceful talks with India, but his offer came with a condition. Sharif, who has for long maintained that India and Pakistan should address the issues plaguing the bilateral relations, reiterated his stance with a renewed emphasis today. However, his appeal included discussions on the status of Jammu and Kashmir, which India has clearly stated to be an internal issue and rejected Pakistan's interference in it.
In an interview to an Arabic news channel, the Pakistan Prime Minister said, "My message to the Indian leadership and Prime Minister Narendra Modi is let's sit down at the table and have serious and sincere talks to resolve our burning issues, like Kashmir." Admitting that Pakistan has learnt from its past mistakes, Sharif said, "We have three wars with India and it only brought more misery, poverty and unemployment to the people."
"We have learnt our lesson and we want to live in peace provided we are able to resolve our genuine problems. We want to alleviate poverty, achieve prosperity, and provide education and health facilities and employment to our people and not waste our resources on bombs and ammunition, that is the message I want to give to Prime Minister Modi," Sharif was quoted as saying by Dubai-based Al Arabiya.
Negotiations With India Impossible Until...: Pak PMO
Soon after Sharif called for talks, the Pakistan Prime Minister's Office issued a statement dashing all hopes of bilateral negotiations between India and Pakistan. The PMO said such talks would only be possible if India restored the autonomous status of Kashmir which was revoked after the abrogation of Article 370 in August, 2019. "Without India's revocation of this step, negotiations are not possible," it said.
While India has not responded to the statements made by Sharif and his office, every appeal for talks meets a dead end even before it can be initiated as Pakistan continues to press for restoration of statehood to Jammu and Kashmir.
UAE's Role In India-Pakistan Ties
The Pakistan Prime Minister went on to say that he had taken up the issue with UAE President Sheikh Mohammed bin Zayed on his recent visit to the Emirates. "He's a brother of Pakistan. He also has good relations with India. He can play a very important role to bring the two countries on the talking table," Sharif said. His remark came a week after his visit to the UAE.
Pakistan, which has been facing an economic crisis, has turned to the UAE in its time of need. As Pakistan's dollar reserves run low and concerns mount that it might default on its debts, Sharif sought help from the 'brother' country. The UAE has pledged to roll over a $2 billion debt, and has further promised $1 billion support. Under another agreement, the Saudi Fund for Development has agreed to provide $1 billion on overdue payments for Pakistan's oil imports from that country.
The UAE shares strong, friendly ties with India and has previously claimed to have played a role in bringing India and Pakistan to the table. In 2021, a top UAE diplomat had publicly said that his country became facilitator in a backchannel process between India and Pakistan.
India-Pakistan Relations
The two neighbouring nuclear powers have fought three wars since independence from British rule in 1947. Further, the nations witnessed intense tensions in 2019, after terror attack in Pulwama killed more than 40 Indian security personnel. Following this, India launched an air strike on Balakot in Pakistan to target what New Delhi said was a terrorist training camp.
Later in August, 2019, tensions intensified when the Indian government revoked the autonomous status of Jammu and Kashmir. Sharif alleged on Tuesday that the abrogation of 370 resulted in "flagrant" human rights violations.
Meanwhile, India has repeatedly rejected Pakistan's criticism on its internal matter and blamed the neighbour for decades-long insurgency in Kashmir. Official talks between the two countries have remain suspended since 2019. Pakistan's demand for restoration of Jammu and Kashmir's autonomous status continues to be a deal breaker.