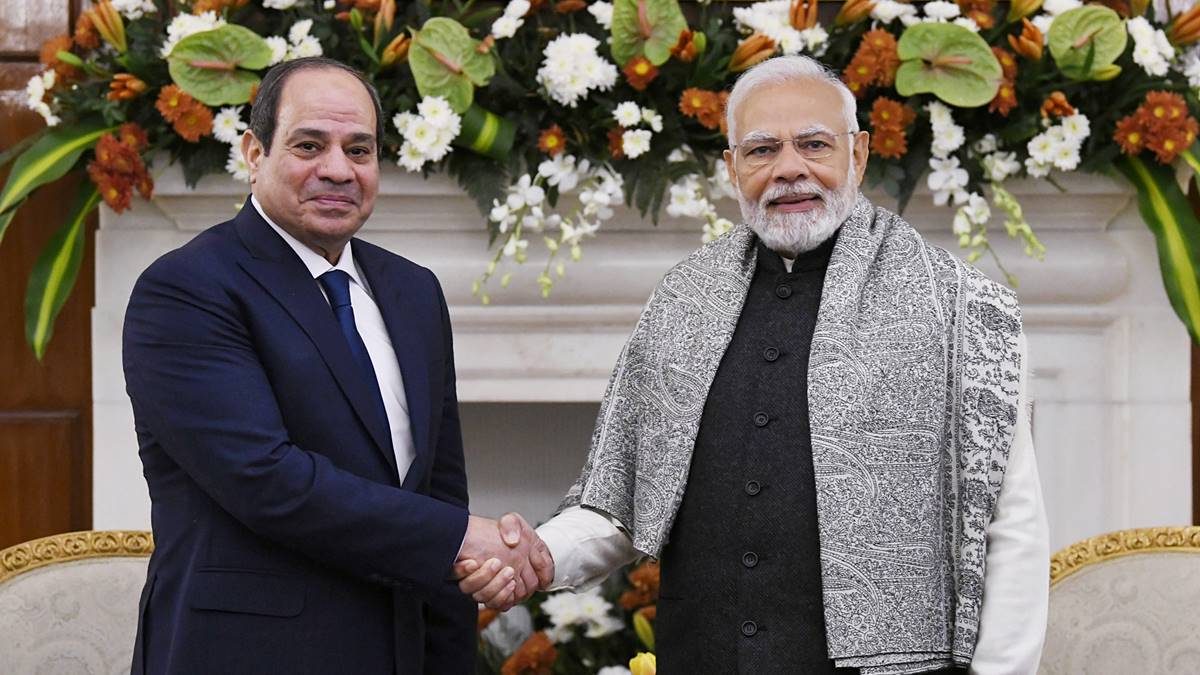 Egypt President Abdel Fattah El-Sisi, who is set to be the Chief Guest on India's 74th Republic Day, met Prime Minister Narendra Modi in Delhi on Wednesday. He held wide-ranging talks with PM Modi in Delhi and decided to elevate their ties to the level of strategic partnership.
This is the first time the President of Egypt has been invited as chief guest for India's Republic Day celebrations. Earlier in the day, President Sisi was welcomed by President Droupadi Murmu, PM Modi and several Union Ministers at Rashtrapati Bhavan.
Significance Of Republic Day Chief Guest
From the Indian government's standpoint, the invitation to serve as the Republic Day chief guest is highly symbolic. To choose its chief guest for Republic Day, New Delhi has been fusing strategy with hospitality. Every year, a variety of factors, including strategic and diplomatic considerations, business, and global geopolitics, influence the selection of the Republic Day chief guest.
"I am going to take part in the Republic Day parade. I am thankful to PM Modi for such a grand welcome. During our discussions, we talked about trade and investment and how to further expand our cooperation in import and export," Egyptian President said.
El-Sisi And PM Modi Hold Bilateral Talks
Egyptian President El-Sisi on Wednesday held bilateral talks with PM Modi over wide-ranging issues, including agriculture, digital domain, culture and trade. Addressing a joint media statement after the talks, President El-Sisi said he has invited PM Modi to Cairo to complete the talks and take the relations between the two nations forward.
He further said, "I met PM Modi in 2015 in New York and I had full confidence in him. I knew he will take his nation forward. I have invited Prime Minister Modi to Cairo, Egypt to complete our talks and elevate the ties between the two nations to a strategic partnership."
India-Egypt History
The bilateral ties between India and Egypt date back to on August 1947, when the two nations announced the establishment of diplomatic relations at the Ambassadorial level. India and Egypt were also key players in forming the Non-Aligned Movement (NAM) along with Yugoslavia in 1961.
Previously, four Indian Prime Ministers have visited Egypt. These include Rajiv Gandhi in 1985, P V Narasimha Rao in 1995, IK Gujral in 1997 and Manmohan Singh in 2009 for the NAM Summit. India has hosted former Egyptian President Hosni Mubarak in 1982, in 1983 for the NAM Summit, and again in 2008.
India-Egypt Ties: Areas Of Cooperation
In bilateral talks on Wednesday, Egypt President Abdel Fattah El-Sisi told PM Modi about investment opportunities in Egypt and the government's measures to promote investment in Cairo.
"I told PM Modi about investment opportunities in Egypt and the Egyptian government's actions to promote investment. I expressed the desire for India to increase its investment in various sectors in Egypt, especially the Suez Canal Economic Zone," Sisi said.
The visiting dignitary said, "We have witnessed the willingness of Indian companies working in Egypt to increase their presence in the Suez Canal Economic Zone. Many Indian companies have expressed willingness to invest in promising sectors of Egypt."
According to the Egyptian President, the two leaders discussed security cooperation between India and Egypt. El-Sisi said that they spoke about terrorism and discussed COP27. He expressed gratitude to PM Modi for inviting Egypt as a guest country for the upcoming G20 summit. He stressed that India and Egypt are "old cultural civilizations."
"We also discussed cooperation in Green hydrogen and renewable energy sectors. India and Egypt are old cultural civilizations. The issue of connectivity was also discussed between the two countries in order to boost tourism," Abdel Fattah El-Sisi said.
"We spoke about fighting against terrorism, and also discussed COP27. We also discussed the security cooperation between Egypt and India. I have thanked PM Modi for inviting Egypt as a guest country for the upcoming G20 summit," the Egyptian President said.
Addressing the joint statement after the bilateral talks Hyderabad House here, PM Modi said, "We have decided that under India-Egypt Strategic Partnership, we will develop a long-term framework for more comprehensive cooperation in political, security, economic and scientific fields."
He further said, "We have also decided in today's meeting to further strengthen cooperation between our defense industries, and to increase exchange of counter-terrorism information and intelligence."
(With ANI inputs)