Coronavirus News LIVE | Delhi reports 576 new COVID cases, lowest one-day surge since March 17
Catch all the LIVE Updates here
Updated: Wed, 02 Jun 2021 03:52 PM IST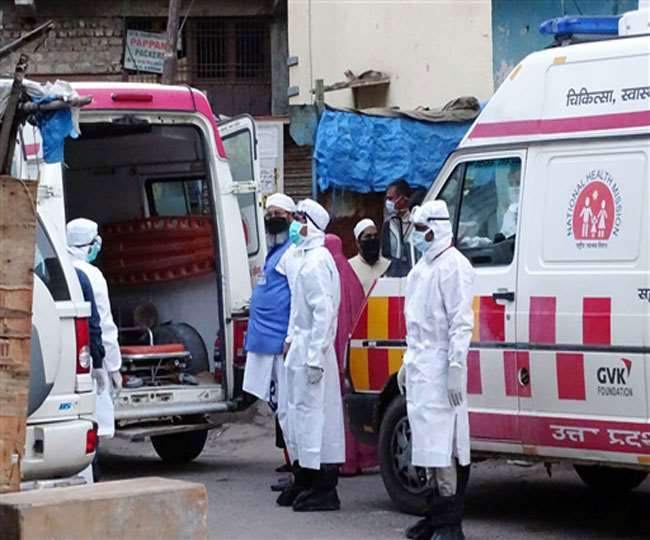 New Delhi | Jagran News Desk: The government on Tuesday cautioned that even though COVID-19 has not taken a serious shape among children till now, its impact can increase among them if there is a change in virus behaviour or epidemiology dynamics, and steps are being taken to strengthen preparedness to deal with any such situation. A national expert group has been formed to review COVID-19 infections in children and approach the pandemic in a renewed way so as to strengthen the nation's preparedness, NITI Aayog Member (Health) V K Paul said at a press conference.
Meanwhile, the government has also decided that class XII board exams of CBSE would not be held this year in view of the uncertain conditions due to COVID-19. The government said that CBSE will take steps to compile the results of class XII students as per a well-defined objective criteria in a time-bound manner. It was also decided that like last year, in case some students desire to take the exams, such an option would be provided to them by CBSE, as and when the situation becomes conducive.
Here are the LIVE Updates of June 2:
3:50 pm: Pfizer continues to remain engaged with the Government of India towards making its COVID-19 vaccine available for use in the immunization program in the country. As these discussions are ongoing, we are unable to share any additional details at this time: Pfizer Spokesperson
3:30 pm: Karnataka Revenue Minister R Ashoka performed rituals & immersed ashes of unclaimed COVID bodies into the Kaveri river in Belakavadi "Our govt wants to give respectable farewell to all who lost their lives during pandemic. Ashes of 560 people will be immersed today," he says
3:20 pm: COVID19 | Delhi reports 576 new cases (positivity rate 0.78%), 103 deaths, and 1,287 recoveries in the last 24 hours Active cases: 9,364 Case tally: 14,27,439
3:15 pm: Madhya Pradesh Board Class 12 Examination has been cancelled: Chief Minister Shivraj Singh Chouhan
3:10 pm: Wrote to all CMs for a consensus on centralised procurement of vaccines by GOI in view of challenges faced by states. Spoke to some CMs who shared my views. No State is safe unless all States adopt vaccination as top priority & execute it on war-footing: Odisha CM Naveen Patnaik
3:00pm: The Govt should come out with a permanent solution. We demand that govt should put up armed forces in all the healthcare establishments, including the COVID care centres: Dr Satyajit Borah, IMA president, Assam
2:45 pm: All those people must be booked under stringent laws. They should be booked under Epidemic Act and also the Assam Medicare Service Act should be invoked. We demand a Fast-track trial and a verdict should be delivered within three months: Dr Satyajit Borah, IMA president, Assam
2:30 pm: On one side, people are commenting badly on doctors, and on the other side, people physically assaulting doctors. Hospitals should be announced as a protected zone so that security of doctors will be there. We demand stringent act to prevent such incidents: IMA president
2:15 pm: Indian Medical Association and the whole fraternity of the country are saddened and anguished to see brutal attack on young and vibrant doctor, Dr Seuj Kumar Senapati. This is the time govt should do something to save the morale and health of doctors: Dr JA Jayalal, IMA president
2:00 pm: India stands third compared to other countries, in terms of vaccinating its citizens. We have simplified import rules so private hospitals can import vaccines. Vaccination drive will run for the next 7-8 months. Be assured that everyone will get vaccine: MoS (Home) G Kishan Reddy
1:45 pm: Govt has made action plans to vaccinate all by end of December (2021) & for production of 250 cr vaccine doses after speaking to several pharma companies. Sputnik arrived in Hyderabad yesterday, discussions are on to get Pfizer and Johnson & Johnson too: MoS (Home) G Kishan Reddy
1:30 pm: The time to act is now...there are going to be many urgent health challenges in the next two decades....shared threats requiring shared responsibility to act. The biggest need of the hour is a greater degree of Shared idealism of nations: Union Health Minister Dr Harsh Vardhan
1:22 pm: At a critical time like the present pandemic, there is no scope for industry to stick to Intellectual Property Rights. Shared threats require shared responsibility to act....The biggest need of the hour is a greater degree of shared idealism of nations: Union Health Minister
1:10 pm: Gujarat Secondary and Higher Secondary Education Board cancels class 12th board examination, says State Education Minister Bhupendrasinh Chudasama
12:55 pm: A 500 bed COVID Care Hospital set up by DRDO in Haldwani was inaugurated by Uttarakhand CM Tirath Singh Rawat virtually. The facility comprises 375 oxygen beds and 125 ICU beds with ventilators. Centre will become fully operational from tomorrow: DRDO
12:40 pm: We will conduct the JNU entrance examination whenever it is safe for students to write. If entrance is delayed due to COVID and if admission happens at later date, we'll surely adjust our academic calendar to take care of lost time without compromising academic rigor: JNU VC
12:30 pm: We lost 22.7 million jobs in April & May during second wave. Total number of jobs in the country is of the order of 400 million. Of these 400 million people who were employed, 22.7 million lost their jobs in past 2 months:Mahesh Vyas, Chief of Centre for Monitoring Indian Economy
12:20 pm: The court while dismissing the petition also imposed a cost of Rs 5,000 on the petitioner. The court observed that it was war like situation when the order/notification came into existence. Court also said we find no violation of any GNCT act in the present matter as the order passed is temporary in nature.
12:10 pm: Delhi HC dismissed petition filed by senior doctor challenging Delhi Govt notification. Petition stated that directing doctors&allied medical staff to function in single category irrespective of their seniority& core medical specialization in COVID patients treatment is arbitrary
11:50 am: Odisha: Union Minister Dharmendra Pradhan inaugurates vaccination drive at Indian Oil Headquarters in Bhubaneswar
11:30 am: It is expected to grant indemnity against legal proceedings along the lines of what has been granted in other countries for Pfizer and Moderna vaccine companies: Govt Sources
11:15 am: Taking into serious account of recent incident of assault on doctor in Assam, Resident Doctors Association AIIMS demands strict action against the perpetrators according to the Epidemic Disease Act, 1897 and prevention of any such incidents in future
11:00 am: Rajasthan | Daughters of a COVID warrior couple who succumbed to virus in Ajmer seek help from govt. Both of my parents were COVID warriors. Hospital didn't mention COVID as cause of deaths. We urge government to support us: Nilima Singh, daughter
10:45 am: Thiruvananthapuram: Kerala Legislative Assembly unanimously passed a resolution urging the central government to provide vaccine free of cost time within time bound
10:20 am: DCGI chief VG Somani issued notice over Guidance for approval of COVID19 vaccines in India for restricted use in an emergency situation which are already approved for restricted use by US FDA & other countries or which are listed in WHO Emergency Use Listing
10:00 am: We'll have normal operations from Germany with no second crew, all crew layover in India (Delhi, Mumbai & Bangalore) effective today. We'll resume nonstop flights from Germany to Delhi, Mumbai & Bangalore & will continue to operate 10 weekly flights throughout June: Lufthansa Spox
9:45 am: India reports 1,32,788 new #COVID19 cases, 2,31,456 discharges & 3,207 deaths in last 24 hrs, as per Health Ministry Total cases: 2,83,07,832 Total discharges: 2,61,79,085 Death toll: 3,35,102 Active cases: 17,93,645 Total vaccination: 21,85,46,667
9:30 am: A total of 35,00,57,330 samples tested up to June 1, inclusive of data reconciled by the States. Of these, 20,19,773 samples were tested yesterday: Indian Council of Medical Research (ICMR)
9:12 am: We are aiming to produce 22.8 crore doses annually. Center is providing us with financial aid of Rs 65 crores. Maharashtra govt has also given us over Rs 93 crores: Sandeep Rathod, MD HBPCL
9:00 am: Maharashtra: Haffkine Bio-Pharmaceutical Corporation Limited (HBPCL) under state govt prepares for Covaxin production "We've received approval for Covaxin production & are in talks with Bharat Biotech for further process. We'll be initiating production in 8 months, says the MD
8:45 am: "24 culprits involved in this barbaric attack have been arrested & charge sheet will be filed at the earliest. I am personally monitoring this investigation and I promise that justice will be served, tweets Assam CM Himanta Biswa Sarma on the attack on a junior doctor y'day
8:30 am: Indian Medical Association (IMA) condemns the attack on a junior doctor in Assam following the death of a patient suffering from COVID & pneumonia: Dr JA Jayalal, President, IMA
8:20 am: Assam Medical Service Association write to Hojai's Deputy Commissioner Office condemning the attack on a junior doctor following a patient's death who was suffering from COVID & pneumonia "Request Assam govt to book these merciless culprits immediately," the letter reads
7:53 am: The WHO said Tuesday that only one strain of the Covid-19 Delta variant first detected in India was now considered "of concern", while two other strains had been downgraded.
7:45 am: Chandigarh: Garv Singh, 16, has raised over Rs 7 lakhs online to purchase oxygen concentrators for helping the needy COVID patients. "I bought a concentrator with my saving of Rs 50,000, then I started a fundraiser & bought 13 concentrators. I give it to the needy,"he said y'day
7:35 am: Indian Medical Association (IMA) says 594 doctors died during the second wave of COVID-19
7:22 am: Mizoram reported 235 COVID-19 cases and two deaths yesterday, taking active cases to 3,243 and death toll to 44: State government
7:10 am: A consignment of 15 ventilators and 12,000 tablets of Favipiravir arrived in India from Iceland early this morning: MEA
Posted By: Talibuddin Khan