India-China Standoff: 'China should reassess its actions and take corrective steps', says MEA | Highlights
The violent face-off between Indian and Chinese troops at the Galwan valley of eastern Ladakh, has led to the martyrdom of at least 20 Indian soldiers, including an Indian Army Colonel, Santosh Babu
Updated: Wed, 17 Jun 2020 06:02 PM IST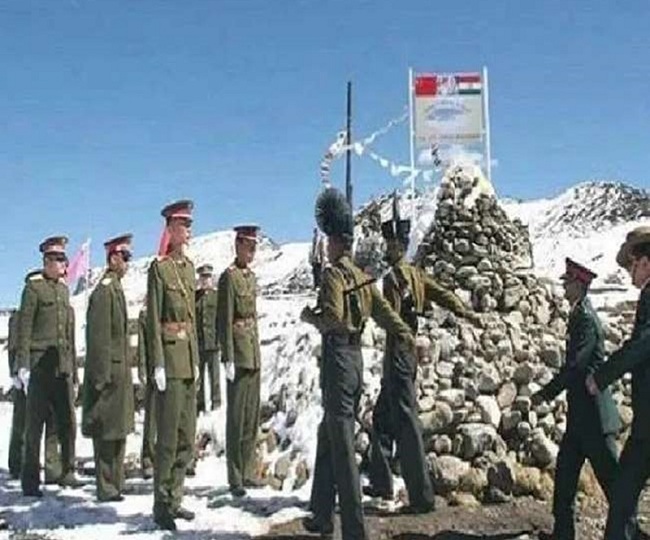 New Delhi | Jagran News Desk: The violent face-off between Indian and Chinese troops at the Galwan valley of eastern Ladakh, has led to the martyrdom of at least 20 Indian soldiers, including an Indian Army Colonel, Santosh Babu. According to US intelligence report, the Chinese troops also suffered at least 35 casualties during the face-off. However, China has not yet talked about the number of casualties suffered by the People's Liberation Army (PLA) during the clash. Meanwhile, Prime Minister Narendra Modi has called an all-party meet on June 19 to discuss the situation along the Indo-China border. The virtual meet will be attended by the Presidents of various political parties from across the country.
Meanwhile, Indian Army in its statement on Tuesday said, "Indian and Chinese troops have disengaged at Galwan area where they had earlier clashed on the night of 15-16 June. 17 Indian troops who were critically injured in the line of duty at stand-off location and exposed to sub-zero temperatures in the high altitude terrain have succumbed to their injuries, taking the total that were killed in action to 20. Indian Army is firmly committed to protect the territorial integrity and sovereignty of the nation".
Here are the Highlights of the situation on Indo-China Face-off:
5:25 pm: Two sides should scrupulously & sincerely implement the understanding reached by Senior Commanders on June 6. Troops of both sides should also abide by bilateral agreements&protocols. They should strictly respect&observe LAC & shouldn't take any unilateral action to alter it: MEA
5:15 pm: EAM S Jaishankar underlined that this unprecedented development will have a serious impact on the bilateral relationship. The need of the hour was for the Chinese side to : MEA
5:10 pm: Wang Yi-S Jaishankar talks: Strong message conveyed by Indian Foreign Minister to China, "What happened in Galwan was premeditated and planned action by China which was responsible for the sequence of events."
4:50 pm: General MM Naravane #COAS & all ranks salute the supreme sacrifice of our valiant soldiers at #Galwan. We offer deepest condolences to families&stand strong in our resolve towards protecting sovereignty & integrity of our country. Their sacrifices will not go in vain: Indian Army
4:40 pm: This is crucial for building trust and reaching a peaceful solution which is essential to preserving peace and stability in the region: Virginie Battu-Henriksson, EU Spokesperson for Foreign Affairs and Security Policy
4:37 pm: In light of recent worrying developments along LAC between India & China, we encourage both sides to show restraint & to engage in military de-escalation, as well as to continue the dialogue: Virginie Battu-Henriksson, EU Spokesperson for Foreign Affairs and Security Policy
4:34pm: Wang emphasises that both sides should strengthen communication and coordination through existing mechanism to resolve differences: PTI
4:30 pm: External Affairs Minister S Jaishankar and Chinese Foreign Minister Wang Yi speak on phone, discuss the situation in Eastern Ladakh.
4:20 pm: Chinese Foreign Minister Wang Yi says urges India to severely punish those responsible for conflict, control its frontline troops: Reuters
4:10 pm: China, India agree to resolve border clash in a fair way, de-escalate as soon as possible, reports Reuters quoting China foreign ministry
4:00 pm: Pain of losing our brave soldiers while protecting our motherland at Galwan Valley can't be put in words.Nation salutes our immortal heroes who sacrificed their lives to keep Indian territory safe.Their bravery reflects India's commitment towards her land:Union Home Min Amit Shah
3:45 pm: Are our soldiers/officers still missing? How many of our soldiers/officers are critically injured? What areas have been occupied by China? What is the policy of govt to deal with this? Congress stands with our Army, soldiers, their families and govt in this crisis: Sonia Gandhi
3:40 pm: Today when there's anger in the country regarding this incident then PM should come forward & tell the truth to the country that how did China occupy our land and why did our 20 soldiers lose their lives? What is the situtaion there today?: Congress Interim President Sonia Gandhi
3:35 pm: The sacrifice of our 20 jawans has shaken the conscience of the nation. I pay my tribute to all those brave soldiers from the core of my heart & pray to the Almighty to give their families the strength to face this pain: Congress Interim President Sonia Gandhi
3:30 pm: Delhi: PM Narendra Modi, Union Home Minister Amit Shah and the chief ministers of 15 states and union territories, who are present in the meeting via video-conferencing today, observe two-minute silence as a tribute to the soldiers who lost their lives in #GalwanValley clash.
3:15 pm: I would like to assure the nation that the sacrifice of our jawans will not be in vain. For us, the unity and sovereignty of the country is the most important...India wants peace but it is capable to give a befitting reply if instigated: PM Narendra Modi
3:00 pm: There has been a stand-off for so many weeks&when there are troops from two armies which are in close proximity to each other, there is always the probability of it spiralling out of control & unfortunately, that is what has happened on the night of June 15-16. From early May,Chinese PLA (People's Liberation Army) has been trying to occupy ground position on basis of its idea of LAC&we don't agree with their perception. So, Indian troops in early May stopped Chinese troops from advancing:Gautam Bambawale, Former Indian Ambassador to China.
3:00 pm:
Names of the 20 Indian Army personnel who lost their lives in the "violent face-off" with China in Galwan Valley, Ladakh. pic.twitter.com/GD5HFVr6U8

— ANI (@ANI) June 17, 2020
2:55 pm: Major General level talks being held between India and China in the Galwan valley to further defuse the situation after the violent face-off between their troops on June 15-16: Army Sources
2:45 pm: Watch
#WATCH Wreath laying of Indian Army soldiers, who lost their lives in #GalwanValley clash, performed at Army Hospital in Leh; latest visuals from Ladakh pic.twitter.com/aJomFr7Pxr

— ANI (@ANI) June 17, 2020
2:35 pm: Latest visuals from Ladakh: Wreath laying of Indian Army soldiers, who lost their lives in Galwan Valley clash, performed at Army Hospital in Leh; chopper activity seen in the area.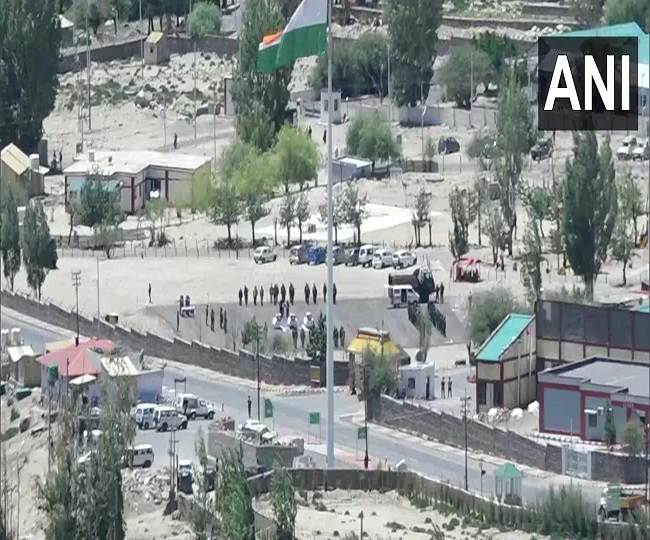 2:30 pm: In order to discuss the situation in the India-China border areas, Prime Minister Narendra Modi has called for an all-party meeting at 5 PM on 19th June. Presidents of various political parties would take part in this virtual meeting: PM's Office
2:25 pm: We are having communication through diplomatic and military channels. The right and wrong of this is very clear... The incident happened on the Chinese side of LAC and China is not to blame for it. From the Chinese side, we do not wish to see more clashes: Zhao Lijian, Chinese Foreign Ministry Spokesperson
2:20 pm: The sovereignty of the Galwan valley area has always belonged to China. The Indian border troops flip-flopped and seriously violated our border protocols on border-related issues and the consensus of our commander level talks. We ask India to strictly discipline its frontline troops, stop infringing and provocative activity at once, work with China and come back to the right track of resolving the differences through dialogue & talk: Zhao Lijian, Chinese Foreign Ministry Spokesperson
2:15 pm: The June 15th night's incident at the Galwan river valley reflects the failure of confidence-building measures that we have in place between India and China. These were evolved in 1993, 1996 & 2013 agreements: Srikanth Kondapalli, Expert on Chinese Affairs
2:00 pm: Delhi: Police detain Swadeshi Jagran Manch members and some Army veterans who were protesting outside China's Embassy to India.
1:45 pm: Twenty soldiers were martyred but govt kept silent. Govt should take citizens into confidence & tell them how China grabbed our land, how 20 jawans were martyred, what is the current situation and what is govt's strategy to deal with the issue: Randeep Surjewala, Congress
1:30 pm: Clearly, these are concerning reports. We encourage China and India to engage in dialogue on issues relating to the border – violence is in no-one's interest, says a British High Commission spokesperson
1:15 pm: Commanding Officer of the Chinese Unit involved in the face-off with Indian troops in the Galwan Valley among those killed: Sources confirm to ANI
1:00 pm: Defence Minister Rajnath Singh holds meeting with 3 Service Chiefs (Army, Navy & Air Force) and the Chief of Defence Staff. He also spoke to External Affairs Minister S Jaishankar on the current situation: Sources
12:30 pm: The troops who were part of the face-off told about a significant number of Chinese casualties. Although it is difficult to specify the exact number of casualties both killed and wounded, the number is estimated to be much beyond 40: Sources
12: 00 pm: The assessment is based on the number of Chinese soldiers evacuated from the face-off location on stretchers and subsequently by ambulance vehicles on the track along the Galwan river, as also the increased Chinese helicopter movement: Source
Posted By: Talib Khan