'Help will be extended to all those affected by locust attack': PM Modi on Mann Ki Baat
The government will provide aid to all those who are affected by locusts attack, said PM Modi
Updated: Sun, 31 May 2020 12:25 PM IST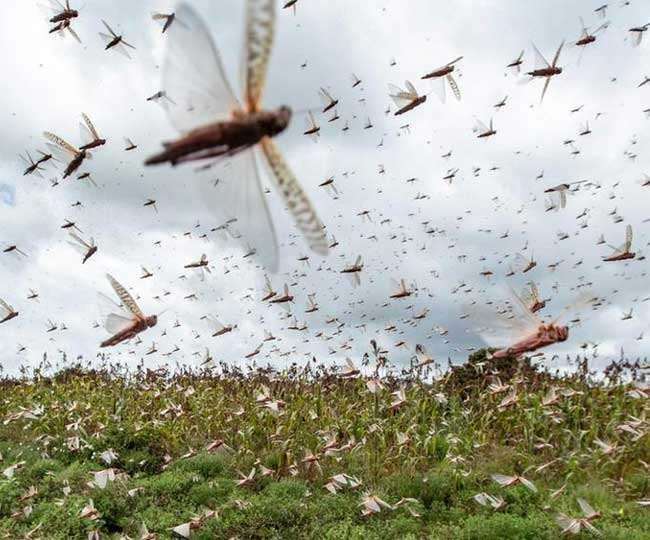 New Delhi | Jagran News Desk: Prime Minister Narendra Modi during his nation's address through Mann Ki Baat on Sunday said that the government will provide aid to all those who are affected by locusts attack.
Speaking about the recent Locusts Swarms Attack, PM Modi assured that together we will be able to battle out this crisis and also manage to salvage our crops.
"Several states in the country have reported locust attacks. These attacks have reminded us that a small creature can be immensely harmful. These attacks can go on for several days, affect large parts," he said.
"Be it at the level of Government of India, state government, agriculture department or administration, all are involved using modern techniques and new inventions to not only help the farmers but also lessen the loss accruing due to this crisis," he added.
''Help will be extended to all those affected by locust attack'', he further said.
Locusts belong to the family of grasshoppers. They are usually harmless but cyclones ad monsoons could increase their rate of reproduction. It covers 50 to 100 kilometers every day.
The swarms of desert locusts entered India via Pakistan this April from Rajasthan, it entered Madhya Pradesh. The locusts also made their way to Maharashtra, Gujarat and UP. As per reports global warming can increase the chances of locust attacks.
They are expected to reach Odisha and Bihar in July, according to the Food and Agriculture Organisation (FAO).
Also Read | 'India's Seva Shakti visible in battle against coronavirus': Top quotes of PM Modi as he addressed nation through Mann Ki Baat
In his 65th address to the nation through Mann Ki Baat, Prime Minister also said that it is important to be even more vigilant as a major chunk of the economy has opened up.
He said that India's fight against COVID-19 is people-driven and the country's 'seva shakti' is visible in this battle.
"Road ahead is a long one," Prime Minister said, adding, "COVID-19 is very much there and we cannot be complacent."
He also stressed on the pain caused to the migrant workers and also spoke about key measures like maintaining social distancing and using masks.
Speaking about cyclone Amphan, PM Modi said that India stands with Odisha and West Bengal, people of these states have shown remarkable courage.
(with PTI inputs)
Posted By: James Kuanal