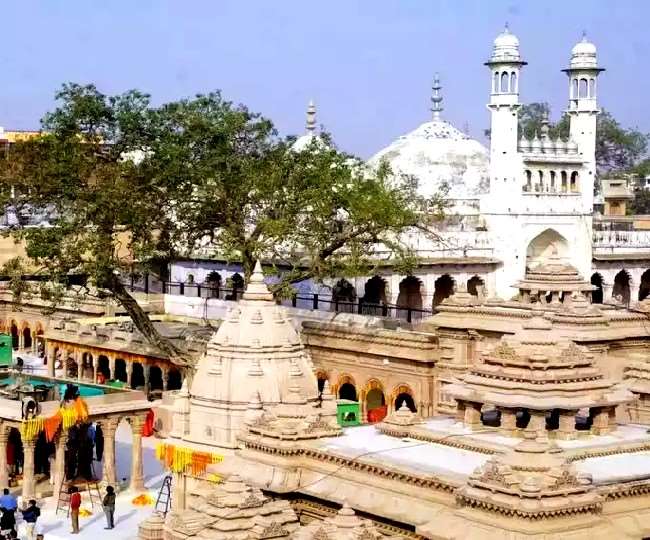 New Delhi | Jagran News Desk: The Supreme Court on Tuesday issued a notice to the Uttar Pradesh government and Hindu petitioners on a plea filed by the Muslim group over the videographic survey of the Gyanvapi masjid complex - the iconic mosque standing beside the Kashi Vishwanath temple - in Varanasi. The responses, the court said, need to be filed by May 19.
A bench, headed by Justice DY Chandrachud, also ordered the Varanasi district magistrate (DM) to protect the area where a 'Shivling' was allegedly found during the videographic survey. It, however, directed that "Muslims' right to prayer and religious observances" will not be disturbed inside the Gyanvapi mosque.
Court-appointed commissioner removed for 'leaking information'
A local court in Varanasi, which is hearing the Gyanvapi mosque case, on Tuesday also removed Ajay Mishra from the post of advocate commissioner for allegedly "leaking information" about the videographic survey. The order was passed by Civil Judge (Senior Division) Ravi Kumar Diwakar.
Besides, the court also granted two days' time to the commission to file the report on the survey. "We had sought two days' time from the court. The Court has granted us two days' time for submission of the report," advocate Vishal Singh, court-appointed special assistant commissioner, was quoted as saying by news agency ANI.
-Shivling or fountain?
A local court on Monday ordered the sealing of a pond in the Gyanvapi Masjid complex after lawyers representing the Hindu petitioners said a Shivling was found there. However, a mosque management committee member disputed the claim, saying the object was part of the water fountain mechanism at the "wazookhana" reservoir -– where devotees carry out ablutions.
A senior Varanasi official said the "structure" is located in the middle of the wazookhana pond which is about 30 feet by 30 feet across. "The pond is already barricaded with an iron net and covered from the top by a tin shed. There are three doors that lead to the pond. Locks have to be put on these doors," the official said earlier.
Mosque committee member Syed Mohammad Yasin questioned the classification of the object in the wazookhana pond as Shivling. "All mosques built during the Mughal era had fountains at the 'wazookhana'. Like other mosques, a green stone was also fixed at the fountain of the Gyanvapi mosque, which is being termed a Shivling."