'Growth of social media led to rise in fake news', says Vishvas News chief ahead of Global Fact 6 Summit in Cape Town
Publish Date: Fri, 14 Jun 2019 07:05 PM IST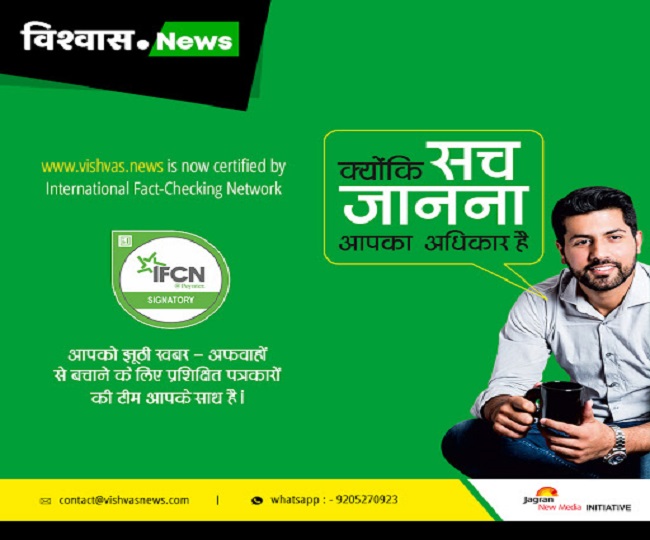 New Delhi | Jagran News Desk: Taking the fight against fake news a step further, the Global Fact-Checking Summit (Global Fact) is bringing fact-checkers, journalists and scholars from across the globe under one roof, to help them learn about state-of-the-art practices in this type of journalism.
Global Fact 6, as it is being held for the sixth consecutive year this time, will take place in South Africa, at the University of Cape Town's New Lecture Theatre, from June 19-21, 2019. This will be the first time that Global Fact will be held on the African continent.
At the conference, where more than 250 fact-checking initiatives will be represented, some of the most crucial and demanding issues related to fact-checking and misinformation will be discussed.
More than 200 participants will become a part of the three-day fact-checking conference, including Rajesh Upadhyay, the Editor-in-chief of Vishvas News, a fact-checking initiative from India.
Speaking with IFCN, Mr Upadhyay spotlighted the need for regional and national collaboration amongst journalist to deal with the menace of fake news in the most effective manner.
In an email to IFCN, Mr Upadhyay focused on the increasing threat of fake news in India and hoped of dealing with it. "The growth of social media has resulted in the tremendous rise of fake news. If we fact-checkers in India are successful in dealing with the issue of misinformation, with the help of IFCN and global fact-checkers, it would be a great victory," he said.
Mr Upadhyay, who is also the Editor-in-Chief & Vice President at Jagran New Media, said that one of Vishvas News' goals at Global Fact 6 is to "learn about the best practices other fact-checkers are applying."
Vishvas News, a fact-checking initiatory of Jagran New Media, is dedicated fact-checking initiavive in Hindi language, which is internationally acclaimed and certified by the International Fact-Checking Network (IFCN). IFCN is a unit of the Poynter Institute dedicated to bringing together fact-checkers worldwide. Also, Vishvas News is third-party fact check partner of Facebook in India. Jagran New Media is associated with Internet giants like Google, Facebook, YouTube, Twitter etc. to provide credible and fact-checked information to the Internet users across all digital platforms.
Vishvas News believes in following a logical flow in building its content. All our stories follow the same pattern. The idea is conceived with planning followed by development of the idea of fact-checking, then publishing and distribution, and finally quality check on the basis of facts, language, ethics and conduct. During the whole process, ethics and guidelines are never compromised at any stage. To bust fake news or verify news, the team Vishvas News follows special guidelines. Vishvas News has a team of 8 fact-checkers, which is led by Certified Fact-check trainers.
Posted By: Abhinav Gupta