Gilgit-Baltistan and Muzaffarabad belong to India, IMD's revision of its weather forecast criteria makes it clear
Publish Date: Thu, 07 May 2020 02:10 PM IST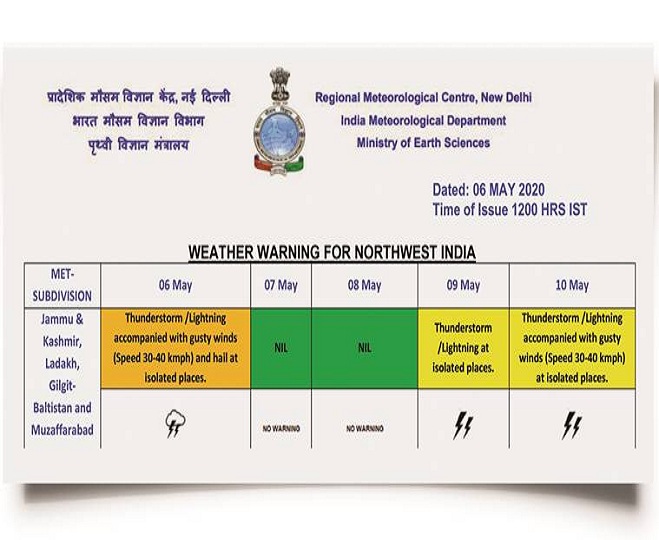 New Delhi | Jagran News Desk: Less than four days after India's External Affairs Ministry emphasised upon its 'fully legal and irrevocable accession' of Gilgit-Baltistan – part of India's Jammu & Kashmir and Ladakh currently under illegal occupation of Pakistan – the 145-years old (IMD) Indian Meteorological Department has now started referring to its meteorological sub-division of Jammu and Kashmir as 'Jammu & Kashmir, Ladakh, Gilgit-Baltistan and Muzaffarabad'.
There are 36 meteorological sub-divisions in the country, broadly defined along state boundaries. Gilgit-Baltistan and Muzaffarabad were added in IMD's Jammu and Kashmir sub-division.
"For a long time, IMD has been issuing severe weather forecast for Pakistan, Afghanistan, Bangladesh, Nepal etc. We were mentioning this information in our national bulletin. For past 2 days, we have started mentioning this information in our regional bulletin," IMD Director General Mrutyunjay Mohapatra was quoted as saying on the latest development.
Gilgit-Baltistan is under illegal occupation of Pakistan whereas Muzaffarabad is the capital of Pakistan-occupied Kashmir, which India's terror exporting neighbour refers to as 'Aazad Kashmir'.
The subtle shift of IMD's Weather forecast criteria first took place on Tuesday, in its daily forecast for northwest India from New Delhi. The move comes days after Pakistan Supreme Court told Islamabad to allow the federal government to hold elections in Gilgit-Baltistan.
New Delhi had slammed Pakistan's attempts of integrating an Indian territory in its sovereign landmass, by lodging strong protests and demarche against Pakistan's top-court order. "India completely rejects such actions and continued attempts to bring material changes in Pakistan occupied areas of the Indian territory of Jammu & Kashmir. Instead, Pakistan should immediately vacate all areas under its illegal occupation." MEA had said in a statement.
"The Government of Pakistan or its judiciary has no locus standi on territories illegally and forcibly occupied by it," the statement further noted.
Earlier, the leaders from Pakistan Occupied Kashmir (PoK) and Gilgit Baltistan who are now living in exile came out in praise for India's policy to contain the Coronavirus outbreak, while highlighting the deteriorated medical infrastructure in Indian territories under Pakistani occupation and urged Indian government to help in sorting out the crisis.
"No masks or sanitizers are available in Gilgit Baltistan. I urge people of Ladakh and the Indian government to come to our help," Glasgow-based activist Dr. Amjad Ayub Mirza said in a statement.
Posted By: abhinav gupta