Gandhi family loses SPG security, given Z+ cover now; Congress hits out at PM Modi, Shah
Updated: Fri, 08 Nov 2019 06:02 PM IST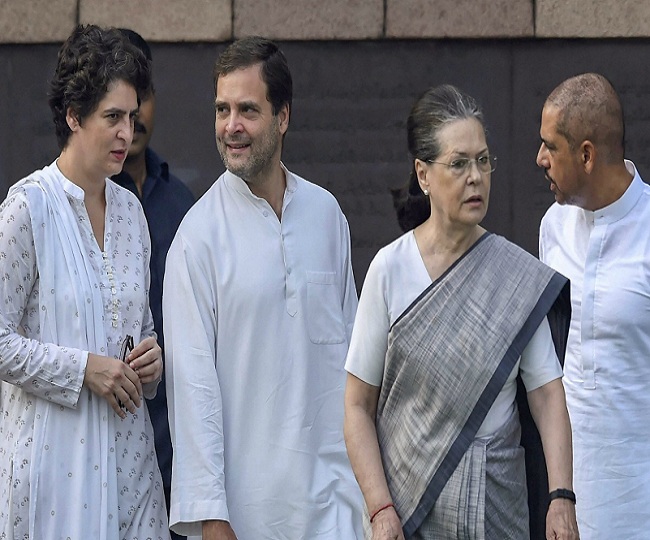 New Delhi | Jagran News Desk: The government has decided to take away the elite SPG protection from Congress president Sonia Gandhi, her son Rahul and daughter Priyanka, officials said on Friday. The Gandhi family will now get 'Z+' security by the CRPF on an all-India basis, they said.
The Union government took the decision to withdraw the Gandhi family's Special Protection Group (SPG) cover after a security assessment, a senior official said.
The Gandhi family has been under SPG security cover ever since the assassination of Sonia Gandhi's husband Rajiv Gandhi and mother-in-law Indira Gandhi, both former prime ministers.
According to reports, the review involving the Cabinet Secretariat and the Ministry of Home Affairs with inputs from various intelligence agencies found that there was no direct threat to them.
The government had recently withdrawn the SPG cover of former prime minister Manmohan Singh.
Hitting out at Prime Minister Narendra Modi and Union Home Minister Amit Shah, senior Congress leader K C venugopal said: "PM Modi and Home Minister Amit Shah has been blinded by personal revenge and political vendetta. This is proved by unceremonious withdrawal of SPG cover of ma'am Sonia Gandhi, Rahul Gandhi and Priyanka Gandhi."
"Two former PMs of India, Indira Gandhi and Rajiv Gandhi were murdered and it was Atal Bihari Vajpayee who amended the law to give the family of Indira Gandhi and Rajiv Gandhi, the SPG cover. PM Modi and Shah have undone it now," he added.
The SPG was set up in 1985 after the assassination of prime minister Indira Gandhi. Parliament passed the SPG Act in 1988, dedicating the group to protecting the prime minister. At the time, the Act did not include former prime ministers. When V P Singh came to power in 1989, his government withdrew SPG protection given to his predecessor Rajiv Gandhi.
After Rajiv Gandhi's assassination in 1991, the SPG Act was amended to offer SPG protection to all former prime ministers and their families for at least 10 years.
The Atal Bihari Vajpayee government conducted a review of the SPG's functioning, and decided to withdraw the SPG protection given to former prime ministers P V Narasimha Rao, H D Deve Gowda and I K Gujral.
In 2003, the Vajpayee government again amended the SPG Act to bring the period of automatic protection down from 10 years to "a period of one year from the date on which the former prime minister ceased to hold office" and beyond one year based on the level of threat as decided by the general government.
Posted By: Abhinav Gupta