By Abhinav Gupta
Wed, 03 Jun 2020 10:36 AM IST
Minute Read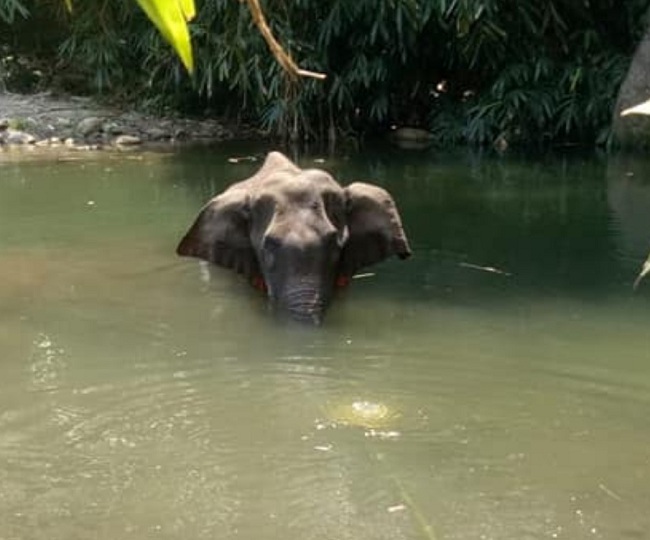 New Delhi | Jagran News Desk: A pregnant Elephant was fed with pineapples and firecrackers in Kerala's Palakkad district's Silent Valley, which exploded right in her mouth leading to fatal injuries and immediate death right after. A senior forest officer in Attappadi Reserve Forest told media about the incident on Tuesday.
"Her jaw was broken and she was unable to eat after she chewed the pineapple and it exploded in her mouth. It is certain that she was offered the pineapple filled with crackers to eliminate her," Principal Chief Conservator of Forests (Wildlife) and Chief Wildlife Warden of Attappadi Reserve Forest, Surendra Kumar, was quoted as saying by the news agency PTI.
The incident was reported from the left wing fringe areas of the Silent Valley in Attappadi in Palakkad district. However, Surendrakumar told media that the Elephant died at Velliyar river in Malappuram district on May 27. Later on, the post mortem revealed that the female jumbo was pregnant.
"I have directed the forest officials to nab the culprit. We will punish him for 'hunting' the elephant," Surendrakumar said.
The incident came to light when Mohan Krishnan, a forest officer wrote a heartbreaking note on his Facebook wall, explaining the events which led to Elephant's death in Northern Kerala.
Krishnan was the part of initial response team to help the injured creature He said on later that she didn't trample homes as she ran through the village in excruciating agony.
'This is why I said, she is full of goodness,' Krishnan said.
Officials brought two other elephants to the river in an attempt to entice her from the water but, according to Krishnan, she had come to the river to die.
"I think she had a sixth sense. She didn't let us do anything," Krishnan wrote on his Facebook wall.
Elaborating upon the moment when Elephant died, Krishnan wrote that to give her the farewell which she deserved, he and his colleagues took her inside the Reserve Forest in a lorry.
"She lay there on firewood, in the land she played and grew up. The doctor who did her post-mortem told me that she was not alone. I could sense his sadness though the expression on his face was not visible due to his mask. We cremated her in a pyre there. We bowed before her and paid our last respects," the forest officer added.
According to an Indian Express report, between 2014 and 2019, 510 elephants died all over India as a result of electrocution, train accidents, poaching and poisoning.