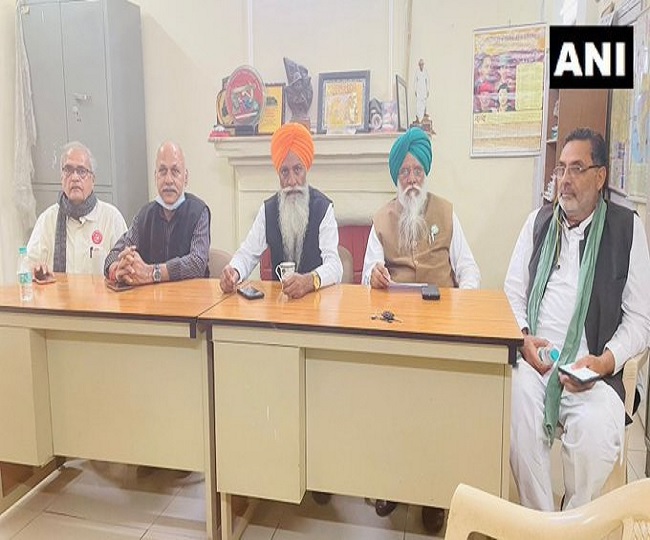 New Delhi | Jagran News Desk: Samyukt Kisan Morcha's 5-member committee on Wednesday held a meeting where they discussed the revised draft proposal received from the government and also revealed that any further step on the matter will be taken only after a final discussion with the Supreme Committee.
Farmer leader Yudhvir Singh after the meeting of the 5-member committee of Samyukta Kisan Morcha said that they will hold a discussion with our supreme committee, SKM later in the evening today to decide their further action.
"We are hopeful and progressing towards resolution," Farmer leader Shiv Kumar Kaka said after the meeting.
Another leader of SKM, Gurnam Singh Chaduni said that any final call on govt's fresh proposal will be taken during the SKM meeting at Singhu border.
"Farmers' protests will continue until after govt accepts all of our demands... It would be problematic for us if we withdraw our protest, but they don't take back the cases. Govt should announce a timeline for the withdrawal of cases," he said.
The SKM's 5-member committee's meeting was held at the All India Kisan Mahasabha office in central Delhi on Wednesday.
Ravneet Brar, the spokesperson of BKU Kadian, had said that the committee members will also discuss about the panel to be set up by the government on the legal guarantee to MSP and other issues.
Earlier on Tuesday, the SKM had demanded clarification on certain points in the government's proposal, including on the precondition set for the withdrawal of "fake" cases against farmers.
According to the farmers' body, the government's proposal said it will form a committee to look into the demand for a legal guarantee on minimum support price (MSP) for crops and the panel will include farmer organizations outside the SKM, government officials and representatives of states.
The SKM members had objected to this and had decided to meet again on Wednesday to deliberate on these issues and announce the future course of the agitation.
On November 30 this year, Parliament passed the bill to repeal the three contentious agricultural laws at the centre of protests by farmers for over a year, with the Lok Sabha and the Rajya Sabha giving their approval in quick succession amid an uproar on the first day of the Winter session without any discussion as demanded by the opposition.