Farmers' Protest: PM Modi to interact with farmers on Dec 25; unions say waiting for govt to hold talks with open mind | As it happened
Farmers' Protest LIVE: The farmers will today decide the date on Centre's proposal for the next round of talks, as Narendra Singh Tomar expressed the hope that they will soon resume the dialogue to resolve the impasse.
Updated: Wed, 23 Dec 2020 06:03 PM IST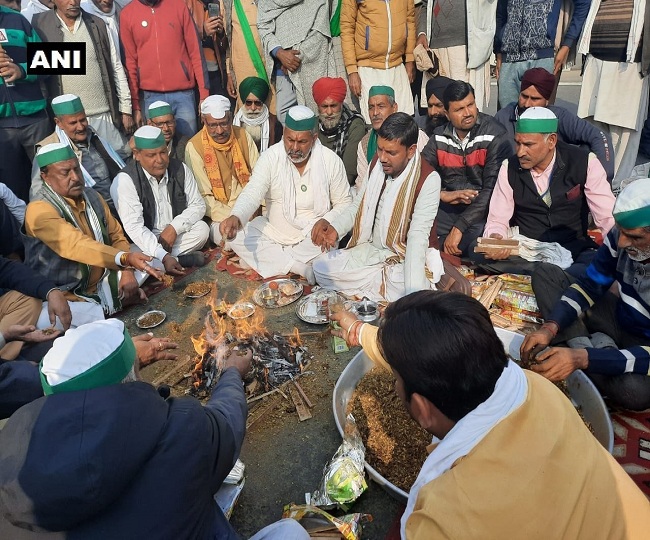 New Delhi | Jagran News Desk: Representative of farmer unions protesting against three farm laws on Wednesday urged the central government to not repeat the promise of amendments to the legislations but come up with concrete promise in writing for the further round of talks. The representatives added the government should create a conducing atmosphere for a fruitful dialogue.
Earlier in the day, Farmers performed 'havan' at the Delhi-Uttar Pradesh border in Gazipur on the occasion of birth anniversary of former Prime Minister Chaudhary Charan Singh on Wednesday. "We want to take Chaudhary Charan Singh's views forward and the farmers should get what they want, hence, we are performing Havan today. We have not reached any solution after talks (with the government) yet," said Rakesh Tikait of Bhartiya Kisan Union who also performed havan here along with other farmers.
Meanwhile, farmers continue to protest against the new farm laws at Singhu (Delhi-Haryana) and Tikri borders, demanding the withdrawal of farm laws. On the letter sent by the government to farmers, a protestor said, "The letter will be answered today. We are ready to talk but they do not want to talk because they have a problem." Meanwhile, Chilla and Gazipur borders have been closed for traffic coming from Noida and Gaziabad to Delhi because of farmer protests, said Delhi Traffic Police.
Here are the highlights from the Big Story:
8:45 pm: Due to Kisan agitation in Punjab, movement of several more special trains of Western Railway has been affected and hence, few trains have been diverted: Sumit Thakur, Chief Public Relations Officer, Western Railway
7:05 pm: We want to assure Centre that protesting farmers & unions are ready for a discussion with govt. We're waiting for govt to take the discussion forward with an open mind & neat intention: Swaraj India's Yogendra Yadav reading United Farmers' Front's new letter addressed to Centre
7:00 pm: The way Centre is carrying this process of talks, it's clear that govt wants to delay this issue & break morale of protesting farmers'. Govt is taking our issues lightly, I'm warning them to take cognizance of this matter & find a solution soon:Yudhvir Singh, Bhartiya Kisan Union
6:00 pm: We urge the govt not to repeat those meaningless amendments which we have rejected but come up with a concrete proposal in writing so that it can be made an agenda, and the process of negotiation can be started as soon as possible: Yogendra Yadav at Singhu border
5:45 pm: United Farmers Front today has written a letter to govt. It states that govt shouldn't question the letter written by United Farmers' Front previously as it was a unanimous decision. Govt's new letter is a fresh attempt to defame farmers' association: Yogendra Yadav, Swaraj India
5:10 pm: On 25th December, 9 crore farmers will receive Rs 18000 crores in their accounts as part of PM Kisan Saman Nidhi Yojna. PM will be the Chief Guest. By last evening, 2 crores farmers have registered themselves for this online event: Union Agriculture Minister Narendra Singh Tomar
4:15 pm: Delhi: Representatives of Confederation of NGOs of Rural India met Union Agriculture Minister Narendra Singh Tomar & MoS Agriculture Kailash Choudhary & submitted 3,13,363 signatures taken across 1 lakh villages in support of Centre's three Farm laws
4:00 pm: I'm hopeful that Farmers' Unions will discuss our request. Whatever they want to add & subtract from govt's proposal, they should tell us. We're ready for a discussion at the time & date of their convenience. I'm hopeful of a solution: Agriculture Minister Narendra Singh Tomar
3:45 pm: I would also like to thank banks, as they brought more than 1 crore farmers under Kisan Credit Card cover during pandemic & gave farmers Rs 1 lakh crores in last 8 months. We've undertaken some reforms & will bring more in future: Union Agriculture Minister Narendra Singh Tomar
3:35 pm: Through various schemes, we will fill all gaps in the agriculture sector, which will benefit farmers & ensure they get the right price...Even during #COVID19 pandemic, we saw that work related to farming & agriculture wasn't affected: Union Agriculture Minister Narendra Singh Tomar
3:20 pm: PM Modi will also have a conversation with farmers from 6 different states during the event. The farmers will share their experiences with PM-KISAN & also on various other initiatives taken by govt for farmers' welfare. Agriculture Minister will also be present: PMO
3:10 pm: PM Narendra Modi will release next instalment of financial benefit under PM Kisan Samman Nidhi (PM-KISAN) on December 25 via video conferencing. PM will enable the transfer of more than Rs 18,000 crores to more than 9 crores beneficiary farmer families: PMO
2:50 pm: On the occasion of Farmers' Day on Wednesday, Defence Minister Rajnath Singh said the Centre is talking with the protesting farmers with "full sensitivity" and hoped that they will end their agitation soon.
2:30 pm: Addressing a demonstration by farmers' organisations here, Kerala Chief Minister Pinarayi Vijayan on Wednesday said the state is standing in solidarity with agitating farmers because if food scarcity hits the country, its maximum impact will be on the consumer.
2:15 pm: Terming farmers as the country's "spine", Shiv Sena MP Sanjay Raut on Wednesday said it is unfortunate that the central government is "ignoring" the plight of peasants.
2:00 pm: I feel Governor's point is justifiable because convening Assembly session to pass the resolution amounts to wasting public money. This resolution will have no effect because when Parliament passes a law, it is applicable in the entire country: Union Minister V Muralidharan
1:45 pm: There was already proposal to hold Assembly session from Jan 8 so Governor asked govt as to what was urgency for special session. He said there was no need to convene the House unnecessarily: Union Minister V Muralidharan on Kerala Governor rejecting proposal for special session
1:30 pm: Delhi: On TMC chief Mamata Banerjee's direction, 5 party MPs comprising Derek O'Brien, Satabdi Roy, Prasun Banerjee, Pratima Mondal & Md Nadimul Haque today met & interacted with farmers from who are on a relay hunger strike at Singhu border.
1:15 pm: The TMC is following the BJP by doing a roadshow at the same place. But they must follow the good examples. Why haven't they released the Rs 6,000 annuity sum to farmers of the state under the Central govt's Kisan Samman Nidhi scheme: Dilip Ghosh, BJP West Bengal President
1:00 pm: Lodhi Road is closed from Safdarjung Madarsa to Lodhi flyover due to a demonstration by the Aam Aadmi Party. It will remain closed for next 3 to 4 hours: Delhi Traffic Police
12:45 pm: The fact that the Kerala Governor has not allowed a special session of the State Assembly to convene for the discussion of the farmers' issues, is an undemocratic & anti-constitutional act. It is very unfortunate: Congress MP K Suresh
12:20 pm: Many people are asking what Kerala has to do with it. If food scarcity hits the country, its maximum impact will be on Kerala, a consumer state. That is why Kerala will also be part of this protest: Kerala CM Pinarayi Vijayan at an anti-farm laws protest in Thiruvananthapuram
12:10 pm: Rahul Gandhi will lead demonstration tomorrow at 10:45am from Vijay Chowk to Rashtrapati Bhavan with Congress MPs. After that he & other senior leaders will meet the President of India & submit a memorandum containing 2 crore signatures for his intervention: Congress MP K Suresh
12:00 pm: Kerala stands in solidarity with agitating farmers. The protest is gaining public support day by day. The Centre should listen to reasonable demands of the farmers and scrap the fam laws: Kerala CM Pinarayi Vijayan
11:50 am: I could not understand what is 'black' in these farm laws. This 'tukde-tukde gang' is the one instigating and misleading the farmers. So far, no one could explain the 'black laws': Madhya Pradesh Minister Narottam Mishra on Congress supporting farmers' agitation
11:45 am: Congress leader Kamal Nath ji, who never visited farms of a farmer in 15 months, will ride a tractor. Rahul Gandhi, who drove 'sofa-cum-tractor' don't even know if potatoes grow above or below the ground: MP Minister Narottam Mishra on Congress supporting farmers' agitation
11:30 am: Watch
#WATCH पूर्व प्रधानमंत्री चौधरी चरण सिंह की जयंती के अवसर पर गाज़ीपुर बॉर्डर पर किसान 'हवन' करते हुए। #farmersday

गाज़ीपुर बॉर्डर पर कृषि कानूनों के खिलाफ विरोध प्रदर्शन करते हुए किसानों को आज 26 दिन हो गए हैं। pic.twitter.com/3poaMJvthc

— ANI_HindiNews (@AHindinews) December 23, 2020
11:15 am: Farmers at Tikri border continue to protest against government's new farm laws. Farmers say that PM Modi should take back the new legislation to mark Kisan Diwas.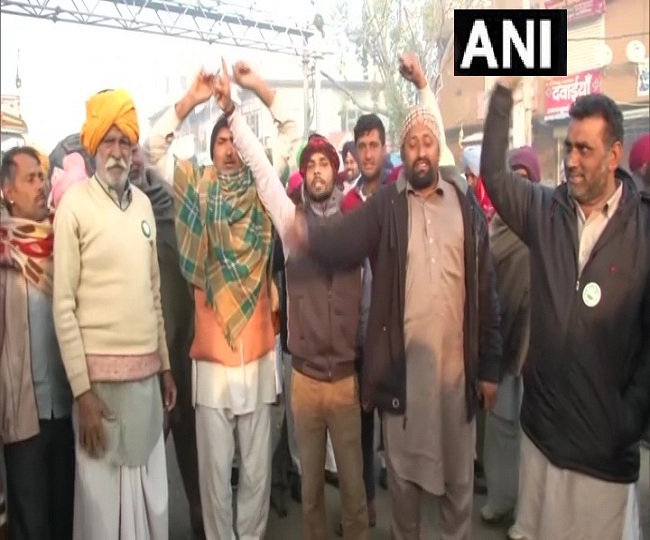 10:45 am: Farmers continue their agitation against three new farm laws at Ghazipur border.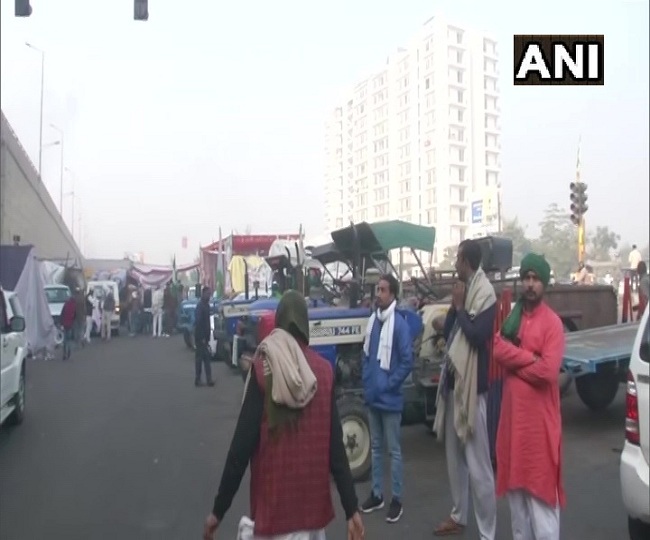 10:30 am: Farmers perform 'havan' at Delhi-Uttar Pradesh border in Ghazipur on the occasion of birth anniversary of former Prime Minister Chaudhary Charan Singh. Farmers' agitation against the three farm laws at Ghazipur border entered 26th day today.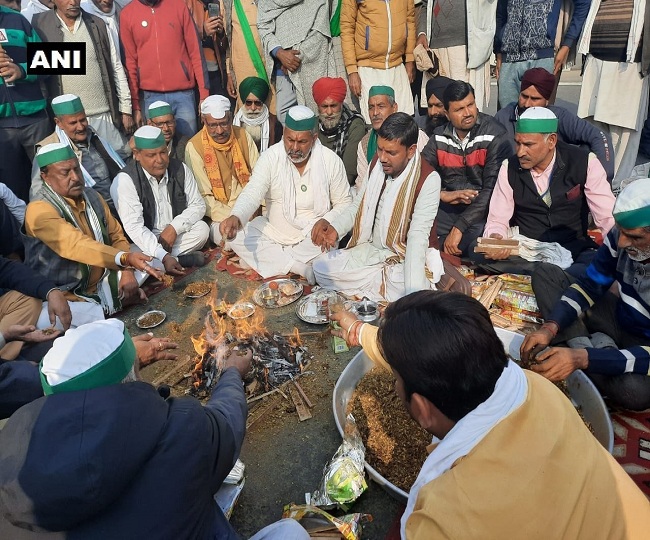 10:00 am: For nearly a month farmers from many states have come & are protesting in Delhi in the freezing cold. Till now the PM has not come forward to talk with them and hear their demand. And our CM Edappadi is dancing to the PM's tune: DMK Chief MK Stalin in Kanchipuram, Tamil Nadu
9:30 am: Protesting farmer unions deferred a decision on the central government's offer for fresh talks to Wednesday, even as Union Agriculture Minister Narendra Singh Tomar on Tuesday expressed the hope that they will soon resume the dialogue to resolve the impasse over the new agri laws.
9:20 am: The Congress on Tuesday sought President Ram Nath Kovind's intervention for withdrawal of the three farm laws and said a memorandum signed by two crore farmers would be handed over to him on December 24 by a party delegation led by Rahul Gandhi.
9:10 am: With the protests at Delhi's borders showing no signs of slowing down, farmers' unions on Sunday said they would write to members of UK Parliament to stop Prime Minister Boris Johnson from visiting India for the Republic Day celebrations until their demands were met.
9:00 am: Kerala Governor Arif Mohammed Khan declined approval for a special assembly session planned on Wednesday by the Left front government to discuss and pass a resolution against the three contentious central farm laws, against which farmers have been protesting near Delhi.
Posted By: Talib Khan