Farmers' Protest: 8th round of Farmer-Centre talks end inconclusively; next meet on Jan 15 | Highlights
Farmers' Protest LIVE: Media reports suggest that the farmer unions began the talk by asking the government to withdraw the farm laws.
Updated: Fri, 08 Jan 2021 07:41 PM IST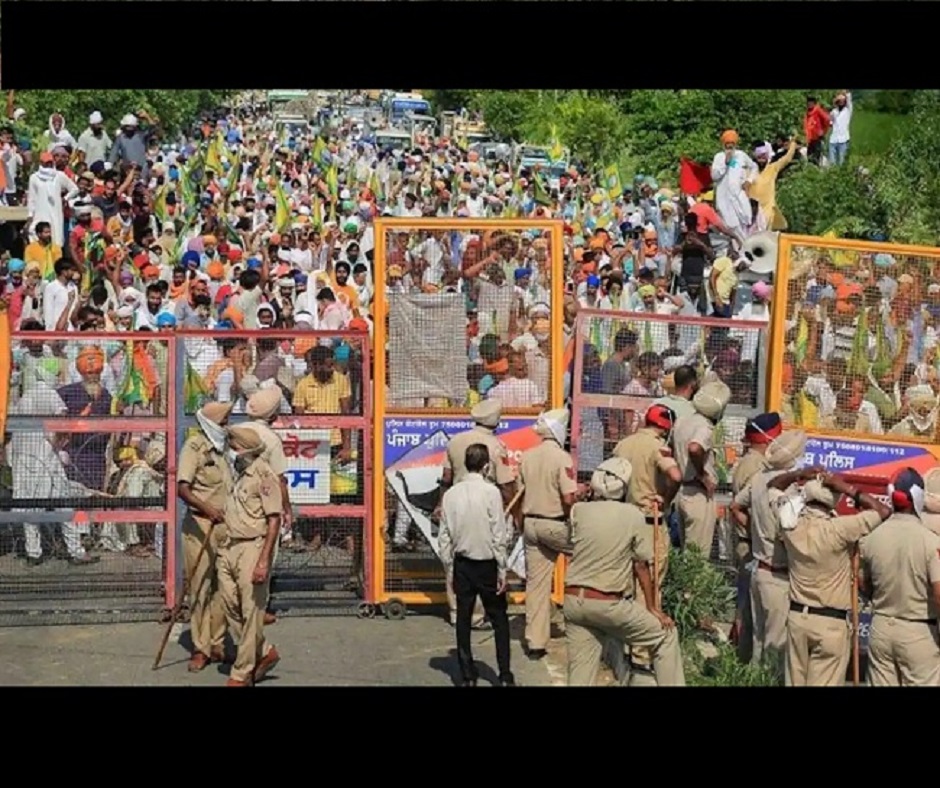 New Delhi | Jagran News Desk: The central government and the farmers today held the eighth round of talks to resolve the deadlock over the three farm laws and the minimum support price (MSP). The last round of talks between the sides was held on Monday but it failed to end the impasse after the Centre refused to roll back the legislation.
The farmers, however, have sticked to their demands and want the government to give assurance over the MSP and APMCs. On Thursday, they even conducted a 'tractor march' to show their strength and might. Following the march, the farmers called it a 'rehearsal' for Republic Day and warned that they will intensify their stir unless their demands are fulfilled.
Here are the Highlights from the big story:
17:30 pm: There was a heated discussion, we said we don't want anything other than repeal of laws. We won't go to any Court, this (repeal) will either be done or we'll continue to fight. Our parade on 26th Jan will go on as planned: Hannan Mollah, General Secretary, All India Kisan Sabha
17:20 pm: A farmer leader shows a paper with 'We will either die or win' written on it, at the eighth round of talks with the Centre. (Earlier visual) The next round of talks to be held on 15th January.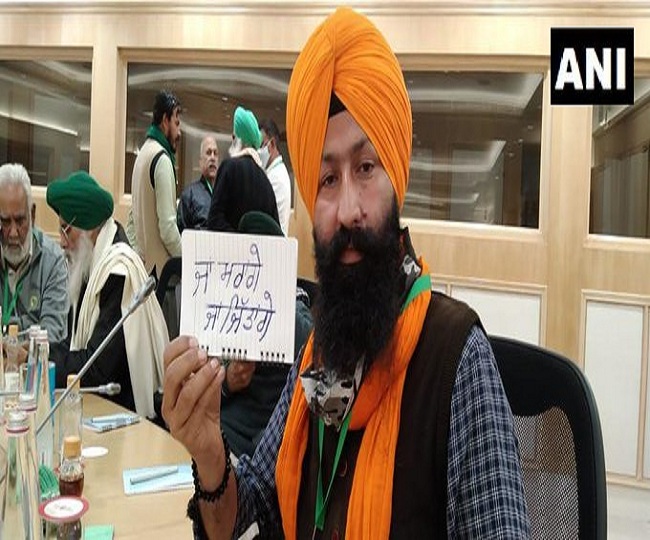 17:10 pm: The next round of talks between the Central Government and farmer leaders to be held on 15th January.
17:00 pm: "The only solution is to repeal the three farm laws. There is no other solution," Congress general secretary Priyanka Gandhi Vadra told the protesting legislators at Delhi's Jantar Mantar.
16:45 pm: "Our 'ghar wapsi' (return to home) can happen only if you do 'law wapsi' (repeal of laws)," a farmer leader said at the meeting. "Ideally, the Centre should not interfere in agriculture matters as various Supreme Court orders have declared farming as a state subject. It seems you (the government) do not want to resolve the issue as talks have been happening for so many days. In that case, please give us a clear answer and we will go. Why to waste everyone's time," another farmer leader said at the meeting.
16:26 pm: According to a report by News18, the government told the farmers that the repeal of three agri laws is not possible.
16:24 pm: "These agrarian laws will undermine regulated markets result in eventual demise of minimum support price and tilt the balance of bargaining power definitely in favour of corporate middle men," Kerala Governor Arif Mohammad Khan said today during the budget session at the state Assembly.
16:22 pm:
Delhi: Langar being distributed outside Vigyan Bhawan, where the eighth round of talks between Central Government and farmer leaders is underway over #FarmLaws pic.twitter.com/YqJnm9yc7m

— ANI (@ANI) January 8, 2021
15:14 pm: Media reports suggest that the farmer unions began the talk by asking the government to withdraw the farm laws.
14:50 pm: Eighth round of talks between Centre, farmers begins at Vigyan Bhavan.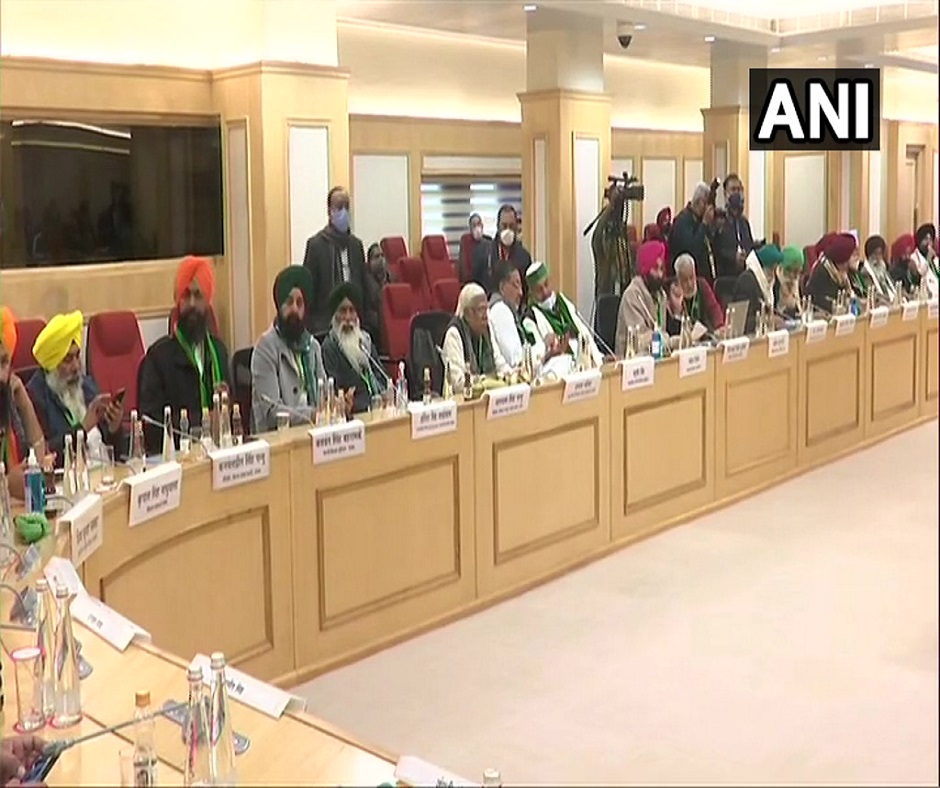 14:33 pm: Union Ministers Narendra Singh Tomar and Piyush Goyal arrive at Vigyan Bhavan to hold talks with farmer leaders.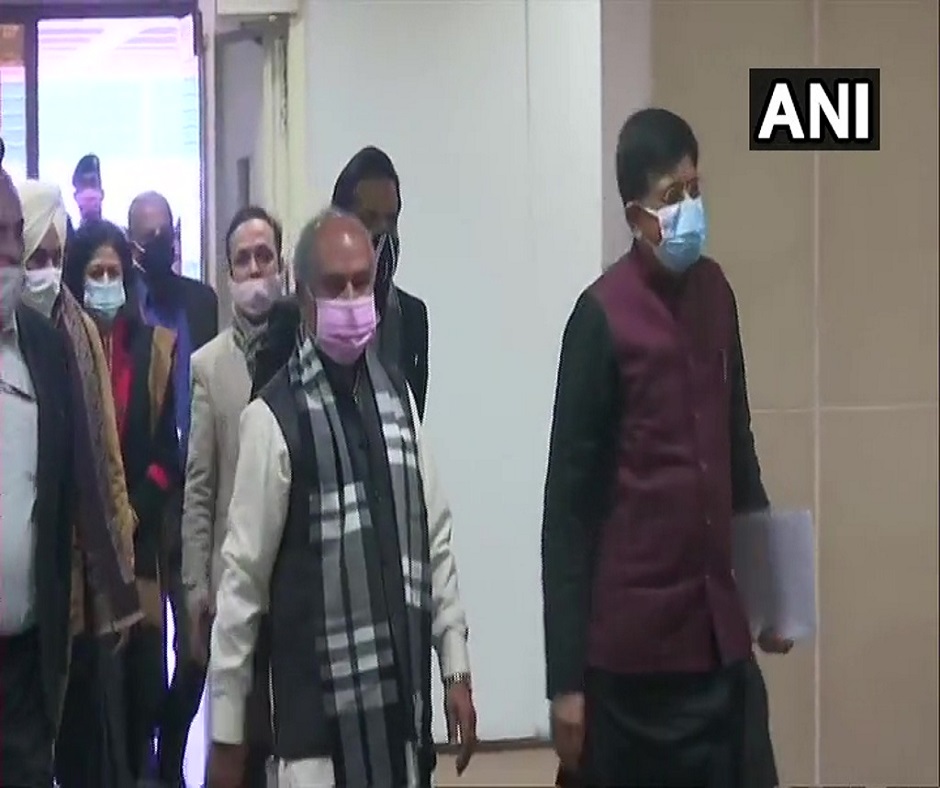 14:01 pm: Narendra Singh Tomar had on Thursday said that the Centre is ready to consider any proposal other than repeal of three farm laws, the key demand of the farmers.
"I cannot say anything right now. In fact, it depends on what issues that will come up for discussion in the meeting," he said after meeting Punjab's Nanaksar Gurudwara head Baba Lakha, a renowned religious leader of the state.
13:30 pm: Media reports claim that Union ministers Narendra Tomar and Piyush Goyal meet Home Minister Amit Shah ahead of the meeting with farmers.
13:27 pm: Just In: Congress MPs and leaders who are protesting against Centre's three farm laws at Jantar Mantar meet party leader Priyanka Gandhi Vadra at Rahul Gandhi's residence.
13:02 pm: I am hopeful that talks will be held in a positive atmosphere and a solution will be found. During discussions, each side has to take steps to reach a solution, says Union Agriculture Minister Narendra Singh Tomar ahead of talks with farmers.
12:41 pm: We going for talks with the hope that there will be a resolution today, says spokesperson of Bharatiya Kisan Union Rakesh Tikait.
12:40 pm: The Minister yesterday categorically declared that repeal of farm laws not accepted. I don't know what will happen during the discussions today. Anyway, we hope for the best and prepare for the worst, says Hannan Mollah, General Secretary, All India Kisan Sabha.
12:19 pm: Farmer leaders from Singhu border leave for Vigyan Bhavan in Delhi for the eighth round of talks.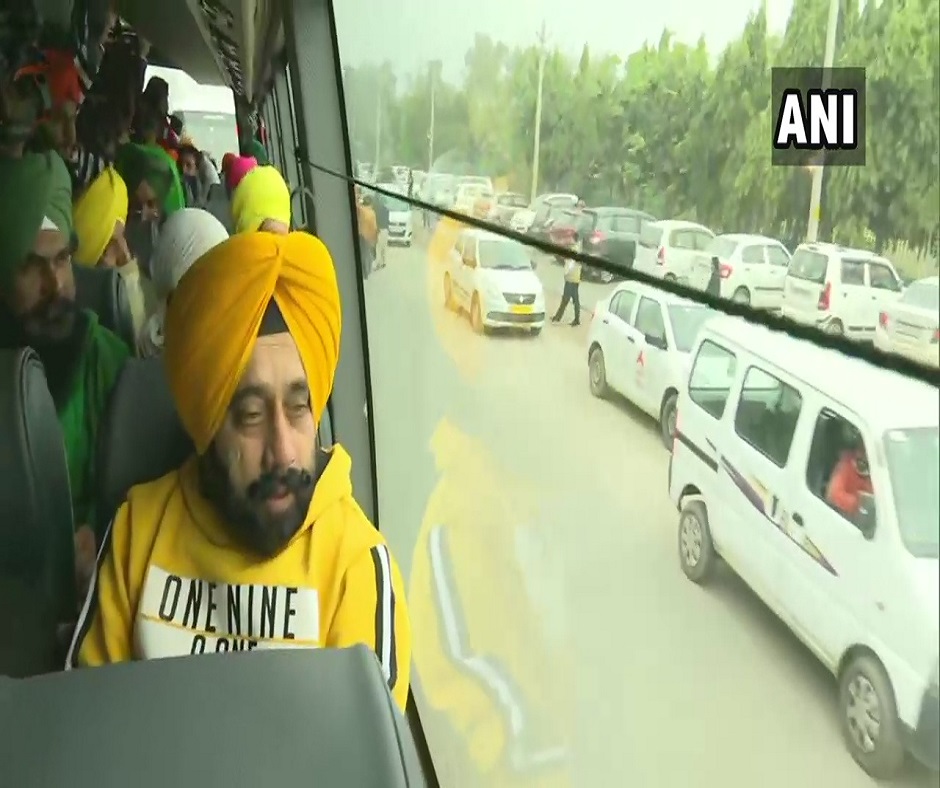 11:45 am: Recap: The farmers have also expressed their concerns over APMCs and want an assurance from the government over MSP.
11:32 am: Recap: The farmers are protesting against the three farm laws -- Farmers' Produce Trade and Commerce (Promotion and Facilitation) Act, 2020, the Farmers (Empowerment and Protection) Agreement on Price Assurance, and Farm Services Act, 2020, and the Essential Commodities (Amendment) Act, 2020 -- that were passed in the Parliament last year.
11:09 am: "There is no scope of clause-wise talks. The government should hold a meeting to repeal these laws today itself," says Balvinder Singh Raju, a farmer, as reported by ANI.
10:57 am: Ahead of Centre-farmer talks, MoS Agriculture Kailash Choudhary says that the solution will be found today through clause by clause discussion of farm laws.
"Government of India is ready to make amendments in the laws. We are hopeful of resolution," he said.
9:56 am: Tomar on Thursday also met religious leader and one of the heads of the Nanaksar Sikh sect Baba Lakha Singh. However, he said that the meeting was not linked to the protest.
9:45 am: Tablighi Jamaat meet finds a mention as SC expresses concern over farmers' protest amid COVID-19 pandemic
9:09 am: Meanwhile, Union Agricultural Minister Narendra Singh Tomar met a delegation of farmers on Thursday and discussed the ongoing protest.
9:00 am: Meanwhile, the central government, ahead of the talks, has said that it is ready for discussions over the farm laws but the legislations will not be withdrawn.
"Villagers had voted us on our manifesto in which we promised to bring these (farm) laws. We won 41 out of 51 bypolls after passage of these laws. We're ready to discuss if farmers have any issue but it's not good to say that laws must be repealed," said Union Minister Pralhad Joshi.
8:55 am: Ahead of talks with Centre, farmers hold 'tractor march', call it 'rehearsal' for Republic Day
8:50 am: Ahead of today's talks, the farmers had also held a 'tractor march' on Thursday to show their might and strength. Later, they said that it was a "rehearsal" for Republic Day.
8:45 am: Ahead of the meeting, the farmers, however, have said that their agitation will continue untill the government fulfil their demands and roll back the farm laws.
"There are media reports doing the rounds that the government has formulated a new proposal. There is no such thing. This is a game to divert media attention away from our successful tractor march today," said Yogendra Yadav of Swaraj India.
8:40 am: The central government and the farmer unions will hold another round of talks today to end the impasse over the farm laws.
Posted By: Aalok Sensharma