Farmers' Protest highlights: PM's address appeared as attempt to 'divide, mislead' farmers, say Unions; Badal, Pilot urge govt to repeal laws
Farmers' Protest highlights: During his interaction, PM Modi said that "some people are spreading lies for political gains" and urged the farmers to spread awareness about Kisan Credit Card (KCC) and its benefits.
Updated: Fri, 25 Dec 2020 05:27 PM IST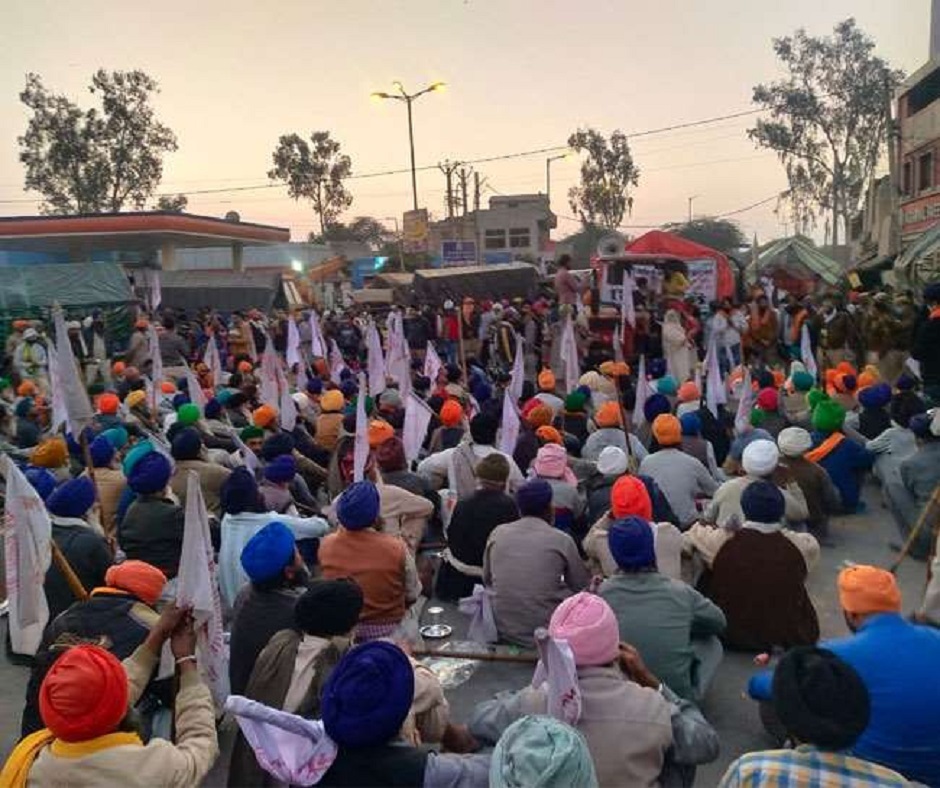 New Delhi | Jagran News Desk: With protests against three agri-markeing legislations completing 30 days, Conggress leader Sachin Pilot and Shiromani Akali Dal president Sukhbir Singh Badal on Friday asked the Central government to accept farmers' demand and repeal the laws. Pilot asked the centre to stop the politics of lies and deceit, PTI reported.
Prime Minister Narendra Modi on Friday interacted with farmers from six states amid protest over agricultural laws and released the seventh instalment of Rs 18,000 crore for nine crore farmer families under the Pradhan Mantri Kisan Samman Nidhi (PM-KISAN). During his interaction, PM Modi said that "some people are spreading lies for political gains" and urged the farmers to spread awareness about Kisan Credit Card (KCC) and its benefits. Meanwhile, Union Home Minister Amit Shah on Friday accused the opposition of misleading everyone over the minimum support price (MSP) and farm laws and called PM Modi the true well-wisher of the farmers. "No corporate can snatch away any farmer's land as long as Narendra Modi is Prime Minister," said Shah.
Here are the highlights from the day 30th of the farmers' protest:
9:00 pm: Former Rajasthan deputy Chief Minister Sachin Pilot on Friday asked the government to stop the politics of lies and deceit and repeal the farm laws.
7: 50 pm: Shiromani Akali Dal president Sukhbir Singh Badal on Friday said the Central government should stop defaming farmers and hold talks with them on ways to repeal its contentious agriculture laws, PTI reported.
7:25 pm: One section is blocked from Beas to Amritsar. Freight carriage hasn't been affected much since November but time to reach destination is a lot more. We estimate that Rs 2,400 crore loss has been faced by railways due to farmers' agitation: Ashutosh Gangal, GM, Northern Railway
6: 30 pm: It's a matter of concern for me that farmers of West Bengal could not benefit from Pradhan Mantri Kisan Samman Nidhi. As Governor, I've repeatedly approached the Chief Minister regarding this issue but none of my letters were answered: West Bengal Governor Jagdeep Dhankhar
17:25 pm: Just In: Media reports suggest that farmer leaders will meet tomorrow to decide response to PM Modi's speech and Centre's invite for talks.
17:24 pm: The Punjab farmers have received every year more than double the amount that they got as MSP during the Congress-led UPA rule. Their income has already doubled and they are experiencing it. Still, they are agitating as they are being misguided, says Prakash Javadekar.
17:22 pm: BJP is repeatedly saying the farmers of West Bengal are being deprived of cash under this scheme. That is not true. Chief minister Mamata Banerjee had asked the Centre to route the cash benefits through the state government and not directly to the farmers, says TMC.
16:36 pm:
#WATCH | Protesters agitating against the new farm laws run a tractor over a police barricade in Bajpur, of the Udham Singh Nagar district in Uttarakhand pic.twitter.com/aI97qNcg0U

— ANI (@ANI) December 25, 2020
15:41 pm: Kerala's COVID death toll is higher than national average. It should concentrate on containing it instead of focusing on non-issues or issues which aren't related to State: Union Min V Muraleedharan on Kerala government's recommendation to Governor for convening the Assembly over farm laws
15:15 pm: 'Oppn spreading lies over farm laws, WB govt blocking central benefits from reaching farmers': PM Modi
14:36 pm: Modi Ji doesn't have the courage to talk face to face with the protesting farmers. Govt talks about Rs 18,000 cr being directly transferred to bank accounts of farmers. But, I want to say that middlemen still exist and the entire amount doesn't reach farmers, says Congress' AR Chowdhury.
14:35 pm: Except for West Bengal govt, all other states govts have joined PM Kisan Samman Nidhi scheme. Till now, Rs 96,000cr has been transferred to farmers. In West Bengal, this scheme will benefit 70 lakh farmers. I have written to WB CM to join this scheme: Union Agriculture Minister Narendra Singh Tomar
Those who are misguiding the farmers by becoming their sympathiser will be taught a lesson by the public in future, he added.
14:35 pm: Through his address, PM Modi has cleared that government is ready for talks with those who have any questions regarding the three new farm laws. I hope, now protesting farmers will speak to the govt: Union Minister Nirmala Sitharaman
I want to ask Rahul Gandhi that were these pro-farmers policies not mentioned in the 2019 election manifesto of Congress? They are protesting just because those reforms are being implemented by PM Modi, and not them, she added.
14:31 pm: "Let these laws be implemented for a year or two. After this, if you think these laws are not in favour of farmers, then, I'm sure as I know our PM's intention, we'll make all the required amendments in them," says Rajnath Singh.
13:55 pm: PM Modi interacts with farmers amid protest, accuses Oppn of pushing political agenda over laws | Key Points
13:42 pm: In many parts of the country, agreement farming has been tried. It has been done in the dairy sector. So far, have you heard that a company has monopolised the dairy industry?: PM Modi
13:42 pm: Those who remained in the govt previously for several years left the farmers on their own. Promises were made and forgotten. Due to the agriculture policies of the previous govt, the poor became poorer, was it not important to change this state of farmers?: PM Modi
13:27 pm: Today, every farmer knows where he will get the best price for his farm produce. With these farm reforms, farmers can sell their produce to anyone anywhere. What is wrong if the farmers are being benefitted?: PM Modi
13:16 pm: The groups who are talking about mandis, APMC are the ones who destroyed West Bengal, Kerala. There are no APMCs and mandis in Kerala. So, why are no protests in Kerala? Why don't they start a movement there? But are only misguiding the farmers of Punjab: PM Modi
13:14 pm: Farm reforms became necessary because poor farmers, who are over 80 per cent, were getting poorer during rules of earlier governments: PM Modi
13:05 pm: I'm surprised and I want to say with much pain, that those who reigned supreme over Bengal. Listen to Mamata Banerjee's 15-year-old speeches .... you'll know how politics has destroyed everything! They didn't try to disburse money to farmers. If you kept farmers in your heart, then why didn't you lead an agitation for them? Raised voice for them? And you reached Punjab for them: PM Modi
13:04 pm: The farmers of Bengal have been deprived of the benefits of the Centre's schemes. Bengal is the only state which is not allowing benefits of the schemes to reach the farmers: PM Modi
13:00 pm: Today, more than Rs 18,000 crores have been directly deposited in the accounts of farmers; no middlemen, no commissions: PM Modi
13:00 pm: Vajpayee used to consider any form of corruption a national blight: PM Modi
12:59 pm: Rs 18,000 crore has gone to the bank accounts of nine crore farmers. Technology has eliminated middleman and graft. I am happy the farmers across the country are enjoying benefits of the PM-Kisan yojna. But the West Bengal government is blocking farm benefits due to political reasons, says PM Modi.
12:58 pm: Some leaders are busy in furthering their own political ideology in name of farmers' protest, says PM Modi.
12:57 pm: Some parties pushing political agenda by opposing new farm laws, says PM Modi.
12:55 pm: "Some people spreading myth and lies that land will be taken away if farmers enter into contract farming," says PM Modi.
12:52 pm: Earlier, I used to do rice farming but I am also interested in gardening. I have planted lemons in 3 acres and guavas in 7 acres of land. We sell them in local mandis and get a good amount for it, says Hari Singh Bishnoi, a farmer from Fatehabad in Haryana, during interaction with PM Modi.
12:45 pm: So far, I've received Rs 10,000 under PM Kisan Samman Nidhi. Under the new farm laws, we can now sell the farm produce to any private business or organisation. This year, I sold 85 quintal soybean to ITC, says Manoj Patidar, farmer from Madhya Pradesh's Dhar, during interaction with PM Modi.
12:36 pm: I received my Kisan Credit Card in 2019. I took an amount of Rs 27,000 on loan from the bank on a mere 4 per cent interest as compared to 20 per cent from intermediaries, says Naveen, a farmer from Odisha during interaction with PM Modi.
12:30 pm: I urge you to tell farmers about the Kisan Credit Card and its various benefits which include the availability of loans at low-interest rates: PM Modi during interaction with farmers
12:30 pm: There has been misconception that Minimum Support Price will end. Prime Minister has said and I'll also give my word that MSP won't end. It is farmers who've supported the country whenever it underwent economic recession and we've seen this many times: Defence Minister Rajnath Singh
12:30 pm: I appeal to the protesting farmers to end their protest and hold talks with the government. I hope they will understand the importance of the new farm laws, and the issue will be resolved soon: Union Agriculture Minister Narendra Singh Tomar
12:20 pm: PM Modi interacts with farmers from six states.
12:15 pm: PM Narendra Modi will shortly release Rs 18,000 crore under PM Kisan Samman Nidhi Scheme to over 9 crore farmers. Today, we can say with confidence that the entire amount will reach the farmers' accounts directly. This will greatly benefit the farmers: Union Agriculture Minister Narendra Singh Tomar
12:03 pm: The three farm laws are in the favour of the farmers. Nobody can remove MSP system or snatch farmers' land from them. The government is ready to hold talks with farmers' unions with an open heart: Union Home Minister Amit Shah
12:01 pm: The Opposition is misleading farmers regarding MSP. I want to make it clear that the MSP system will remain: Union Home Minister Amit Shah
12:00 pm: PM Modi will release Rs 18,000 crore as the next instalment under the Pradhan Mantri Kisan Samman Nidhi scheme to over 9 crore farmers today with a click of a button. He is the true well-wisher of farmers: Union Home Minister Amit Shah
11:32 am: 'No democracy in India, it's only in imagination': Rahul Gandhi after meeting President over agri laws
11:03 am: Meanwhile, a Congress delegation led by Rahul Gandhi met President Ram Nath Kovind yesterday and discussed their views about farmers' protest. After meeting President Kovind, Rahul Gandhi said, the "farmers (camping at Delhi borders) would not return till these laws are repealed. The government should convene a joint session of Parliament and repeal these laws".
10:27 am: Farmers' protest at Delhi's borders with Haryana at Singhu and Tikri enters 30th day.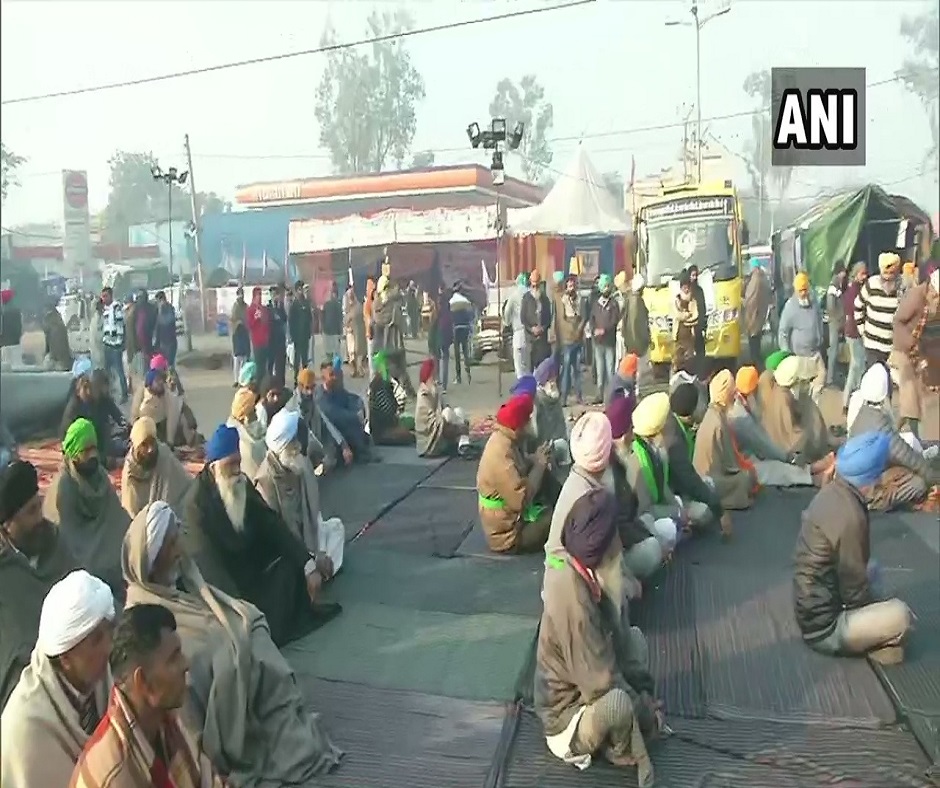 10:23 am: Many farmers have thanked PM Modi for the new agriculture laws. We will double farmers' income by 2022. The government is ready to talk and clear doubts of the farmers who are protesting. A solution can be found only through dialogue: Union Minister Anurag Thakur
9:40 am: BJP challenges Rahul Gandhi for debate after Congress hits streets over farm laws
8:58 am: Delhi Traffic Police: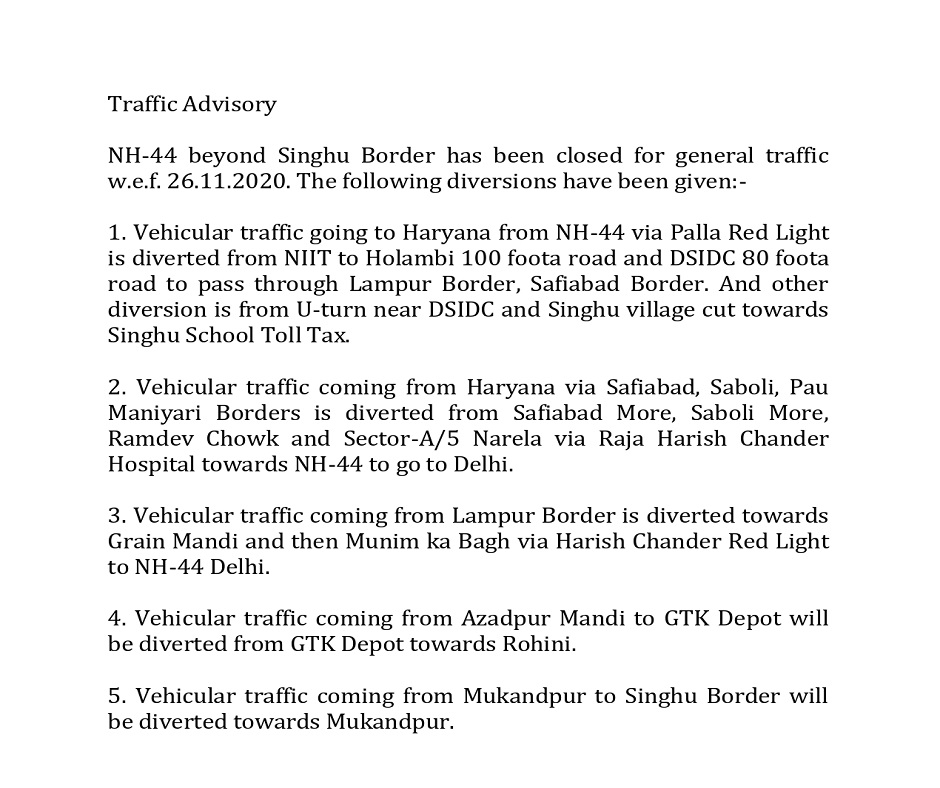 8:51 am: Singhu, Auchandi, Piau Maniyari, Saboli and Mangesh borders closed. Please take alternate routes via Lampur, Safiabad, Palla and Singhu school toll tax borders. Traffic has been diverted from Mukarba and GTK road. Please avoid Outer Ring Road, GTK road and NH 44: Delhi Traffic Police
8:33 am: Chilla, Gazipur borders are closed for traffic coming from Noida and Ghaziabad to Delhi because of farmers protests. People are advised to take alternate route for coming to Delhi via Anand Vihar, DND, Apsara, Bhopra and Loni borders: Delhi Traffic Police
8:30 am: Khalsa Aid has set up Kisan Mall at Tikri border to provide items of daily use for free to farmers. "We distribute tokens to farmers with which they can procure items from here," says Guru Charan, store manager.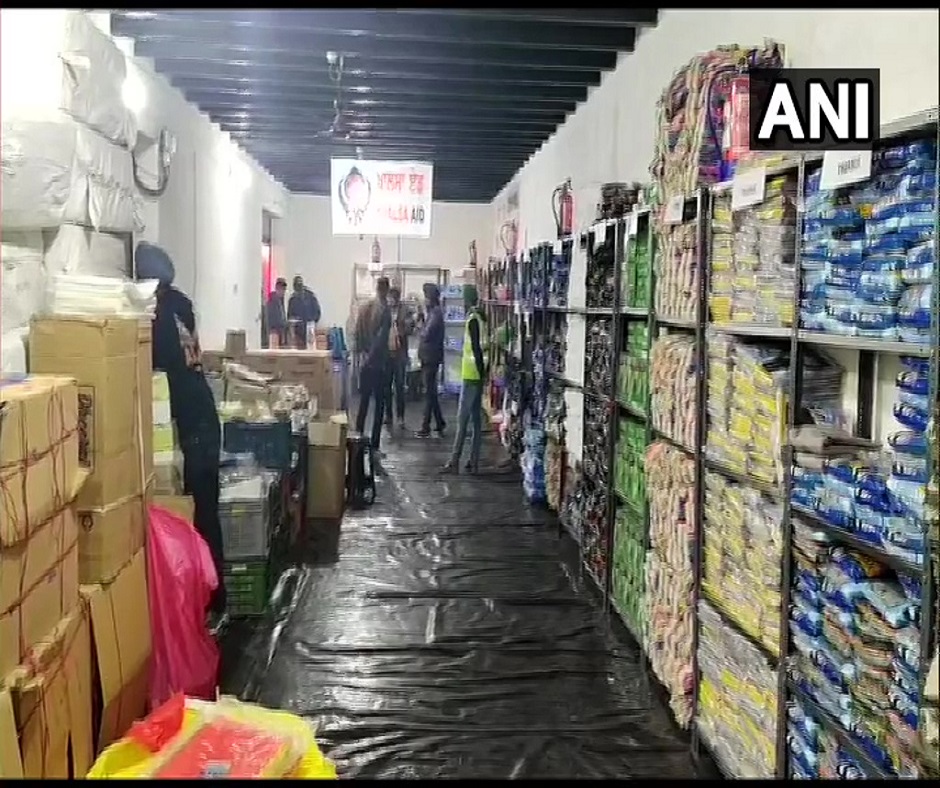 8:25 am: This comes a day after the Centre once again invited the farmers for another round of talks.
"I again request you that the government has been discussing all issues with an open heart and good intention to end the protest, and will continue to do so. Kindly suggest a date and time (for the next round of talks)," the government said in its letter.
8:20 am: "Tomorrow's day (Friday) is very important for the country's Annadatas. Will get the opportunity to release the next installment of PM-Kisan for more than 9 crores farmer families through video conferencing at 12 pm. Will also interact with farmers of many states on this occasion," the PM tweeted on Thursday.
8:15 am: PM Modi will interact with the farmers today as a part of the BJP's massive outreach program to address protesters' concerns.
Posted By: Aalok Sensharma