Farmers' Protest: Deadlock to continue as 7th round of talks remain inconclusive; next meet on Jan 8 | As it happened
Farmers' Protest: The farmers and the Centre held the seventh round of talks on Monday to resolve the deadlock along the borders of national capital.
Updated: Mon, 04 Jan 2021 06:14 PM IST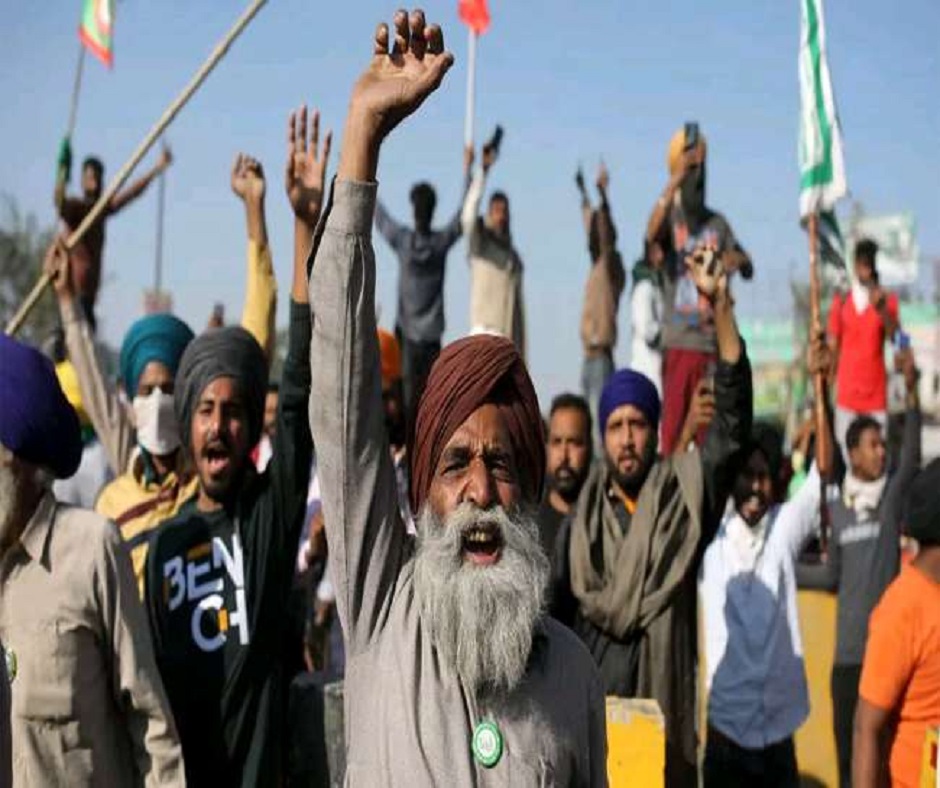 New Delhi | Jagran News Desk: The Centre and the farmers on Monday held the seventh round of talks to end the deadlock over the three farm laws and the minimum support price (MSP). However, the meeting failed to end the deadlock as during the meeting, which was attended by Union Minister Narendra Singh Tomar, Piyush Goyal and Som Prakash, the central government told the farmers that "three agricultural laws will not be repealed but can be amended". Now the next round of talks will be held on January 8.
The farmers, ahead of the meeting, had issued a warning, saying their protest will continue until the three farm laws are scrapped and assurance is given on MSP. They had also given an ultimatum regarding intensifying their agitation if the talks failed and said that they will hold a tractor march on Republic Day across the national capital.
Here are the highlights of the day:
18:11 pm: Discussion took place on our demands -- repeal of the three laws and MSP... Kannon wapasi nahi, to ghar wapasi nahi (We will not go home until the laws are withdrawn), says Rakesh Tikait, spokesperson of Bharatiya Kisan Union.
18:10 pm: The meeting between agitating farmer leaders and government concludes at Vigyan Bhavan. Next round of talks to be held at 2 pm on January 8.
17:38 pm: Meanwhile, Delhi Chief Minister Arvind Kejriwal today once again appealed the Centre to withdraw the farm laws and accept all demands made by the protesters.
ठंड और बारिश के बीच सड़कों पर डटे हमारे किसानों के हौंसले को सलाम। मेरी केंद्र सरकार से अपील है कि आज की बैठक में किसानों की सारी मांगें मानते हुए तीनों काले कानून वापस लिए जाएं।

— Arvind Kejriwal (@ArvindKejriwal) January 4, 2021
17:37 pm: "The apprehension that farmers may lose their land under the Centre's farm laws is baseless," says BJP leader and Uttar Pradesh Vyapaari Kalyan Board Chairman Ravi Kant Garg.
17:36 pm: Media reports suggest that the farmers have asked the Centre whether the three agricultural laws will be withdrawn or not.
17:29 pm: Union Minister Som Prakash meets farmers representatives at Vigyan Bhavan.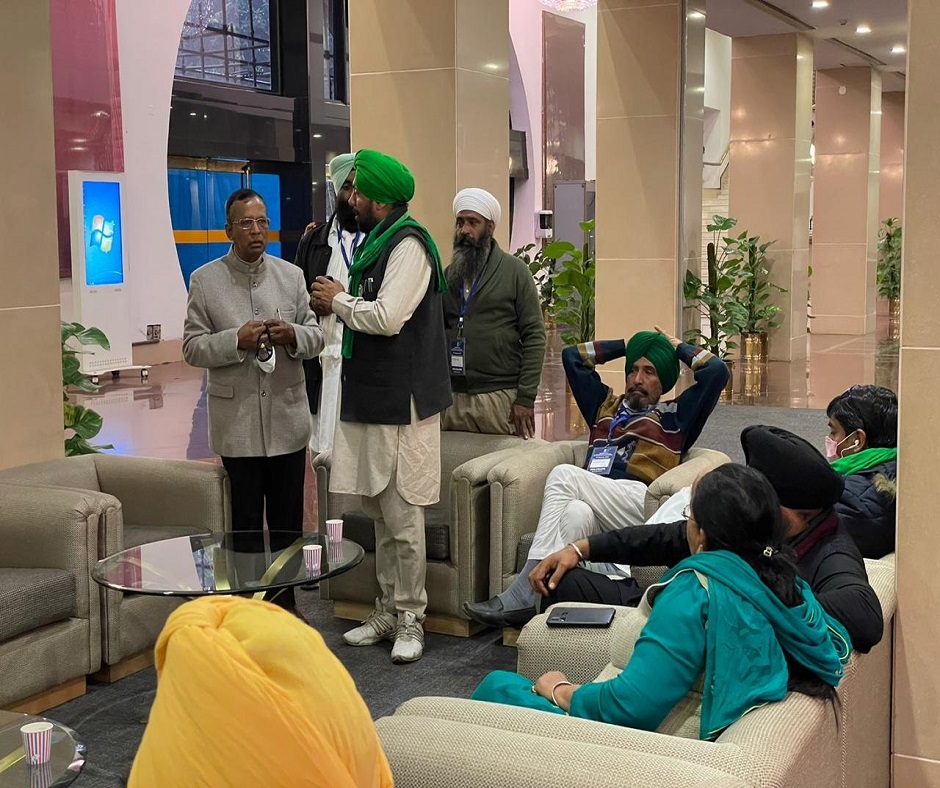 16:37 pm: Farmers' representatives have food during the lunch break at Vigyan Bhavan.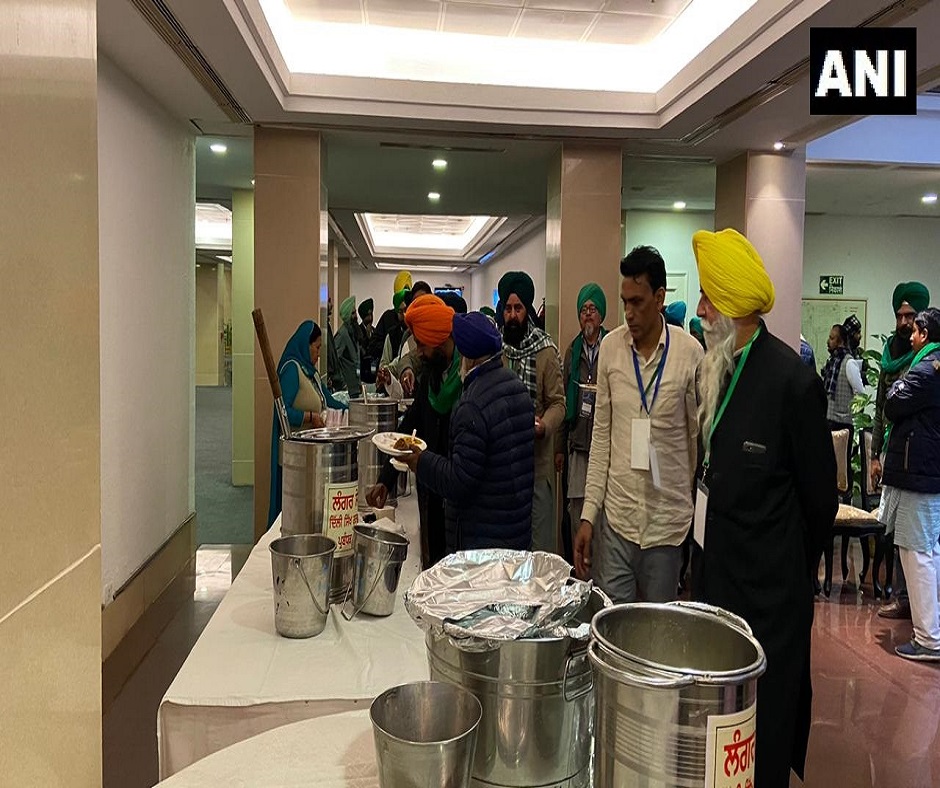 16:19 pm: According to a report by PTI, the government has clearly told the farmers that the farm laws will not be revocked.
15:05 pm: Union Ministers Narendra Singh Tomar, Piyush Goyal and Som Parkash along with government officials and representatives of farmers observe a two-minute silence for farmers who died during the ongoing protest.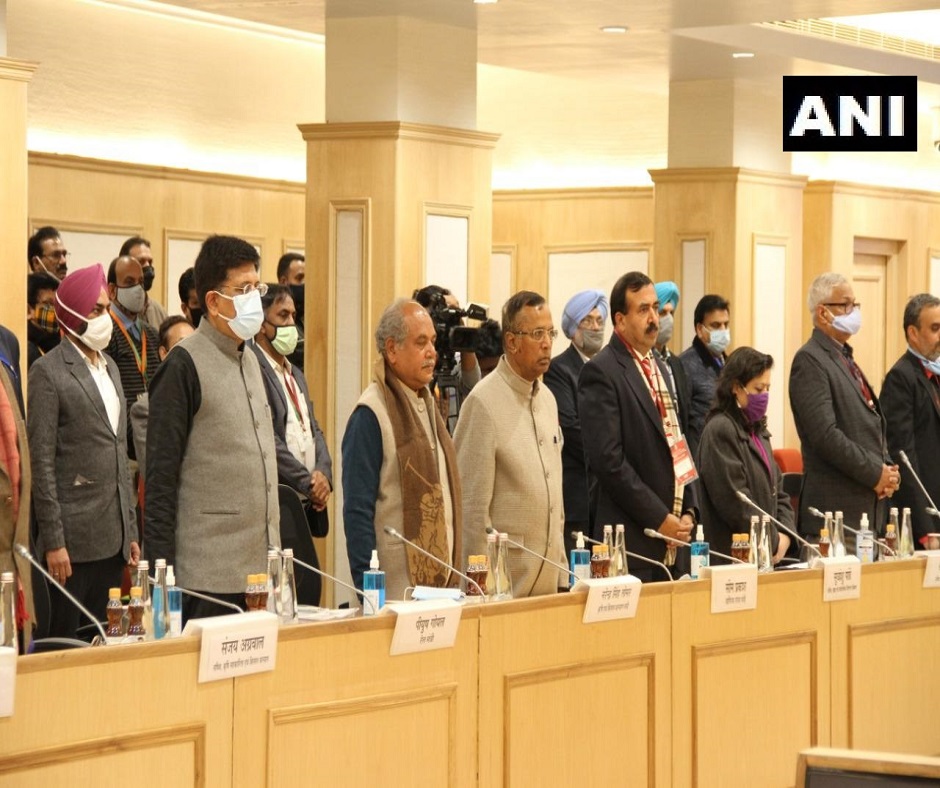 14:30 pm: Seventh round of meeting between central government and farmers' representatives begins at Vigyan Bhavan.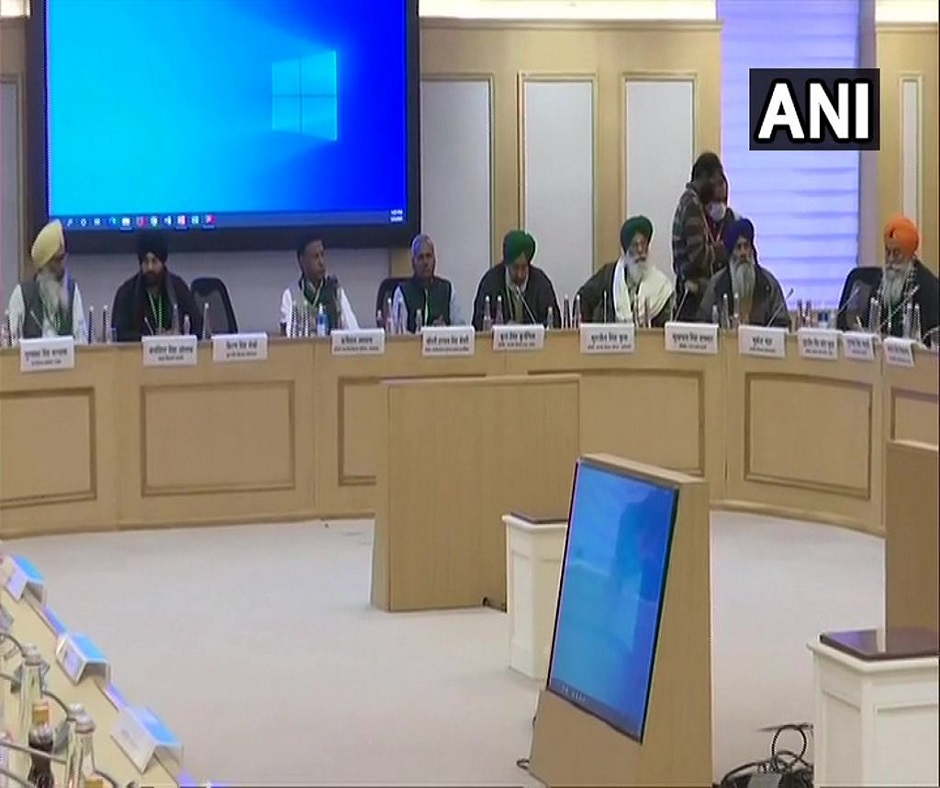 13:38 pm: Farmers issue ultimatum to Centre, say will hold 'Kisaan Parade' on Republic Day
13:04 pm:
Delhi: A delegation of farmer leaders arrive at Vigyan Bhawan for talks with Union Government on the three Farm Laws

"We hope there is a breakthrough in this meeting in the new year," says a farmer leader pic.twitter.com/oFG4ERdzFO

— ANI (@ANI) January 4, 2021
12:28 pm: I am hopeful that we will find a positive solution today. We will discuss all issues in the meeting, says Union Agriculture Minister Narendra Singh Tomar.
12:15 pm: It is up to the government whether it wants to solve the farmers' problems or conspire against the farmers to fizzle out their struggle. We hope government will take a human approach towards the farmers, says All India Kisan Sabha General Secretary Hannan Mollah.
11:52 am: According to a report by news agency, the central government will discuss farm laws 'clause by clause' with farmers yet again today.
11:05 am: So far, 60 farmers have lost their lives during the protest. One farmer is dying every 16 hours. It is the responsibility of the government to answer, says Bharatiya Kisan Union leader Rakesh Tikait.
11:04 am: Haryana Chief Minister ML Khattar sahab like General Dyer is allowing to fire upon farmers and using tear gas against them. Are the country's farmers our enemies? Are they Army personnel of China or Pakistan? It's shameful, says Aam Aadmi Party leader Raghav Chadha
10:54 am: Actor Dharmendra has hoped that the 7th round of talks will end the deadlock between the farmers and the government.
"I hope today my farmer brothers get justice. I pray with all my heart. Every noble soul will get relief," he tweeted.
10:31 am: Meanwhile, the Reliance Industries Limited, through its subsidiary Reliance Jio Infocomm Limited, in a petition mentioned to be filed in Punjab and Haryana High Court today, has sought urgent intervention of the government authorities to bring a complete stop to illegal acts of vandalism by miscreants.
"These acts of violence have endangered the lives of thousands of employees and caused damage and disruption to the vital communications infrastructure. The miscreants indulging in vandalism have been instigated and aided by vested interests and our business rivals," it said.
10:08 am: Farmers continue their protest Delhi-Singhu border.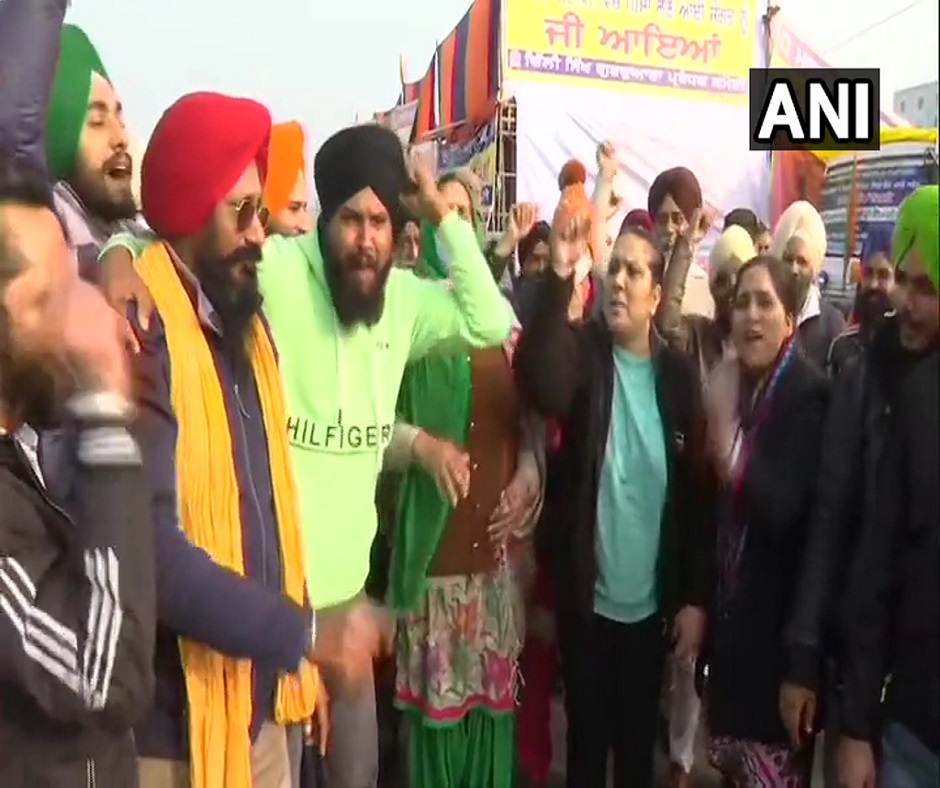 9:16 am: Kisan Mazdoor Sangharsh Committee Joint Secretary Sukhwinder S Sabra today said that farmers' primary demands are withdrawal of farm acts and guarantee MSP. "If our demands aren't met, then, we'll hold tractor march on January 6 and also on January 26," he said.
8:49 am: On Sunday, Minister of State for Agriculture Kailash Choudhary had expressed hopes that the talks between Centre and Farmers on January 4 will finally resolve the crisis.
"The Narendra Modi government takes the decision in the interest of farmers and stands with them in their problems. Rahul Gandhi is doing politics (on these laws) and is provoking farmers. Why does he forget that he did not go to meet Anna Hazare in 2011 during his government and the way he forced Baba Ramdev to run away from a protest site? These people are talking about justice and injustice. Narendra Modi government stands with farmers to resolve their issues," he had said while speaking to news agency ANI.
8:33 am: 'Won't go back till laws are repealed', say leaders ahead of crucial talks; rain, waterlogging add to protestors' woes
8:06 am: Meanwhile, Congress' Sachin Pilot has said that "welfare of farmers is what is real nationalism" and the Centre should withdraw the farm acts immediately.
#WATCH | "Talking about the welfare of farmers is what is real nationalism. Nationalism is not delivering phoney speeches from Nagpur wearing half-pants," says Congress leader Sachin Pilot at a rally, in Jaipur, Rajasthan, in support of farmers protesting the new farm laws pic.twitter.com/6jEPKPOIka

— ANI (@ANI) January 3, 2021
8:04 am: Farmers at Chilla border take refuge in tents amid the recent spell of rainfall in Delhi. "We will only relent after the government accepts our demands of rescinding the black farm laws," says a protester.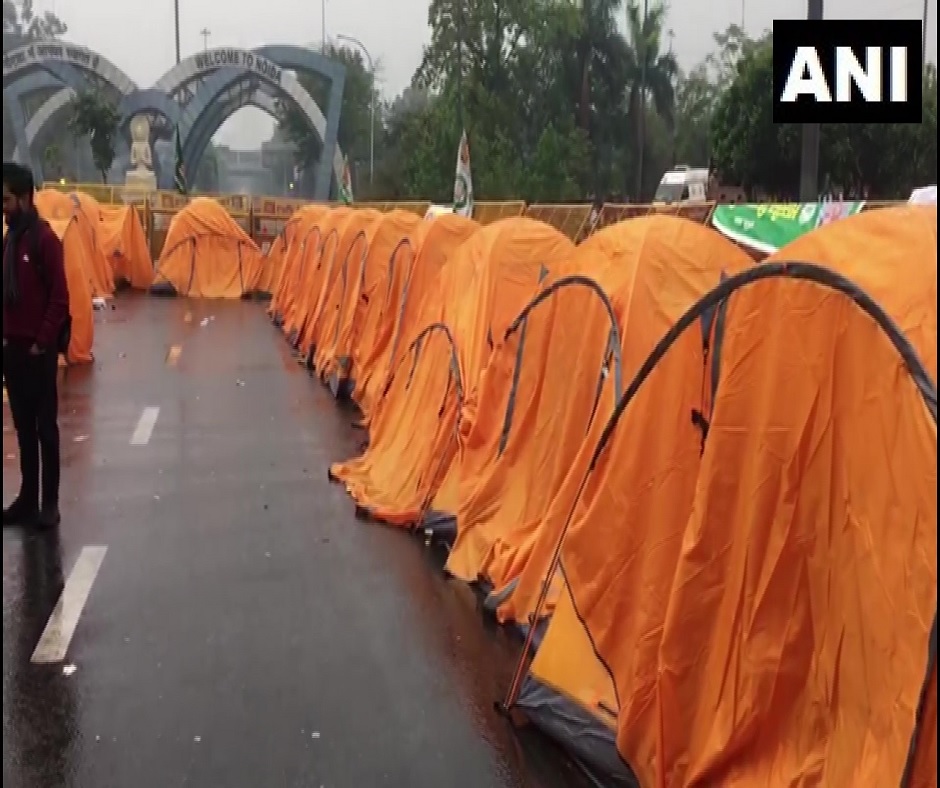 8:03 am: Ahead of today's crucial talks, Narendra Singh Tomar and Rajnath Singh held a meeting on Sunday night and reviewed their strategy.
7:55 am: "Many issues are to be discussed. The government must understand, the farmer has taken this movement to his heart and won't consider less than the laws' repeal. The government should implement Swaminathan's report and make law on MSP," said Bharatiya Kisan Union leader Rakesh Tikait.
7:50 am: The farmers, however, have warned that they will intensify their protest if the government fails to fulfil their demands.
7:45 am: The central government and the farmers will hold the seventh round of talks today to resolve the deadlock over the farm laws and MSP.
Posted By: Aalok Sensharma