Encephalitis Outbreak: Nitish visits Muzaffarpur as death toll reaches 108, families protest at SKMCH
Updated: Tue, 18 Jun 2019 01:10 PM IST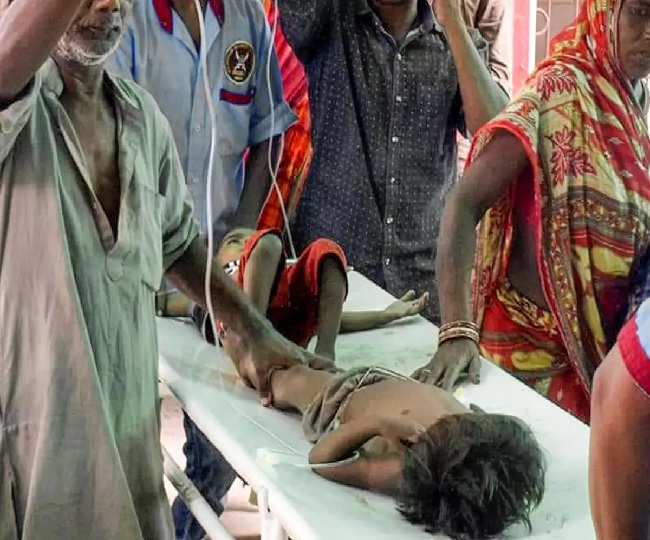 Muzaffarpur | Jagran News Desk: With the death of eight more children in Bihar's Muzaffarpur district, the death toll due to Acute Encephalitis Syndrom (AES) has mounted to 108, reported news agency ANI. Of these, 89 deaths have been reported in Sri Krishna Medical College and Hospital and the remaining 19 in Kejriwal Hospital.
While doctors have maintained that the deaths occurred due to AES, state officials claimed that most of the victims, below the age of 10, have died due to hypoglycemia -- a condition caused by low level of blood sugar, electrolyte imbalance due to high temperature and extreme humidity.
Meanwhile, families and relatives of deceased children held protests at the Sri Krishna Medical College and Hospital during Chief Minister Nitish Kumar's visit today.
On Monday, Kumar had chaired a meeting on deaths from suspected AES cases and people dying due to heatwave.
Union Health Minister Harsh Vardhan reviewed the situation at a high-level meeting in New Delhi, which was attended by senior officers of the Health Ministry, Indian Council of Medical Research and the AIIMS.
Vardhan directed another high-level team to immediately visit the district and undertake necessary groundwork for the setting up of a state-of-the-art multidisciplinary research centre, according to a statement.
The National Human Rights Commission (NHRC) sent notices to the Union Health Ministry and the Bihar government over the deaths. It observed that despite reported measures taken by the government agencies, deaths of children in such large number indicated a possible flaw in the implementation of vaccination and awareness programmes.
Chief Secretary Deepak Kumar said no clear cause of deaths could be ascertained so far and indicated that one of the reasons could be that no rainfall, even pre-monsoon rain, occurred in the district this year.
The chief secretary said the government had also decided to send a team to each household, where children died due to suspected AES cases, in order to find out their social and economic background.
The purpose, he said, was to find out whether the deaths had any link with the background of the deceased families.
(With inputs from agencies)
Posted By: Abhinav Gupta