Happy Eid ul Adha 2019: Wish your family and friends with these perfect WhatsApp messages, quotes and Shayaris
Updated: Mon, 12 Aug 2019 08:58 AM IST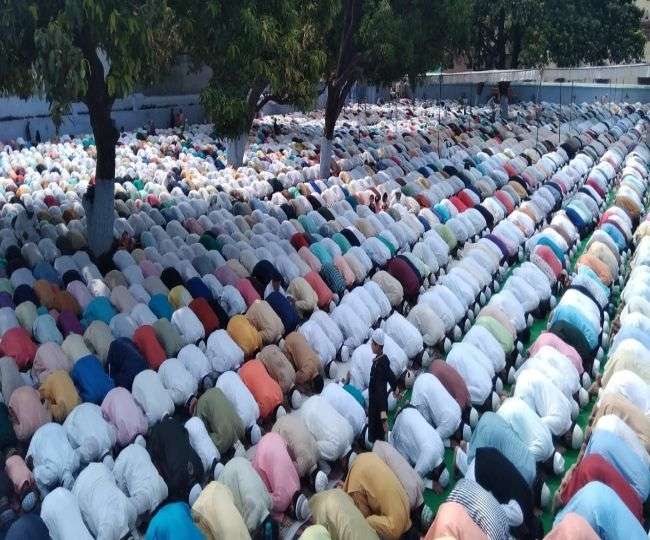 New Delhi | Jagran Lifestyle Desk: Eid al-Adha, also known as the 'festival of sacrifice', coincides with the completion of the annual holy pilgrimage, Haj, and sees Muslims commemorating the readiness of Prophet Ibrahim to sacrifice his son for the sake of Allah and the subsequent turn of events.
The occasion of Eid-ul-Adha may bring a lot of happiness in your life and may you enjoy this festival of joy with all your close friends and family.
Also Read: Eid-ul-Adha 2019: Health tips you should follow on 'meat and feast' festival to balance your nutrition
Here are some beautiful Shayaris, WhatsApp messages, and quotes you can share with your loved ones and wish them on this auspicious day:
WhatsApp Messages
As Allah Waters His Creation, May He Also Sprinkle His Wondrous Blessings Over You and Your Beloved Ones. Happy Bakrid
May Your Plate of Life Be Always Full of Sweet Seviyan Topped With the Nuts of Happiness. Best Eid Wishes, May You Have a Happy Bakrid.
I Wish You a Very Happy and Peaceful Eid Al-Adha. May Allah Accept Your Good Deeds, Forgive Your Transgressions and Sins and Ease the Suffering of All Peoples Around the Globe. Happy Bakrid 2019!
My wish for you on this Eid,
May peace and joy embrace your life,
And stay on this blessed day and always. Ameen!
Eid Ul Adha Mubarak!
Eid Ul Adha Mubarak: It is not their meat nor their blood, that reaches Allah: It is your piety that reaches him: he has thus made them subject to you, that ye may glorify Allah for his guidance to you and proclaim the good news to all who do right.
Eid Ul Adha is Eid of sacrifice and commitment of Allah's orders. May Allah bless us with the same in all circles of life, and help all amongst us, who are helpless, worried and waiting for his Rehmat. Eid Mubarak!
Beautiful Shayaris
Har khwahish ho manjoor-e-khuda
Mile har kadam par raza-e-khuda
Fana ho labz-e-gam yahi hain dua
Barasti rahe sada rahmat-e-khuda
Eid ul Adha Mubarak
Dil jalte aur jagmagaate rahein
Ham aapko isi tarah yaad aate rahein
Jab tak zindagii hai ye dua hain hamaari
Aap Eid ke chaand ki tarah jagmagaate rahein
Aap ko Eid mubarak
Samundar ko uska kinara mubarak
Chand ko sitara mubarak
Phoolon ko uski khushboo mubarak
Dil ko uska dildaar mubarak
Aapko Eid ka tyauhaar mubarak !
Eid ka tyauhaar aaya hai
Khushiyaan apane sang laya hai
Khuda ne duniya ko mahkaaya hai
Dekho phir se Eid ka tyauhaar aaya hai
Aap sabhi ko dil se Eid mubarak
Ae chand tu unko mera paigam kah dena
Khushi ka din aur hansi ki shaam dena
Jab wo dekhe tujhe baahar aakar
Unko meri taraf se Eid mubarak kah dena
Some quotes you can share with your friends and family on this Eid
I put my trust in Allah, my Lord, and your Lord! There is not a moving creature, but He has a grasp of its forelock. Verily, my Lord is on the straight path [the truth]. (Quran 11:55-56)
The taking of one innocent life is like taking all of mankind… and the saving of one life is like saving all of mankind. (Quran, 5:33)
O You who believe! Enter absolutely into peace [Islam]. Do not follow in the footsteps of Satan. He is an outright enemy to you. (Quran: 2, 208)
He is the One God; the Creator, the Initiator, the Designer. To Him belong the most beautiful names. Glorifying Him is everything in the heavens and the earth. He is the Almighty, most wise. (Quran 59:24)
Whoever desires to meet his Lord, he should do good deeds and not associate anyone in the worship of his Lord. (Quran – 18:110)
Posted By: Talib Khan