E-challan: What happens if you don't pay fine? How police or govt can recover the amount?
The traffic police do not have the right to recover fine from you.
Publish Date: Wed, 18 Sep 2019 11:53 AM IST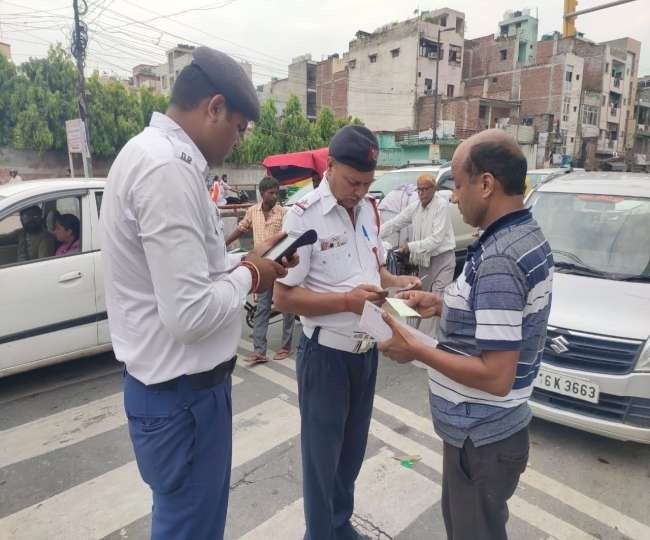 New Delhi | Jagran News Desk: The Motor Vehicle Amendment Act 2019 came into effect from September 1. It includes stricter penalties for violation of the traffic rules. Huge challans have been imposed on commuters in the past 15 days, which includes cases such as Rs 23,000 challan for scooty, Rs 35,000 challan for motorbike, Rs 59,000 challan for tractor including Rs 6.5 lakh challan of a truck driver in Odisha.
Commuters have been cautious about the rules and regulations regarding traffic rules. Meanwhile, some vehicle owners are concerned about e-challan, as in that case you do not get to know the penalty amount instantly and the traffic police do not seize your vehicle or papers.
In such a situation, several questions are being raised in commuters mind as to how can one check if your vehicle has been e-challaned or not? What will happen if the e-challan is not submitted? Or can the government, police or the concerned transport department recover the fine in any way? Here is the answer to your every question.
Insurance can be expensive
If a vehicle owner does not pay the fines then it can be recovered from the vehicle's insurance. It means that next time when you renew your insurance, it may include your pending e-challan invoice. Also, if the vehicle is not insured then you will not be able to resell it.
Also Read | Motor Vehicle Act 2019: 'Even I have paid fine for speeding', says Gadkari
As per a report, the Regulatory Insurance Authority of India (IRDA) has started work on the above project to link pending fines with insurance. It will be first implemented in Delhi as a pilot project. If the experiment is successful, the scheme can be implemented across the country.
Court visit
If you do not submit the e-challan on time, your challan is likely to go to court. Following which the vehicle owner needs to go to the court to collect fines. Even on-spot challan is also sent to the court by the traffic police after a period.
Role of Traffic police
The traffic police do not have the right to recover the fine from you. You can pay them, but they have no right to force the driver to pay instantly. They can only stop you and challan for violating the rules. An order is issued by the court to recover the fine. After which, the police-administration can take recovery action.
Imprisonment
In case of on-spot challan, the driver's paper is seized so the person concerned needs to go to court to get it. In case if you think that you can get another paper and do not visit court then the court might summon you or issue a non-bailable warrant against you. In such cases, you have to pay heavy fine and even face imprisonment.
Posted By: James Kuanal