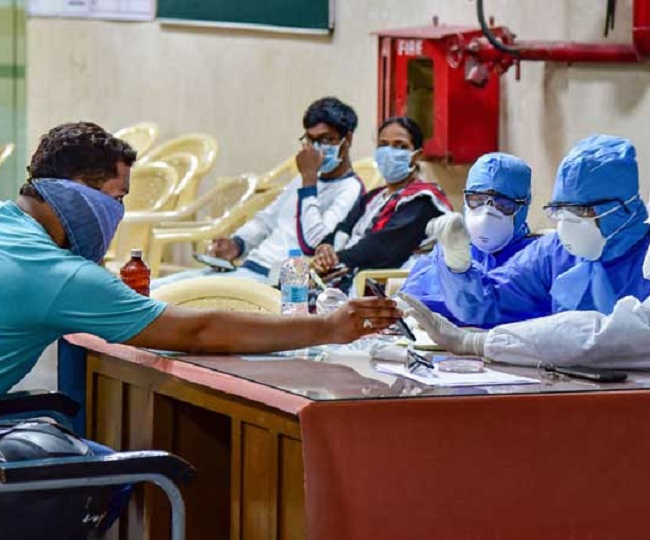 New Delhi | Jagran News Desk: Delhi Chief Minister Arvind Kejriwal on Sunday once again expressed concerns over the alarming spike in coronavirus cases in the national capital and said that nearly 25,500 infections were reported in the city-state in the last 24 hours.
Kejriwal, who is regularly monitoring the situation in Delhi, also said that the city-state's positivity rate has jumped to 30 per cent from 24 per cent in the last 24 hours, adding that the "situation is worrisome".
Noting that Delhi is facing an oxygen shortage and only 100 ICU beds are left in the city, Kejriwal said that Commonwealth Games Village and some schools are being turned into makeshift hospitals for COVID-19 patients.
The Delhi Chief Minister also said that he had detailed discussion with Union Home Minister Amit Shah and Health Minister Dr Harsh Vardhan over the situation in the city-state, adding that the COVID facility at Radha Soami Satsang Beas will be reopened soon.
"Around 25,500 COVID-19 cases reported in Delhi in last 24 hours. There are 10,000 beds in Delhi, including that of central government. Of which, 1,800 beds currently reserved for COVID. I request Centre to allot 7,000 of 10,000 beds in view of severe COVID cases," Kejriwal was quoted as saying by news agency ANI.
Kejriwal on Sunday also wrote a letter to Prime Minister Narendra Modi regarding an urgent supply of oxygen and reservation of 7,000 beds out of central government's 10,000 beds for COVID-infected patients.
Though Delhi has been hit by the fourth wave of COVID-19 pandemic that has led to an exponential rise in daily cases, Kejriwal has refused to impose another lockdown in the city-state. He, however, has asserted that stricter curbs can be imposed to control the spread of the pandemic.
On Sunday, Kejriwal had also held a meeting to review the COVID-19 situation in Delhi. The meeting was attended by top Delhi officials, Deputy Chief Minister Manish Sisodia and state Health Minister Satyendar Jain.
Weekend curfew is currently underway in the national capital to arrest the spread of coronavirus. On Friday, Delhi recorded the biggest single-day jump of 19,486 fresh COVID-19 cases and 141 deaths. On November 18 last year, the city had recorded 131 COVID-19 deaths, which was the highest single-day fatality count in Delhi till April 15 since the start of the pandemic.