Delhi Coronavirus Updates: National capital's tally nears 1-lakh mark, Kejriwal says more patients recovering at home
Arvind Kejriwal said lesser number of COVID-19 patients are now requiring hospitalisation in Delhi and more number of them are recovering in home isolation.
Updated: Mon, 06 Jul 2020 10:02 AM IST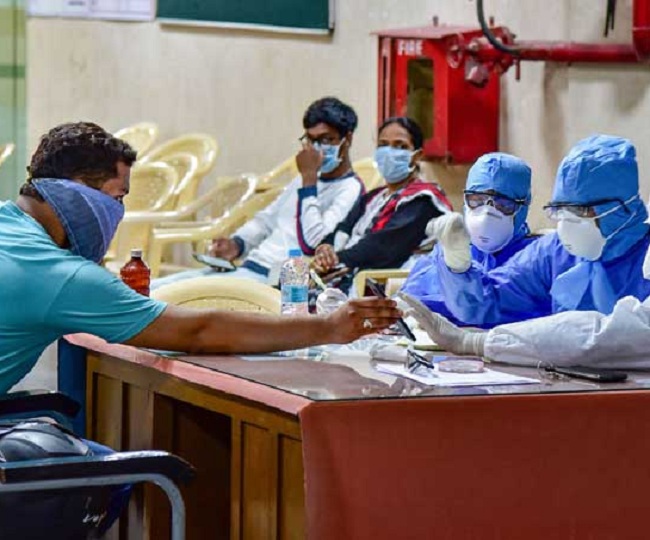 New Delhi | Jagran News Desk: Delhi recorded 2,505 fresh coronavirus cases on Sunday, taking the tally close to the one lakh mark, while the death toll in the national capital mounted to 3,067. The national capital recorded 63 new fatalities on Sunday, a Delhi health department bulletin said.
The bulletin said the death toll from coronavirus infection has risen to 3,067, and the total number of cases mounted to 99,444.
On June 23, the national capital had reported its highest single-day spike of 3,947 cases. However, in the last five days, the number of fresh cases have oscillated.
To augment manpower in state-run hospitals and institutions, the Delhi government has issued an order for engagement of workers up to 25 per cent in addition to the sanctioned strength in respect of out-sourced services, the bulletin said.
The Principal Secretary of Delhi's Health and Family Welfare department held a meeting with top officials for strengthening COVID-19 surveillance response in the national capital.
According to the bulletin, 71,339 patients have recovered, been discharged or migrated so far, while the number of active cases stood at 25,038. As many as 6,43,504 tests have been conducted so far.
The number of containment zones in the national capital on Saturday stood at 456.
The Delhi government has instructed all health care facilities to carry out compulsory rapid antigen detection testing of patients with ILI symptoms, patients admitted with SARI and other high-risk individuals who visit their facilities.
An order issued by the Delhi Health department directed all medical directors, medical superintendent and directors of all Delhi government-run hospitals to ensure that "rapid antigen detection testing" of all individuals/patients falling in the categories listed, who visit their hospital, is mandatorily done.
All individuals with influenza-like illness (ILI) symptoms, all patients admitted with severe acute respiratory infection (SARI) are to be mandatorily tested, it said.
"All asymptomatic patients admitted or seeking admission of following high - risk group -- Patients undergoing Chemotherapy, Immunosuppressed patient including HIV+, Patients with Malignant disease, Transplant Patients, Elderly patients ( > 65 years of age ) with co-morbidities and all asymptomatic patients undergoing aerosol generating interventions," the order said.
Chief Minister Arvind Kejriwal said on Sunday that lesser number of COVID-19 patients are now requiring hospitalisation in Delhi and more number of them are recovering in home isolation.
The number of ICU beds has tripled in the three largest state-run hospitals in Delhi and this is expected to reduce fatality, the Delhi government said in a statement. The number of patients in hospital has gone down and currently 9,900 COVID beds are vacant, Kejriwal said.
Posted By: Abhinav Gupta