Delhi COVID Crisis: Kejriwal announces weekend curfew in Delhi from Friday 10 pm till Monday 6 am | Highlights
Delhi COVID Restrictions: Curfew passes to be issued to those rendering essential services. All malls, gyms, spas and auditoriums will remain closed during the weekend curfew.
Updated: Thu, 15 Apr 2021 02:24 PM IST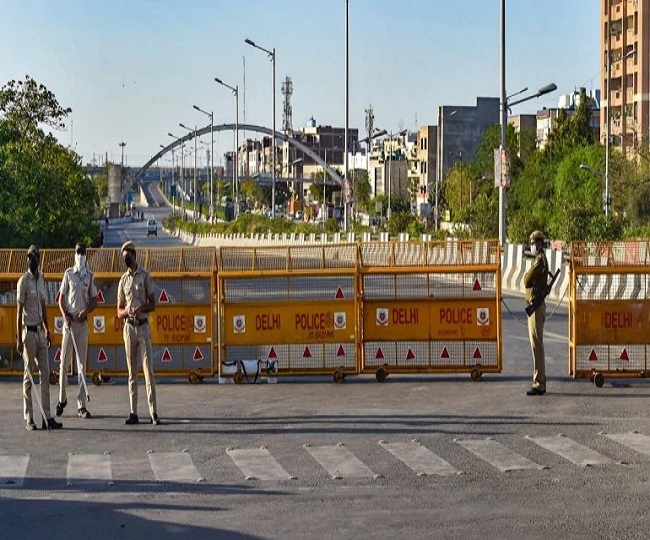 New Delhi | Jagran News Desk: Delhi Chief Minister Arvind Kejriwal on Thursday announced sweeping restrictions, including a weekend curfew and the closure of malls, gyms, spas and auditoriums, in a bid to break the chain of COVID infections in the city. There will be no in-house dining in restaurants and cinema halls will be allowed to operate with only 30 per cent capacity, the chief minister said a day after the city recorded the biggest single-day jump 17,282 new COVID-19 cases.
Kejrwal said essential services and weddings will not be affected during the weekend curfew and passes will be provided to those attending weddings. Restaurants in the national capital will be allowed to do home deliveries, Kejriwal announced, adding that only one weekly market in a zone will be allowed to open per day and steps will be taken to control crowds in those permitted to function.
Here are the Highlights from Arvind Kejriwal's meeting with LG and other officials:
1:30 am: There is no shortage of beds in hospitals in Delhi. According to the latest data, more than 5000 beds are available: Delhi CM Arvind Kejriwal on COVID19 situation
1:15 pm: Curfew passes to be issued to those rendering essential services. Malls, gyms, spas and auditoriums to be closed. Cinemas halls to operate at 30% capacity only. People will not be allowed to dine-in restaurants, only home deliveries permitted: Delhi CM Arvind Kejriwal
1:00 pm: Weekend Curfew to begin from 10 pm Friday to 6 am Monday. Only essential services to operate. All markets, malls, gyms etc to remain shut. Private offices will be asked to work from home. No pass required for movement for medical purposes.
12:50 pm: The Delhi government had also ordered further closure of schools and colleges in the city till further orders as COVID-19 cases in the national capital witness an exponetial rise from last few weeks.
12:40 pm: Delhi Chief Minister Arvind Kejriwal on Wednesday said journalists should be treated as frontline workers during the coronavirus pandemic and his government is writing to the Centre for their vaccination.
12:30 pm: The Delhi government had earlier this week announced a night curfew in the city from 10 pm till 5 am in wake of the rising COVID-19 cases. The restrictions will continue till April 30.
12:15 pm: Meanwhile, the daily COVID-19 cases in the country have doubled in the last 10 days. India on Thursday registered over 2 lakh cases. 10 days ago, the country had logged over 1 lakh cases for the first time since the start of the pandemic.
11:50 am: Weekend curfew is likely to be imposed in Delhi. CM Arvind Kejriwal will likely announce the curfew in the national capital at 1.00 pm.
11:10 am: Experts have adviced to impose a lockdown in Delhi as the national capital continues to register record number of daily infections from past few days.
11:00 am: Arvind Kejriwal will also meet Delhi Health Minister and other top officials to review the COVID-19 situation in the city.
10:45 am: Meanwhile, India on Thursday registered over 2 lakh new COVID-19 infections, while 1,038 fatalities were reported during the day. This is the highest ever single-day spike the country has ever witnessed.
10:30 am: As COVID-19 cases and fatalities increase in Delhi, the city's largest Muslim cemetery, is running out of space for the burial of Coronavirus victims. The administration of the ITO-situated Jadid Qabristan Ahle Islam, says that the number of COVID-19 bodies has been increasing since April 4.
10:20 am: "In view of the spread of Covid-19 infection, Delhi CM Arvind Kejriwal will discuss the situation with Lieutenant Governor at 11 am on Thursday," the Chief Minister's Office tweeted on Wednesday.
10:10 am: On Wednesday, health minister Satyendar Jain said that the Covid-19 cases are rising very rapidly every single day and "there is no slow down" in the spread of the pandemic in the national capital.
10:00 am: Chief minister Arvind Kejriwal on Sunday termed the Covid-19 situation in Delhi as "worrisome" and issued a stark warning asking people to step out of their homes only if it is urgent.
Posted By: Talibuddin Khan