Cyclone Vayu Highlights: Power supply disrupted in 560 Gujarat villages
Updated: Thu, 13 Jun 2019 03:38 PM IST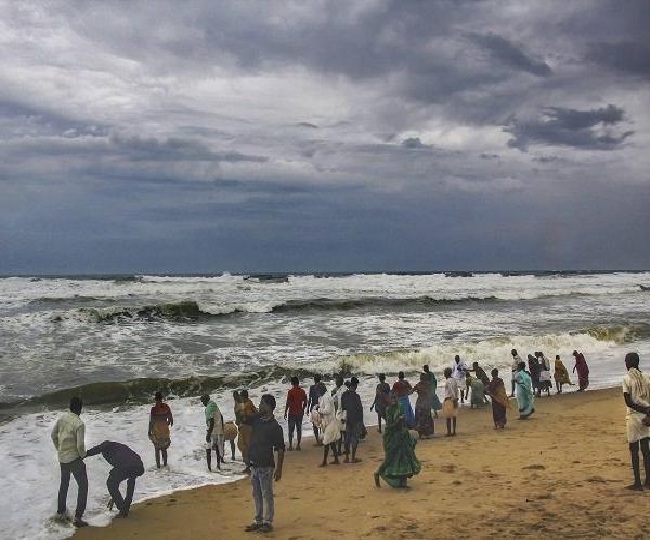 Ahmedabad | Jagran News Desk: As per the Indian Meteorological Department, the 'very severe' Cyclone Vayu will not make landfall in Gujarat as it has changed its course. The cyclone changed its trajectory overnight and moved further into the sea.
However, the MeT department alerted that the system will still have an impact on the coastal regions with the Cyclone Vayu expected to pass nearby Veraval, Porbandar and Dwarka.
"It (Cyclone Vayu) may not make landfall. It will only skirt the coast. It has made a small deviation. But, its effect will be there with strong winds and heavy rain," Secretary at the Ministry of Earth Sciences M Rajeevan told PTI.
IMD Additional Director General Devendra Pradhan said the cyclone will remain in the sea and move parallel to the Gujarat coast.
"It has taken a slight westward movement. It will go parallel to the Gujarat coast," Pradhan said.
"It is very likely to move north-northwestwards for some time and then northwestwards skirting the Saurashtra coast affecting Gir Somnath, Diu, Junagarh, Porbandar and Devbhoomi Dwarka with wind speed between 135 and 145 kmph, gusting to 160 kmph from June 13 afternoon," the Cyclone Warning Division said in its 8:30 am bulletin.
Stay tuned to Jagran English to catch all the LIVE updates on Cyclone Vayu:
03:38 pm: Power supply has been disrupted in nearly 560 villages of Gujarat due to cyclone Vayu and all efforts are on to restore it.
11:49 am:
Gujarat: Visuals from Valsad as strong winds hit the region, sea turns rough. As per latest update of IMD, #CycloneVayu won't hit Gujarat, but will have effect on coastal districts. pic.twitter.com/bTq1dx3piZ

— ANI (@ANI) June 13, 2019
11:43 am: Situation is normal at Surat,Bhuj,Keshod, Kandla, Jamnagar, Vadodara, Ahmedabad. Diu, Porbandar and Bhavnagar Airports that are currently witnessing a wind speed between 30-40 kmph gusting up to 60 kmph have been asked to closely monitor the situation and take note of Meteorological data.
11:43 am: Effect of Cyclone Vayu has been milder at most of the airports of Gujarat. No damage to any airport infrastructure or facilities has been reported so far
11:42 am: Pankaj Kumar, Additional Chief Secretary of Revenue: No casualties have been recorded due to Cyclone Vayu till now. The deaths (6 deaths in last 2 days) is not due the cyclone, rather it is due to monsoon.
11:26 am: The Railways has cancelled 77 trains and short terminated 33 others due to Cyclone Vayu, the Western Railways said on Thursday. The cancellations were made as a precaution even though the cyclone changed its course and is unlikely to make landfall in Gujarat.
11:11 am: Cyclone Vayu located near 20.4N/69.4E at 9.30 IST is 110km SW of Veraval and 150 km south of Porbandar. To move north-northwestwards & skirt Saurashtra Coast: IMD
10:47 am: Areas like Jamnagar, Amreli, Bhavnagar and Kutch might also experience heavy rainfall today.
10:11 am: "The eye of the storm will not enter Gujarat, but half of the storm, the outer peripheral part, will enter the state and affect the coastal areas," meteorological department's Additional Director Manorama Mohanti said.
10:03 am: Despite the Cyclone Vayu changing its course, the effect of the storm will be seen in the coastal regions as there will be heavy wing speed and heavy rains as well.
09:51 am: IMD Additional Director General Devendra Pradhan said the cyclone will remain in the sea and move parallel to the Gujarat coast.
09:40 am: With the cyclone earlier expected to hit the coastal state today afternoon, the government had shifted around three lakh people from low-lying areas of Saurashtra and Kutch regions.
09:38 am: The Airports Authority of India suspended flight operations at five airports in Gujarat for 24 hours from midnight Wednesday to minimise the damage to airport infrastructure and to avoid inconvenience to passengers due to the cyclone.
09:35 am: Prime Minister Narendra Modi had yesterday advised people in his home state to follow real-time information being given by local agencies to stay safe.
"Praying for safety and well-being of all those affected by Cyclone Vayu. The government and local agencies are providing real-time information, which I urge those in affected areas to closely follow," Modi had tweeted.
09:34 am: The Coast Guard, Army, Navy, Air Force and the Border Security Force have already been put on high alert.
09:33 am: As a precautionary measure, the Indian Railways also announced that all the trains for the region have been either short-terminated or cancelled for two days, starting 6 pm Wednesday.
Posted By: Abhinav Gupta